BakerySwap Token a Top NFT Market on Binance Smart Chain Gains Over 50% in Price.
Views: 83
BakerySwap Token gained over 50% in the past 24hrs as more NFTs list on its platform.
Thank you for reading this post, don't forget to subscribe!
BakerySwap is a top NFT (Non-fungible Token) dominated marketplace and an AMM (automated market maker) swap exchange built on Binance Smart Chain. It has its native token as BAKE.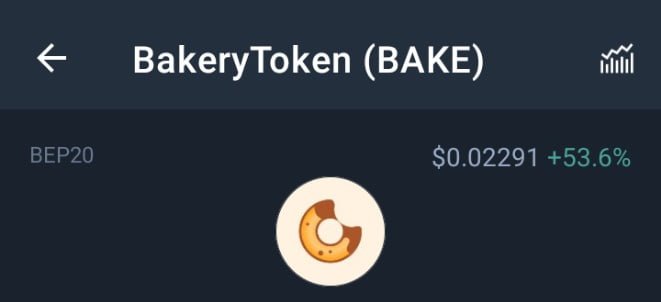 The token gained over 50% today following it's numerous NFT market listings. BakerySwap is currently the largest market for trading Non-fungible Tokens on Binance Smart Chain.
Read Also: Many Gets Rekt Following Ripple's Airdrop Snapshot While Co-Founder McCaleb Enters Forbes World's 40 Richest.
BakerySwap Token is currently listed on Binance.com with only Binance Coin (BNB) Pair. It's too competitor on the Binance Smart Chain, PancakeSwap has more listing pair.
Other listed exchanges include: Hotbit, Anyswap, BakerySwap and others.
BakerySwap Token at the time of writing has over a million dollars in trading volume with a market capitalization at over $2,000,000 dollars according to Coinmarketcap data.
Quick Facts: BakerySwap Token is the native or ecosystem token of the BakerySwap.org AMM protocol. An automated market maker (AMM) is a type of decentralized exchange (DEX) protocol that depends on a mathematical formula to price assets. It doesn't use order book like a traditional exchange, assets are priced according to a pricing algorithm protocol.
Tagged:
binance
defi