Following the binance weekly promo which began from 2020/02/19 at 10:00 AM to end on 2020/03/03. Binance rewards crypto traders who deposits and trades on binance with up to 55,000 NGN every week.
Thank you for reading this post, don't forget to subscribe!
A total of 30 Binancians will be rewarded on weekly basis.
Binance Nigeria lists the following binancians as successful binance weekly promo winners for the week:
Ne****te@***.com 55,000 naira.
Mu****22@***.com 36,000 naira.
An****07@***.com 9000 naira.
Ag***am@***.com 9000 naira.
Ma****ke@***.com 9000 naira.
Other winners were rewarded with 3,600 naira and the list can be seen from the picture below: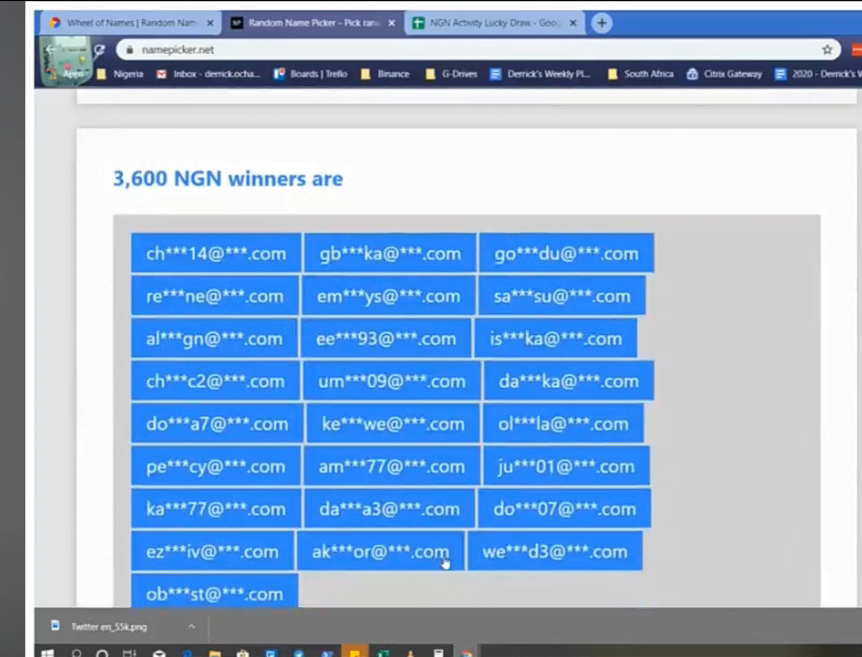 Full Details: Binance Promo: Trade and Win N55,000 naira Weekly on Binance.
The binance weekly promo winners will be selected randomly if they meet the criteria set below for the competition.
Follow These Rules to Participate:
Deposit and Trade at least 15,000 NGN twice a week.
Prize Distribution is as follows:
First Place – gets $150 ( 55,000 NGN).
Second Place – gets $100 (36,000 NGN).
Third to Fifth Place – get $25 (9,000 NGN) each.
Sixth to Thirtieth Place – get $10 ( 3,600 NGN) each.
All rewards will be distributed in BUSD ( Binance USD).
Follow Us On Twitter For Daily Updates
If you do not have a Binance account yet, you can sign up here here and get a 10% discount on trading fees.
Terms and Conditions for Competition:
Deposits must be made via flutterwave.
Winners will be selected randomly.
The 10% trading fee discount will remain valid as long as the Binance referral program is in place.
Trading volume counts both buys and sells, excluding any wash trades.
Get Started And Win!
About The Author