Views: 175
This is KuBitX Wallet Review. You will learn how to set up a new account on KuBitX wallet appand get free XLM tokens.
Thank you for reading this post, don't forget to subscribe!
KuBitX Wallet (KBX Wallet) allows you to spend one currency in any part of Africa all powered by blockchain technology.
KuBitX Wallet is a multi-functional cryptocurrency powered wallet that allows you to send and receive money from friends and family, pay bills, buy and sell gift cards and stake your crypto to earn.
For a better understanding of the KuBiX Wallet, this is what we will be discussing in this review:
Download and Register A New Account Now!
KuBitX Wallet Overview.
KuBitX Wallet Features
KuBitX Wallet Services
KuBitX Wallet Signup Bonus
Referral Program.
Customer Support.
Conclusion.
Overview:
KuBitX is a peer to peer (P2P) blockchain-based wallet registered in Seychelles.
KuBitX is a combination of two existing companies namely; Digitalkudi and Anglobit, the whole vision was born with collaboration as the key motivation to build a legacy brand in Africa for the first time by being intentional and deliberate.
'Ku' from Digitalkudi owned by Eric Annan the CEO & 'Bit' (from Anglobit owned by Alex Amadeu 2nd Cofounder) and X ( for Victor Akoma-Philips the 3rd cofounder) as his identity.
The wallet is preferrably better than others because transactions happen in 2-5 seconds at ridiculously low fees. Users can also pay over 4000 bill types including school fees and electricity bills using any of the tokens listed on the easy-to-use wallet.
Download and Register A New Account Now!
Wallet Features:
The wallet has many features distinguishing it from other bills payment crypto wallets and they include:
Lowest Fees
Multiple Wallets
Easy Onramp and Offramp
Fastest Settlements
Swap
Lowest Fees:
You can send assets to other KBX Wallet users with no fees. You can also make numerous micro contributions without incurring those bank charges!
Multiple Wallets:
It supports three major stable coins in Africa with more on the way. There is also support for Bitcoin (BTC), Ethereum (ETH) and Stellar Lumens (XLM).
Easy Onramp and Offramp:
Funds can be deposited on the wallet using bank transfer, card payments or mobile money. Users can also process withdrawals to their bank or mobile money accounts in seconds.
Fastest Settlements:
Transactions are settled in less than 5 seconds and can be instantly verified by both the sender and receiver. This curtails the problematic transactions synonymous with the traditional banking systems.
Swap:
You can easily swap the following tokens listed below at the current exchange rate anytime. The current available pairs include: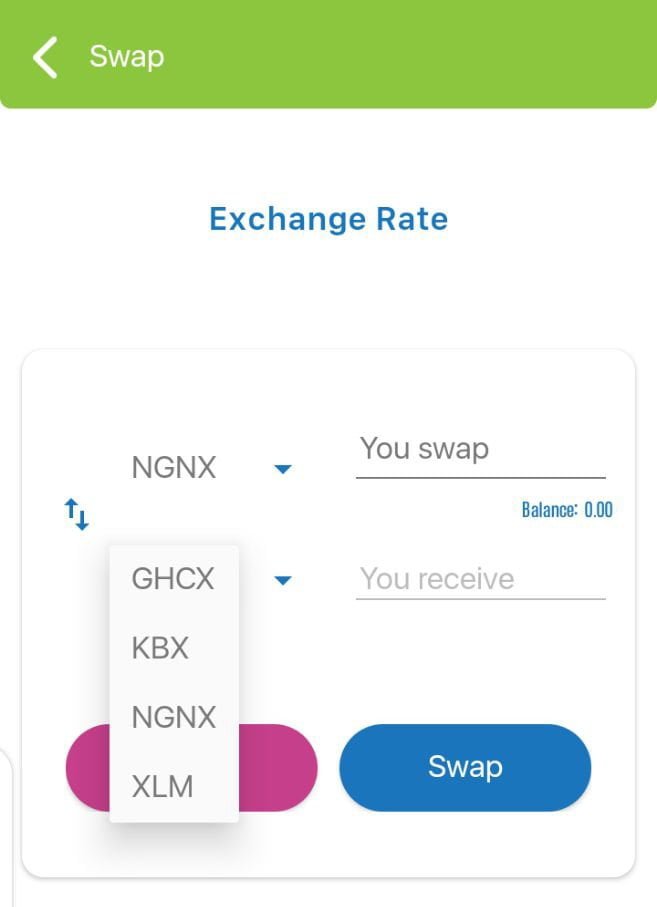 XLM/NGNX
NGNX/XLM
GHCX/XLM
XLM/GHCX
GHCX/KBX
KBX/GHCX
Download and Register A New Account Now!
Wallet Services:
The KBX wallet offers many services including:
Swift Collections.
Staking.
Over 2000 bills payment types.
Local and International Bills Settlement.
Perpetual Passive Income.
The Ultimate Gift Cards Shop.
Swift Collections:
Religious and social gathering leaders or heads, can collect contributions from members be it religious, social, commercial or political. It is super easy to do this, once you have a verified merchant address.
Staking:
You can stake your token available for the staking feature and earn monthly interest when you hold certain assets in a fixed vault for a defined period.
Over 2000 bills payment type:
These payments ranges from Flights, utility, education, religious contribution, entertainment, airtime and data, internet subscriptions and much more.
Settle Local and International Bills From Anywhere:
Users can now pay local and international bills using any of the supported stable coins and digital assets on the wallet.
You can settle a family member of friends bills in Kenya or the Philippines from Nigeria. There is no barrier to payments.
Perpetual Passive Income:
When you use KuBitcoin (KBX) to pay bills, you can earn loyalty tokens. So you can actually earn more money by just using the wallet to recharge your phone, pay school fees and gift a friend.
The Ultimate Gift Cards Shop:
Do you know that you can buy over 100 types of gift cards at a cheaper rate using any supported asset. There is NGNX (Naira tether), XLM (Stellar Lumens), KBX (our native token) etc.
Download and Register A New Account Now!
Wallet Sign Up Bonus:
I know you are wondering how to get started. Its simple. Go to PlayStore and download the KubitX (KBX) Wallet and sign up. When you sign up, you will get free 4 XLM equivalent to around N123 Naira.
Referral Program:
When you share with a friend, you earn commissions on every bill they pay going forward. You can earn referral commission up to the second generation. Relax and earn commission every time your referral buys KBX!
You might be wondering how to get started. This is what you need to do.
Follow these steps and create a new account and get free XLM tokens.
Download KuBitX Wallet
Click on Create Account
Put Your Email Address
Put Your Password
Click Register Button
After clicking the register button, the system will require you to confirm your email address. Once you have verified your email address.
Come back to the KuBitX app and login with your details including email and password, used during registration.
Once you are done, you will get your own free XLM which you can use to process recharge, pay bills and school fees.
Deposit funds using your bank accounts or crypto direct deposit and use the wallet for your day-to-day activities. Invite your friends and earn more!
Customer Support:
KBX has a very responsive Live Chat on its home page (it replies within seconds).
Further inquiries can be sent to:
hello@kubitx.com
You can also follow them on social media:
Facebook – facebook.com/kubitx
Twitter – twitter.com/kubitx
Telegram – t.me/kubitx_official
Conclusion
Download and Register A New Account Now!
So, we've come to the last section of the KuBitx Wallet review—a peer-to-peer blockchain-based wallet available in Nigeria, Ghana and Kenya.
So far. we have gone through how KuBitX operates, its features, services, and every tiny detail you need to know about this multi-functional crypto powered app.
Now, I want to hear from you:
Have you registered already or are you yet to register?
Are you satisfied with the unique features and friendly user-interface?
Would like to thank the team for their efforts and recommend any new feature?
Leave me your thoughts on these questions and more below using the comment section. Feel free to ask any questions using the comment section.
Read Also: Bitrefill Review 2020: How to Top Up Your Mobile Recharge and Buy Giftcards With Bitcoin in Nigeria.
If you are happy with this review click the share button and send it go your friends and family. Don't forget to tell them to sign up and earn from their referral.
Who knows, you might be helping out a friend who is in dire need of it.
Tagged:
Blockchain
Cryptocurrency
kubitx
kubitx wallet review
stellar