Are you a KOL or content creator in the crypto space? Do you want to boost your earning by introducing traders to OKEx? Join the OKEx Super Affiliate Program and earn upto 60% lifetime commission on every trade from your invitees.
Thank you for reading this post, don't forget to subscribe!
What is this program?
OKEx is proud to introduce the Super Affiliate Program to influencers in Africa. This program is designed to promote brand awareness of OKEx in Africa. As an OKEx Affiliate, you can create unique referral links that invite your audience to register and trade, you'll have the chance to earn a steady stream of passive income and special bonuses per month for introducing more users to OKEx.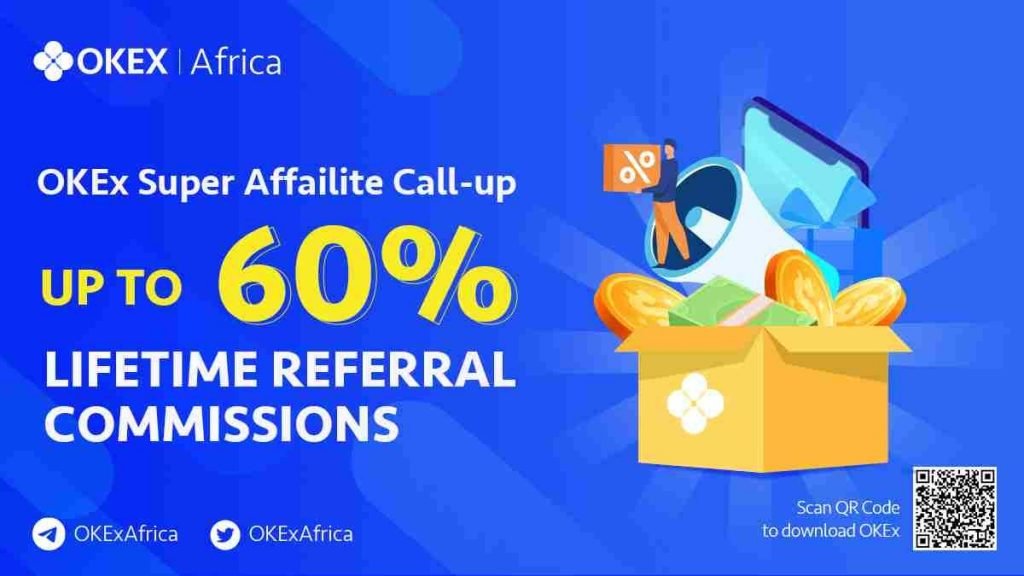 What are the benefits?
• Earn up to 60% lifetime commission on every referrals' trading fees in both Spot and Futures.
• Get advanced product feature experience and latest industrial insights.
• Enjoy exclusive VIP trading fee rate (Evaluate based on your trading volume).
• Get 1v1 manager support.
• Join OKEx private Affiliate Club.
• Get first-hand information from OKEx.
• Get the opportunity to join the OKEx online / offline events.
• Receive gifts and merches for birthdays and special occasions.
What do you need to qualify for the program?
Social media influencer with 1000+ followers (Twitter, Facebook, Medium, Instagram, LinkedIn etc.)
Communities with 500+ members(Telegram, Reddit, Whatsapp)
All media publishing sites
How to sign up?
Submit your application by filling this form:
https://forms.gle/UjRrzTZnUg93SGU67
Once you are approved, our team will reach out to you shortly.
Q&A
How can I become a Super affiliate?
Please submit your application by filling this form, once you are approved,our team will contact you with further program details.
Will I be a Super affiliate forever?
For the first 90 days, you'll be an affiliate without having to meet any requirements. After the first 90 days, you'll remain an affiliate as long as your invitees' total 90-day trading volume is over 10,000 USDT.
How much can I earn?

When you invite new users to OKEx, you'll earn up to 60% of their trading fees. Also, you can set invitation links for your co-inviter to promote, and share the commission of the invitee with the co-inviter.
Who's a co-inviter?
As an affiliate, you can work together with a co-inviter — a person who helps sharing your links. For this help, the co-inviter can get a share of your affiliate rewards. Here are some rules to remember:
Co-inviters need to have their own OKEx accounts.
Co-inviters can't be OKEx affiliates or become affiliates later. They only help affiliates to share links.
Only you as an affiliate can create or edit links. Co-inviters will only share these links.
Co-inviters can check their progress data on the Affiliates page.
How can I share rewards with co-inviters and invitees?
The affiliate can share the total rebates with the co-inviter and the invitee in the proportion set in advance. Sharing rates for spot and derivatives are calculated separately. For invitees, you can share 0%, 5%, 10%, 15%, or 20%. For co-inviters, there are no limits for how much you share.
What's the maximum I can earn?
The settlement of the rebate is based on the commission incurred by the invitee's valid transaction. When you invite new users or return existing users to OKEx, you'll earn up to 60% of their trading fees.
If your invitee has a negative fee rate, it will be calculated based on the actual net commission incurred.
We don't credit rewards for:
Zero-fee trades
Trading with rebate cards
Trading with special fee rates
VIP users
How can I view my affiliate info?
Go to the Affiliates page for a brief overview. You can also download affiliate info, including transactions of all your invitees. Select any period, starting from 1 year before the report creation. You can create up to 30 reports per month. Each report is available to download within 15 days after creation.
About The Author