Endsars; 9.9 Btc Raised for #Endsars Protests, Feminist Coalition Group Gives Account 
Views: 67
EndSARS Protest: The Feminist Coalition group has brought the total amount of  money (in bitcoin) that the movement holds in its purse. It gave a detailed description of how the money has been spent and what exactly it was spent on .
Thank you for reading this post, don't forget to subscribe!
This is the first of its kind in Nigeria and all of Africa, were crypto is embraced at such moments as this,
On 21 October on its official Twitter handle, it reads
Total # Raised : 77,190,305,11
Total # disbursed :56,403,235,00
The group has been transparent in its dealings with the public fund that has been entrusted in its care. Giving details and break down of the entire Money.
Read Also: Call For Crypto Adoption: Protesters Resort to Bitcoin Donation Following it's Naira Bank Account Deactivation.
A total of #77,190,305,11 was raised to support the protests by concerned Individuals and Companies alike.
In the past weeks since the protest began, A total of 56,403,235,00 has been spent on medical bills, emergency services and Transportation, food ,water,ambulances and a lot more.
Given that the ongoing protest round the nation in the past week has taken an unforeseen turn were lives and properties have been lost, the group has been on high alert for disbursements of funds for the care of Victims.
Recall that the government had shut down the GoFundMe account that was in operation for the purpose of raising funds for the protest, this inspired the Group to source for a Bitcoin account, this step further pushed the awareness of crypto in Nigeria.
FeministCo has also announced the Balance in their account and has given Nigerians a lineup of what the rest of the money would be used for consequently.
Balances in Details
Btc 9.90298878
Ngn 20,787,070.11
Usd 11,474.34
Cad 5,595.38
Gbp 5,733.49
Eur 875.42
Ghs 1,256.70
Kes 53,016.60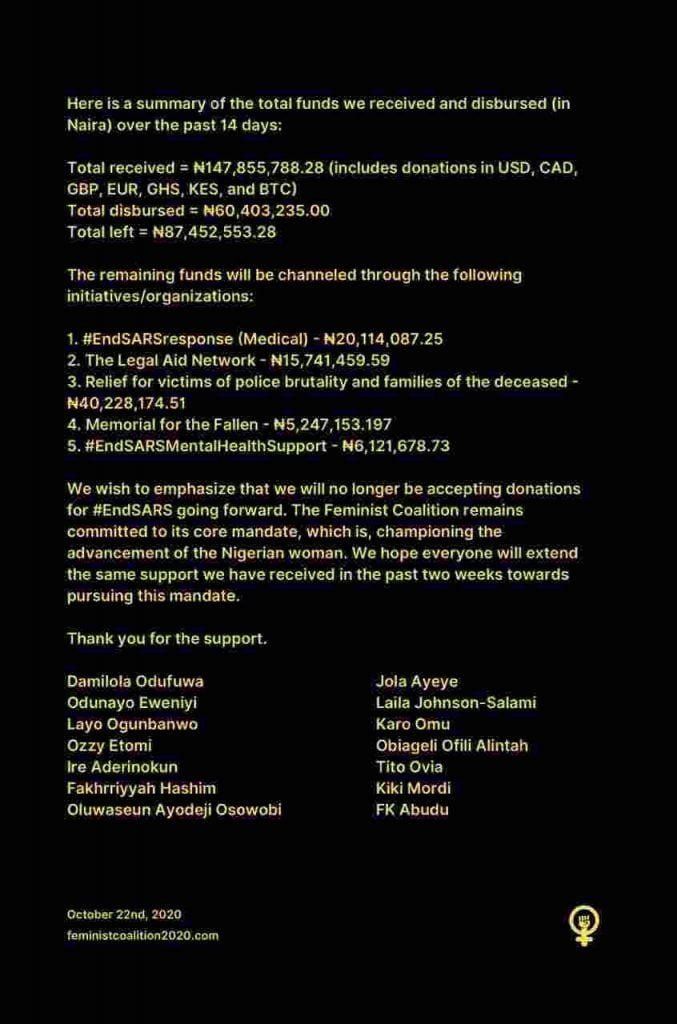 Tagged:
adoption
Bitcoin