Views: 192
Cryptocurrency Academy (CCA) in collaboration with DiutoCoinNews is organising an online only conference to explain NFTs and its benefits to artists and other interested enthusiasts.
Thank you for reading this post, don't forget to subscribe!
Non-fungible Tokens NFTs are pieces of digital content linked to the blockchain, the digital database underpinning cryptocurrencies such as bitcoin and ethereum.
According to Daniel Passos Founder of Phovi App;
Why people buy it?

Like stocks, NFTs let people make a bet on the creator's potential.
Suppose you paid $30,000 to buy an NFT from an unknown artist. If that artist became famous a year later, you can sell the same NFT at a much higher price.

— Dani (@dnmpss) March 11, 2021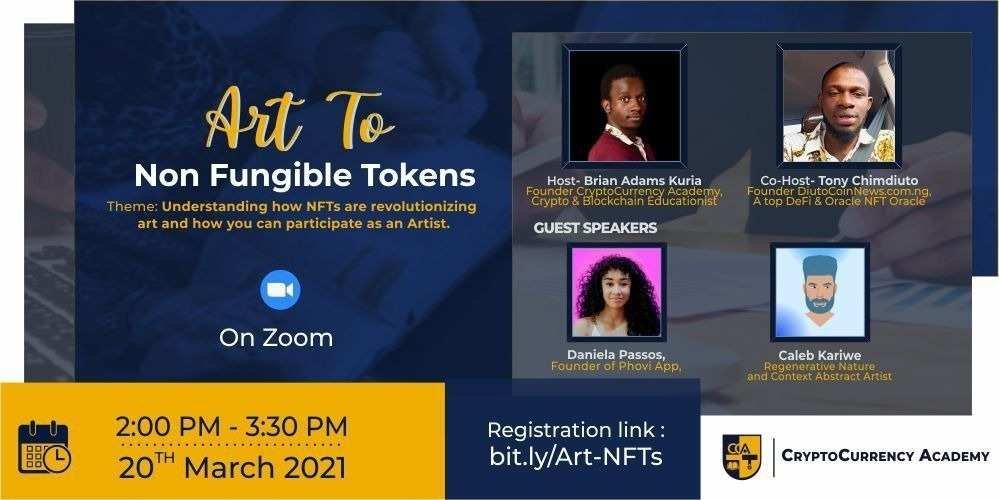 We have invited a panel of Artists and NFT gurus:
Daniela Passos, Founder of Phovi App.
Caleb Kariwe: Regenerative Nature and Context Abstract Artist Claudia.
The two guests will introduce us to the world of Non fungible tokens helping us have a better understanding of What Non Fungible Tokens are. These following topics will be covered;
History of non fungible tokens.
How to participate (demonstration)
How to market your NFT art.
How NFT's are revolutionizing art.
Event Details:
Date: 20th March 2021
Time: 12:00 pm Nigerian Time / 2pm Kenya
Link: https://bit.ly/Art-NFTs
Giveaway: $100 worth of NFTs to 10 participants.
Prepare to be blown away, don't forget to tell a friend to tell a friend.
Tagged:
conference
NFT