Binance Launches A Crypto-Fiat Exchange In Uganda.
Views: 141
As Gathered from Binance Announcement Page
Thank you for reading this post, don't forget to subscribe!
Fellow Binancians,
Binance is excited to announce our first fiat crypto exchange – Binance Uganda!
Registrations for Binance Uganda will open from today, and the first 20,000 users to register on www.binance.co.ug will each be rewarded with 0.5 BNB.
As appreciation for the ongoing support from our users, we will provide Binance Uganda users with a month of zero trading fees once trading comes online. The opening of trading will be announced at a later time.
Click To Proceed With Registration
The total rewards for this promotion are strictly limited to 10,000 BNB, and will be distributed on a first come first served basis.
Note:
Binance reserves the right to cancel or amend this Promotion and Promotion Rules at our sole discretion.
Rewards will be issued within two days after the launch of the exchange. To confirm whether you're a winner, login and access "Distribution History" in the Account Center.
Please finish your ID verification after the launch of the exchange. ID verification will be required in order to withdraw from Binance Uganda.
In the previous month. Uganda Government hosted the Blockchain Africa Conference in Uganda which was a successful one. The President Museveni Yoweri was present with many other dignitaries.
Since after the conference. There came the launch of Binance Exchange Uganda.
This is a big growth to the world highest trading volume Crypto Exchange in the world.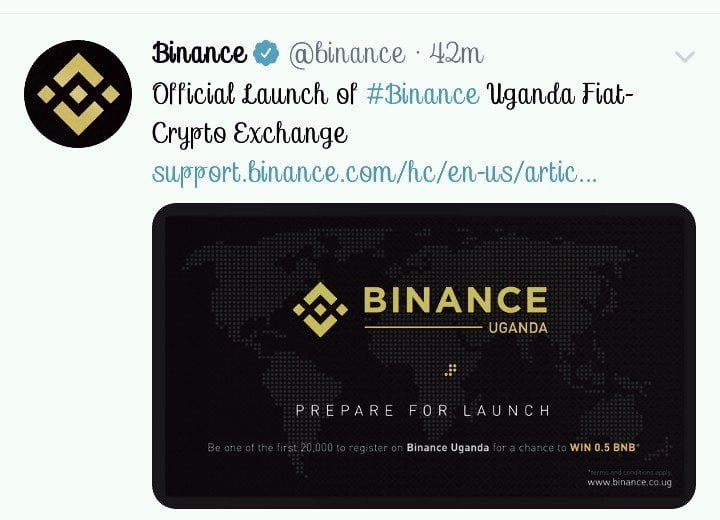 Tagged:
binance
Bitcoin
exchange