Binance Loan: What is Binance Loan, How to Use Binance Loan System And Collect Loan in Crypto. 
Views: 266
What is Binance Loans
What is Crypto Loan
What is Loan
What is Mortagage Assets
What is LTV/ Initial LTV
Margin Call
Liquidation LTV
Binance Loan is a funding support service launched by Binance to allow registered binance users access Binance Loan fulfilling all the requirements.
Thank you for reading this post, don't forget to subscribe!
Crypto Loan is a cryptocurrency loan service whereby you can borrow funds using crypto and also use crypto as collateral to pay back at a later time with interest.
Loan simply means something you borrowed, especially a sum money which you will pay back with interest at a later date.
In mortgage terms, an asset is anything that you own that has value. Mortgage assets can go in different forms. On binance loan its in Bitcoin (BTC) and Ethereum (ETH).
LTV = Loan Asset + Accumulated Interest / collateral valuation multiplied by 100 . This means the addition of the amount in value of the asset you borrowed and the interest it accumulates over the period it was borrowed to the value of the collateral. Here, price index is used.
Margin Call means loans + interest accrued / collateral valuation * 75%
Liquidation LTV means means loans + interest accrued / collateral valuation * 83%
Register on Binance to Access Loan
Introduction:
Many top crypto companies in the cryptocurrency space is trying to make the ecosystem more user friendly like the normal traditional way of banking while giving users freedom to spend their money.
Some companies like Nexo crypto loan service offers the crypto loan service to users to allow them access funds for trading virtual assets.
Crypto Loan does not require the submission of any legal document to qualify or access them. All you have to do, is to provide your collateral and get a loan instantly.
Binance opened door for instant loan services using cryptocurrency for registered users on binance.
Register on Binance to Access Loan
How Binance Loan Works:
Binance registered users can borrow loans in digital assets form including BUSD and USDT. The top cryptocurrencies available for collateral on the binance loan includes Bitcoin and Ethereum.
Borrowers using the binance loan service will enjoy loan terms of 7, 14, 30 and 90 days. The daily interest is 0.028% daily for 7, 14, 30 and 0.285% for 90 days on a standard level for BUSD. USDT at 0.0305% for all except 90 days period at 0.031%.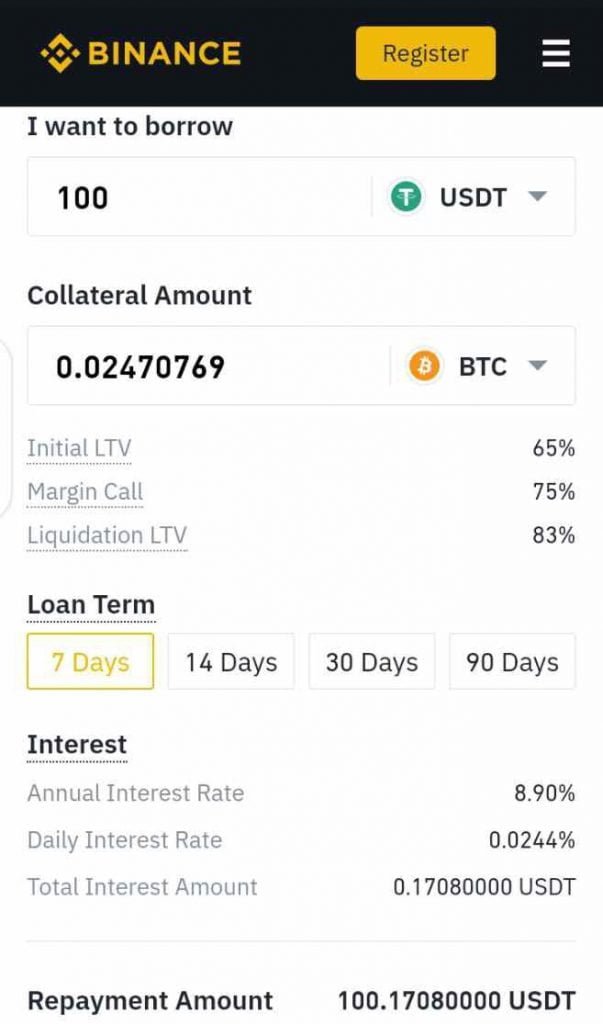 Borrowers can repay in advance or make partial repayment and the interest is calculated based on the days the loan was borrowed.
See Also: You Don't Know How to Buy Tatcoin? Follow These Steps To Buy Tatcoin and Become a Tatcoin Millionaire (Tatas).
Interest is calculated daily, and the same interest calculated for a day, also goes for less than one day which is calculated as one day. The interest rate starts counting from the date you borrowed.
When you want to make repayment, you will have to do it manually on the Order Page.
Register on Binance to Access Loan
You will repay the interest at first before paying back the principal. You can repay in advance before the due date, no commission fees is attached. But then the interest is charged according to the actual number of days.
Let's go into what is LTV on the borrowing page.
Now for Bitcoin, the Initial LTV or the LTV is pegged at 65% instead of 100% while for the use of ETH as collateral, it is pegged at 55%.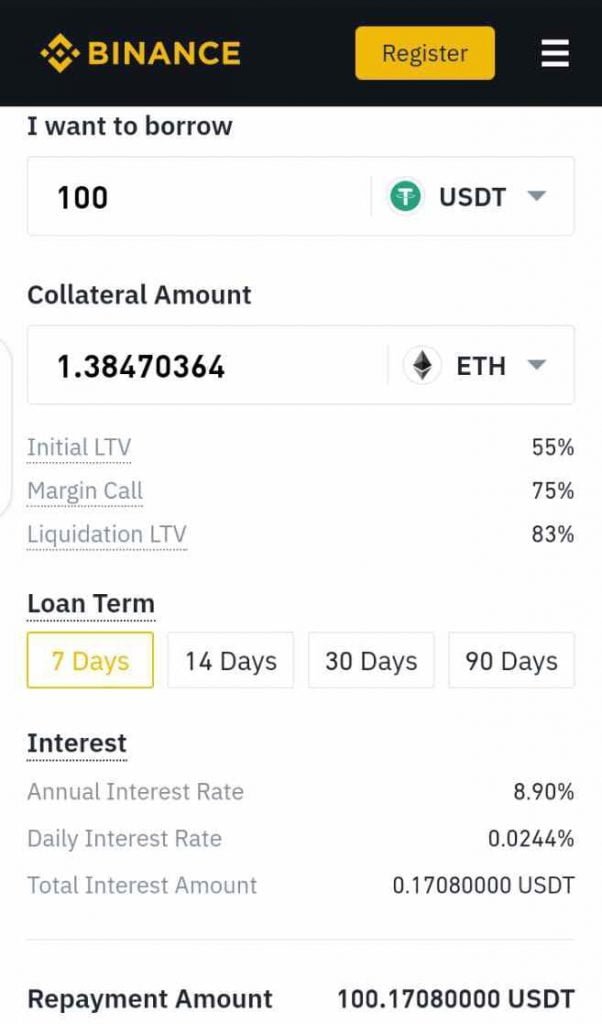 The available collateral coins (meaning coins like Bitcoin and Ethereum which can be used to fund collateral) have different initial LTVs. This means that when you use different coins as collateral of the same loan value, the loans you make are of a different value too. ETH is 55% while BTC is 75%.
Register on Binance to Access Loan
What and Why is there a Margin Call and the Liquidation LTV?
The digital currency market is too volatile and therefore fluctuates, and the risk factor is extremely high too. In other to control this, binance loan employes margin call and liquidation mechanism.
See Also: SEC Nigeria Drafts New Regulations For Digital Commodities (Cryptocurrencies) Investment Platforms Crowdfunding in Nigeria.
Margin Call and Liquidation LTV:
When the LTV reaches 75%, you will be notified to add more collateral. This means that your collateral has reduced in value and needs to be funded to serve the initial value of loan collateral.
When the LTV reaches 83%, an automatic liquidation will be executed. This means that your collateral value has gone down 83% below initial value and you are yet to add more collateral. At this time, you will lose your position.
When your LTV is lower than initial LTV, you can remove some of your collateral too. At the same time, you can always add more collateral.
You are advised to carefully evaluate the risks and add more collateral in due time to avoid accidental losses in extreme conditions.
Register on Binance to Access Loan
Binance Loan repayment period extends to an overdue duration of 3 days, during this time, you will be charged 3 times the daily interest. If you fail to repay your loan after 3 days, your collateral will liquidate to repay your Loans.
You can use your loan to trade on binance and you can also withdraw the loan out of binance.
Disclaimer:
You are advised to seek the advice of a licensed financial expert. Diutocoinnews will not be held liable for damages both in part of full as a result of using the information provided herein.
Tagged:
binance
binancecard
Bitcoin
Cryptocurrency
Ethereum
loan
Trading