Come and Learn How to Trade Bitcoin at the Binance Campus Webinar University of Nigeria Nsukka. 
Views: 244
Binance Nigeria will be hosting a Binance Campus Webinar for students of University of Nigeria Nsukka on 20th April 2020.
Thank you for reading this post, don't forget to subscribe!
The webinar is targeted at interested Nigerian students from the University Nigeria Nsukka willing to learn What is Bitcoin and Cryptocurrency Trading.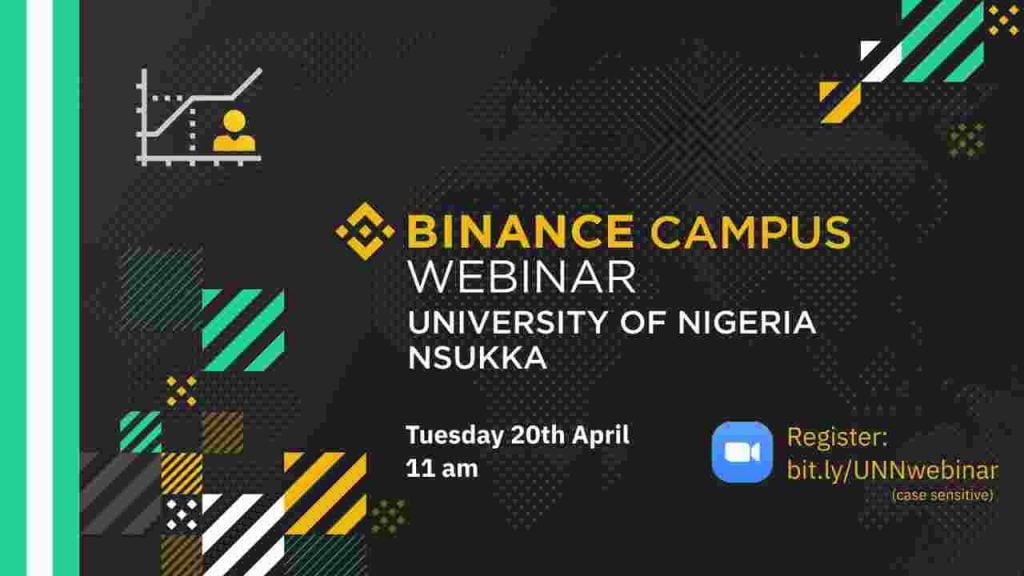 Beginners interested in starting their crypto journey are encouraged to join the webinar, also intermediate users looking to advance their knowledge of trading can join the webinar to learn.
Register New Account Now Account on Binance
The binance campus webinar will be covering topics on
What is cryptocurrency
Getting familiar with bitcoin
Blockchain
Spot trading
Binance ecosystem
How to use Tabtrader
There will be a quiz session for active participants where winners will be rewarded with some special COVID-19 stimulus package amounting to NGN 2,000 to be distributed among 5 winners.
See Also: Beginners Guide to Binance Spot Trading: What is Spot Trading and How to Use it on Binance.
How to Join the Binance Campus Webinar:
You first of all, register a new binance account.
Download a zoom mobile app on google playstore.
Register on zoom with an email and password.
Follow this link to Join the Webinar.
You can also join the Binance UNN WhatsApp group for UNN students to register and learn trading.
If you are a student of University of Nigeria Nsukka, you will need to register an account now on binance and attend this webinar. Also, you can join our group BINANCE UNN group to relate with fellow traders in our community.
Are you bored during this quarantine, now is the right time to learn new skills. Register on Binance and follow the link below to register your attendance for the webinar and make sure to be available.
When is the event?
Monday 20th April
Starting at 11 AM (Nigerian Time: GMT+1)
How to Join Binance Campus Webinar UNN.
Register @ http://bit.ly/UNNwebinar
Enter your full name
Enter Your email address and an invitation will be sent across to your email.
For more info, contact +2348171097752
Tagged:
binance
binanceunn
Bitcoin
Trading
tutorials