Coinbase, Binance, and Kraken Lead the Way in Blockchain Merger and Acquisition Deals.
Views: 76
Coinbase, Binance, and Kraken leads in the blockchain industry being the most active firms in acquisitions around the globe boasting of at least 10 merger and acquisition transaction deals.
Thank you for reading this post, don't forget to subscribe!
Since the inception of the crypto/blockchain industry, a total of 129 merger and acquisition (M&A) transactions have been covered within the space, valued at an estimated $2.6 billion.
Read Also: Binance Opens Fiat Gateway For Nigerian Naira Through Flutterwave
Coinbase, Binance, and Kraken lead in Blockchain merger and acquisition deals with the most active firms in acquisitions.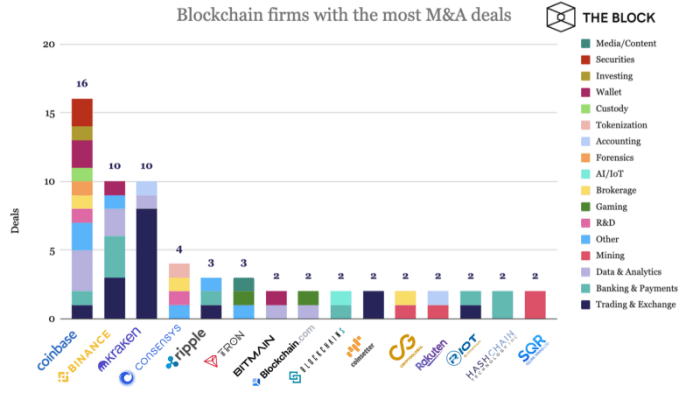 Trading Products & Exchanges covered approximately 48 percent of the total reported value of M&A deals and 23 percent of the total deals.
Excluding the three exchanges above, nine out of the 12 remaining blockchain firms participated in two transactions each.
This is in accordance to a June 2020 research analysis report carried out by The Block's John Dantoni.
Meanwhile, Chainalysis report shows that these top four crypto exchanges including Coinbase, Binance, Huobi, and Bitfinex received about 40 percent of all BTCs on their exchanges this year.
The next ten crypto exchanges has 36 percent share in a combined volume of BTCs with other smaller exchanges sharing the remaining 24 percent in volume transfers.
Top three crypto exchanges in Nigeria includes; Quidax, Bitfxt and Naijacrypto.
Tagged:
binance
Blockchain
coinbase
m&a