Dr. Obiageli Ezekwesili, Senior Economic Advisor, AEDPI, is to keynote the upcoming BLOCKDeFi2020 Virtual Blockchain Conference
Views: 93
BLOCKDeFi Virtual Conference & Exhibition 2020
Thank you for reading this post, don't forget to subscribe!
Dr. Obiageli Ezekwesili, Senior Economic Advisor, Africa Economic Development Policy Initiative (AEDPI), is to keynote the upcoming BLOCKDeFi2020 Virtual Blockchain Conference scheduled to hold from the 12–13 September 2020 on the 2D Airmeet platform.
Dr. Ezekwesili was Vice-President of the World Bank's Africa division and is former Nigerian Minister of Education, Minister of Solid Minerals, and a Presidential candidate in Nigeria's last general elections.
She has been a strong advocate of due process, transparency, and accountability in governance, of which she sees blockchain technology as a necessary tool for Africa's economic transformation.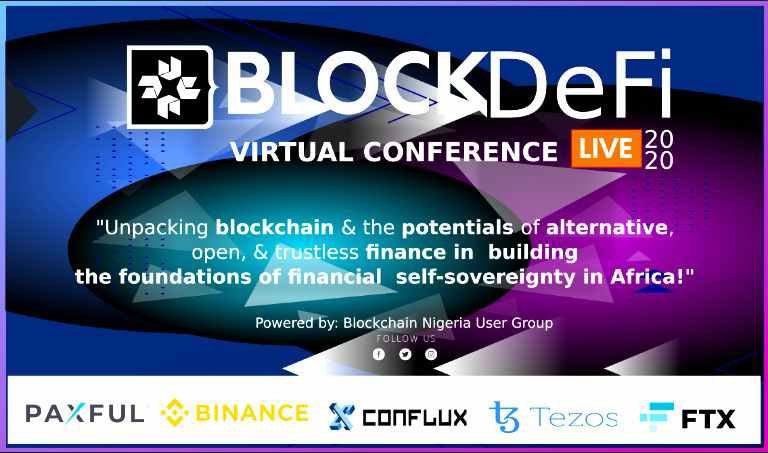 The conference organized by Blockchain Nigeria User Group, is designed to bring attendees the best industry experts and thought leaders, insightful discussions with unique networking opportunities in a virtual world.
Recall that #LagosBlock-DeFi:2020 previously scheduled to hold physically last May was postponed due to COVID-19 restriction guidelines. #BlockDeFi-2020 will now hold as a global technology event on a 2D interactive virtual environment.
The conference agenda is "Unpacking Blockchain and the potentials of alternative, open trustless finance in building the foundations of financial self-sovereignty in Africa!"
Conference tracks will focus on blockchain protocols making significant impacts, layer 2 technologies of Bitcoin — Lightning Network, Ethereum layer 2 scaling solutions, distributed filesystem, and other decentralized web technologies.
"We believe that Africa needs blockchain technology, more that blockchain needs Africa! "-Chimezie Chuta, Founder/ Coordinator Blockchain Nigeria User Group.
Other confirmed keynote speakers includes:
Elizabeth Stark, CEO and Olaoluwa Osuntokun, CTO both Chief Executives at Lightning Labs.
Christian Roesch, Head Africa Operations, at Kinesis Money.
Ali Hussein Kassim, Co-Founder & CEO at Kipochi, Nairobi Kenya.
Emomotimi Agama, Deputy Director and Head Registration, Exchanges, Market Infrastructures and Innovation Department at SEC Nigeria.
Carmelle Cadet, founder & CEO, EMTECH.
And several others as speakers and keynotes for the conference.
Paxful.com is the main event Sponsor, with premium support from Binance.com, Tezos Foundation, Kinesis.money, Conflux Network, and FTX.com.
This is the 9th edition of National blockchain conference series that has been held across Lagos, Abuja, and Port Harcourt since 2017 by Blockchain Nigeria User Group!
It will be a two-day event content-packed event covering; Keynotes, Presentations, Panel discussion segments, Networking, and product Exhibitions.
The conference is free, but registration is required via .
Register For the Conference Here
Some conference tracks include;
The Good, the Bad, and the Ugly sides of DeFi.
Inside the Crypto-Traders Locker-room!
Shielding yourself from CryptoScams and fake DeFi products.
The Rise Of CBDCs and its impact on the emerging decentralized future.
Who should attend
Related News: Top Two Blockchain Friendly Service Providers in Nigeria Appears on Fortune's Top 40 Under 40 List for 2020
Everyone!
The event is expected to connect entrepreneurs, developers, liquidity providers, finance advisors, Bankers, different blockchain node operators, academics, investors, economists, regulators, and others who are looking to learn and network in the blockchain & decentralized finance industry and explore the current opportunities and challenges in the space.
More information about the event and the organizers can be seen on https://blockchainnigeria.group/
About BNUG
BLOCKCHAIN NIGERIA USER GROUP is a vibrant group of Blockchain and Cryptocurrency developers, enthusiasts, and investors helping to drive adoption and awareness of the Blockchain industry in Nigeria and across Africa.
The objective of Blockchain Nigeria User Group (BNUG) is simply to create a pro-innovation environment for the industry, meeting the growing global demand for accessible, transparent, and democratic financial and technical systems.
Blockchain Nigeria User Group is a sub-set of Organization of Blockchain Technology Users (OBTU), http://blockchainusers.org, a duly incorporated Trust with CAC, and an association upholding Self-Regulatory Organisation (SRO) status for the Blockchain Industry in Nigeria and across Africa.
Join the group on Facebook.
Join the group on Telegram.
Chimezie Chuta
Founder/ Coordinator Blockchain Nigeria User Group
Tel: +2348165430776
Conference Details:
Time: Opening time: 10:00 AM WAT
Date: 12 – 13 September 2020
Location: Online Conference on 2D Airmeet Platform
Tagged:
Blockchain
conference
defi
Nigeria