Views: 129
OKEx has opened a new campaign for Nigerians on the OKEx P2P platform.
Thank you for reading this post, don't forget to subscribe!
Few days after launching its P2P platform for its Nigerian users, OKEx, one of the popularly used international crypto trading platforms in Nigeria has opened a new campaign for users who make their first P2P trade on OKEx.
Remember that CBN imposed a ban on Money Deposit banks processing payments for crypto payments companies in Nigeria. This new development has increased the number of persons using P2P in Nigeria.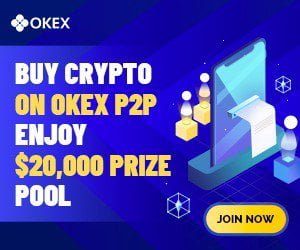 Buy on OKEx P2P and get a share of the $20, 000 pool prize
The promotion details are as follows:
Bonus 1: Win $5 for Your First OKEx P2P Order ($10,000 in total)
Buy your first P2P order for a minimum of ₦ 10000 to get a $5 bonus.
Bonus 2: Trade to Share $10,000 USDT Prize Pool:
Buy $50 cryptocurrency on OKEx P2P with NGN (accumulated during the campaign)
Make any trade with the total trading volume of more than $200 during the campaign period (including spot, margin, derivatives, etc.)
How does it work?
Users will have to complete the following requirements before using the OKEx P2P for Nigerians:
Complete Mobile Number Verification
Complete KYC1 Verification
Link a Bank Account
Link a Payment Method
To participate, join here: Buy on OKEx P2P and get a share of the $20, 000 pool prize

Note: Users who meet all the requirements above can share the prize pool up to $10,000, and the prize pool will be unlocked with more effective participants!
What is OKEx P2P Nigeria:
OKEx P2P allows users to buy and sell cryptocurrency in a peer-to-peer manner. Users can use the OKEx P2P Nigeria to deposit and withdraw BTC, ETH, or USDT instantly using Naira.
"We are happy to announce that OKEx is launching p2p for NGN! With our best price, zero fees, and seamless trading system, we strive to give you the best crypto trading experience in Nigeria!"
What does it mean?
This means that users on OKEx who are from Nigeria can now exchange crypto-fiat or fiat-crypto on the OKEx P2P platform. Deposits and withdrawals are now easy for Nigerians on its platform. OKEx P2P Nigeria has enabled Bitcoin (BTC), Ethereum (ETH), and Tether USD (USDT).
Start your first OKEx P2P order and grab a share of the $ 20,000 prize pool now!
Read Also: OKEx Adds Support for NGN and Bank Transfer Payment Method on OKEx P2P Nigeria
Tagged:
Nigeria
OKEx
p2p