Coinbase : Launches Coinbase Pro. Shuts down Gdax.
Views: 103
From the General Manager of Coinbase Pro. Farmer:
Thank you for reading this post, don't forget to subscribe!
On Friday June 29, we say goodbye to GDAX and hello to Coinbase Pro. To take full advantage of this upgrade, we recommend you start using pro.coinbase.com now.
From the statement gathered from coinbase blog. Coinbase Pro is a new interface built on top of the existing GDAX trading engine that has been designed with the needs of the active trader in mind. From coinbase blog
No action is necessary from you right now, but please note that after June 29, you will not be able to access gdax.com.
After this date:
Any balances in your GDAX wallets will

automatically be shown on Coinbase Pro
Any trading history on GDAX will

automatically be shown on Coinbase Pro
Accessing GDAX.com after June 29 will result in being redirected to Coinbase Pro
GDAX API Integrations:
There will be no disruption to the gdax.com API during this time. GDAX APIs will continue to function until December 31, 2018.
We encourage Coinbase Pro users to begin migrating their API usage away from
api.gdax.com to api.pro.coinbase.com.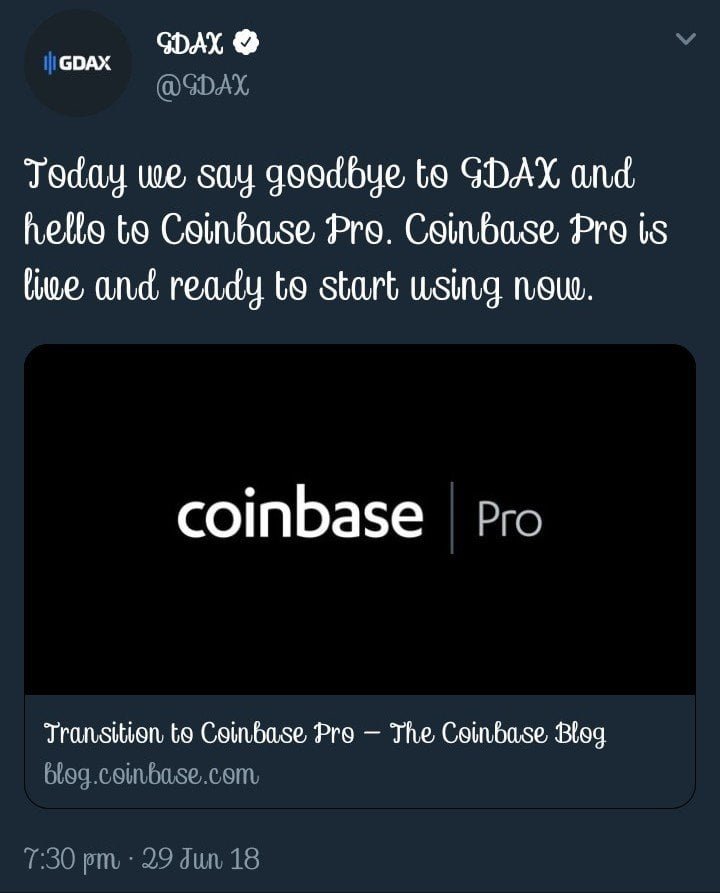 Brief History Of Coinbase:
Coinbase is a digital currency exchange headquartered in San Francisco, California. Founded by Brian Armstrong and Fred Ehrsam It's a Broker exchanges of Bitcoin, Bitcoin Cash, Ethereum, and Litecoin with Fiat Currencies in around 32 countries, and currently opened an office in Oregon, Portland
Coinbase Pro is currently live and all users are encouraged to update their bookmarks and try our upgraded trading experience today.
Tagged:
Bitcoin
coinbase
exchange
launch