Come and Learn How to Use Binance and Trade Bitcoin at Binance Campus Webinar ABU ZARIA
Views: 65
Binance Nigeria will be hosting the Binance Campus Webinar holding on 7th April 2020. The webinar is targeted at interested Nigerian students willing to learn What is Bitcoin and Cryptocurrency Trading. 
Thank you for reading this post, don't forget to subscribe!
The webinar is for students of the Ahmadu Bello University Zaria. Beginners looking to start their crypto journey are encouraged to participate, also intermediate users looking to advance their knowledge of trading can join.
Register New Account Now Account on Binance
The binance campus webinar will be covering topics on
What is cryptocurrency
Getting familiar with bitcoin
Blockchain
Spot trading
Futures trading
Binance ecosystem
There will be a quiz session where winners will be rewarded with some special COVID-19 stimulus package amounting to NGN 10,000, to be distributed among all winners.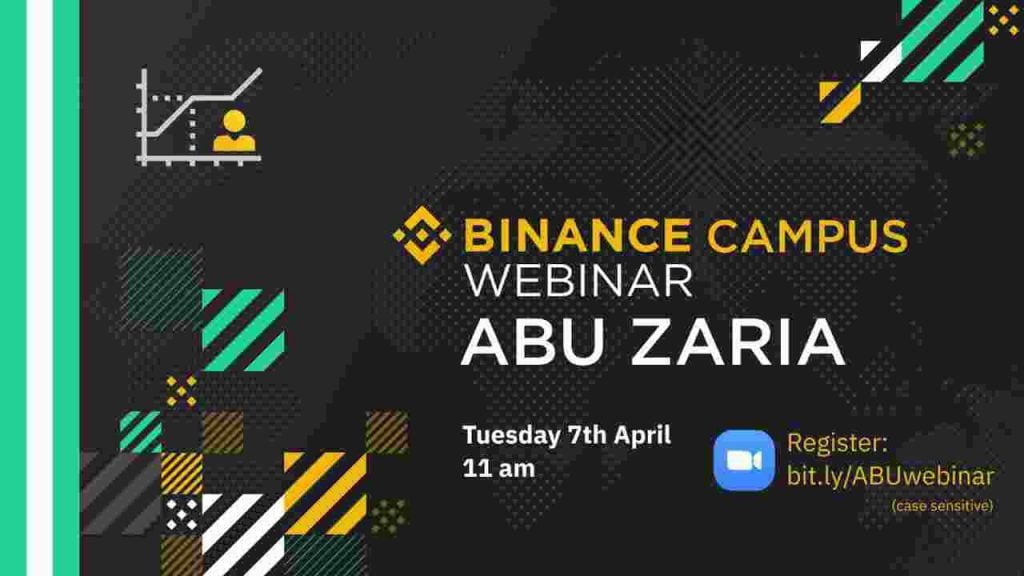 Ten winners will be picked and rewarded with 1000 Naira Each.
How to Join the Binance Campus Webinar:
Download a zoom mobile app on google playstore.
Register on zoom with an email and password.
Follow this link to Join the Webinar.
See Also: Binance Loan Launches With 20% Interest Discount For Borrowers.
After this event on 7th April for Binance community in Ahmadu Bello University, Zaria. There will be a masterclass from Binance Nigeria on 10th April.
There will be a giveaway where a pool of NGN 100,000 will be shared between 19 users who will register and make their first naira deposit during the webinar (Minimum deposit for NGN is N150).
Are you bored during this quarantine, now is the right time to learn new skills. Register on Binance and follow the link below to register your attendance for the webinar and make sure to be available.
When is the event?
Tuesday 7th April
Starting at 11 AM (Nigerian Time: GMT+1)
How to Join Binance Campus Webinar ABU ZARIA.
Register @ http://bit.ly/ABUwebinar
Enter your full name
Enter Your email address and an invitation will be sent across to your email.
For more info, contact +2348031521653
Tagged:
binance
Bitcoin
Cryptocurrency
Nigeria
Trading
tutorials
university