The blockchain and crypto space has grown tremendously into a global ecosystem of innovations and novel opportunities. However, a plethora of regions around the world, especially in Africa are yet to understand the basics of crypto. Hence, the need to spread crypto awareness can not be ignored.
Thank you for reading this post, don't forget to subscribe!
Several initiatives across continents are stemming from the sector to boost crypto awareness and facilitate mainstream adoption through comprehensive blockchain education and onboarding events. This is what "Crypto Made Easy" seeks to achieve.
Led by Obinna Iwuno, Founder and Head of the Crypto Boot Camp community, "Crypto Made Easy" is a mid-level awareness, education and sensitization event, designed as a pathway for even more individuals across all strata of society to join the crypto space.
"Crypto Made Easy" is also the post-event engagement for the Bitcoin Pizza Day event. The crypto awareness campaign will target about 300-500 enthusiasts in every city it is hosted.
On Saturday the 2nd of July, the event will debut in Enugu, bringing together experts and stakeholders in the industry to simplify the complexities of blockchain, NFTs, Decentralized Finance, Crypto Trading and Blockchain Development.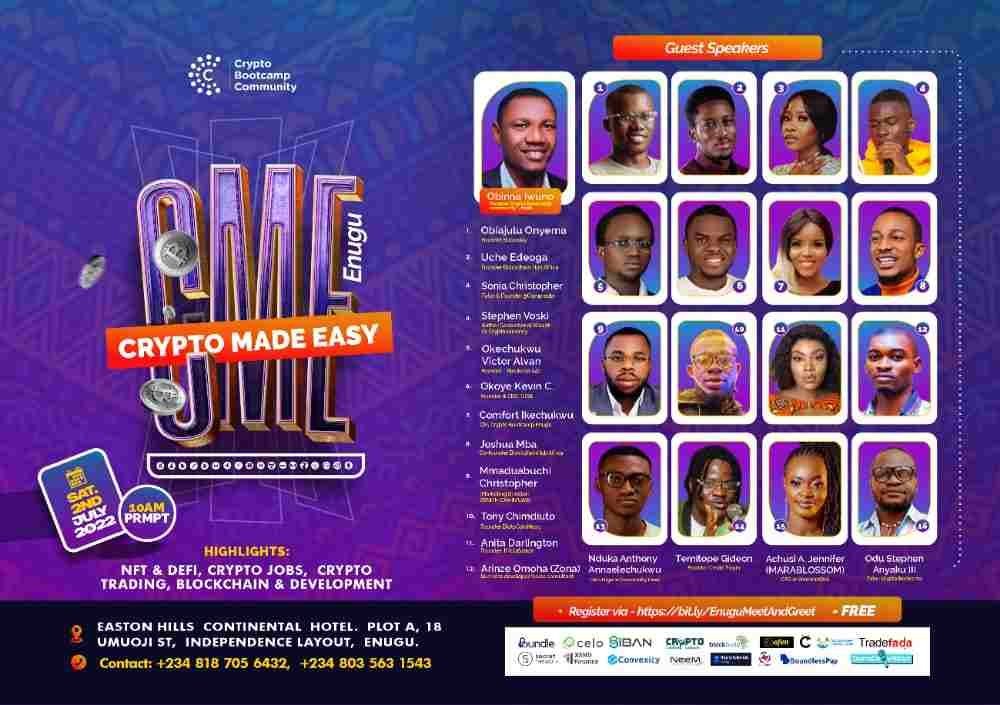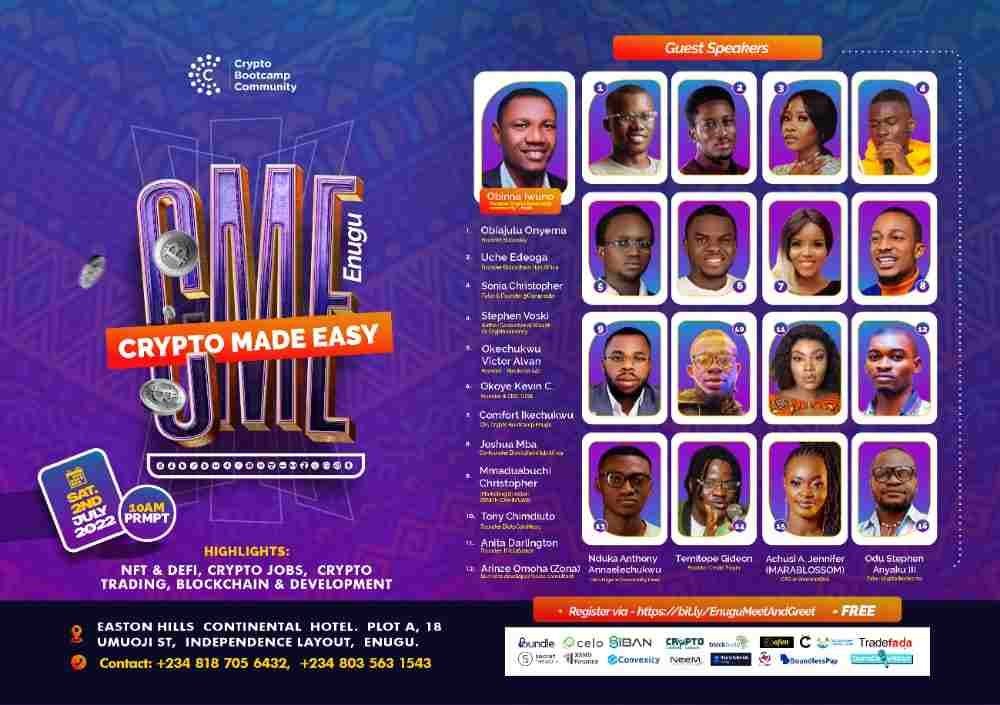 The event is aimed at onboarding interested individuals to the crypto industry. It will educate, empower, and reveal opportunities in the industry to participants.
Powered by the Crypto Bootcamp Community with support from industry-leading brands and top players including SiBAN, Bundle, Mara, BoundlessPay, Crypto Ladies League, Blockchain Network, Xend Finance, CoinZone, Blockbuild, TradeFada, DuitoCoinNews, Afen, Neem, Blockchain Africa Hub and Convexity, the event is primed to restructure crypto experience for enthusiasts.
To be part of this event, register Here.
Be all caught up with the Crypto Bootcamp Community. Follow our social channels:
Facebook: https://www.facebook.com/Crypto-Bootcamp-Community-147238337473314/
LinkedIn: https://www.linkedin.com/company/crypto-bootcamp-community
YouTube: https://youtube.com/channel/UCWD2LAHE8x1tG38elaVQImA
Twitter: https://twitter.com/bootcamp_crypto
Tiktok: https://vm.tiktok.com/ZM836wH85/
Telegram: https://t.me/thecryptobootcampupdates
About The Author