Crypto Ecosystem Funding Report From Messari Shows Capital Raise in 2022 Surpassed the 2021 Capital Raise.
Thank you for reading this post, don't forget to subscribe!
A significant sum of money has been injected into startups across various sectors of the crypto ecosystem according to the "H1 2022 Fundraising Report" published by Messari and Dove Metrics, a subsidiary of Messari Holding Inc.
According to the report, centralized finance (cefi) outpaced decentralized finance (defi), as cefi captured more than $10.2 billion in H1.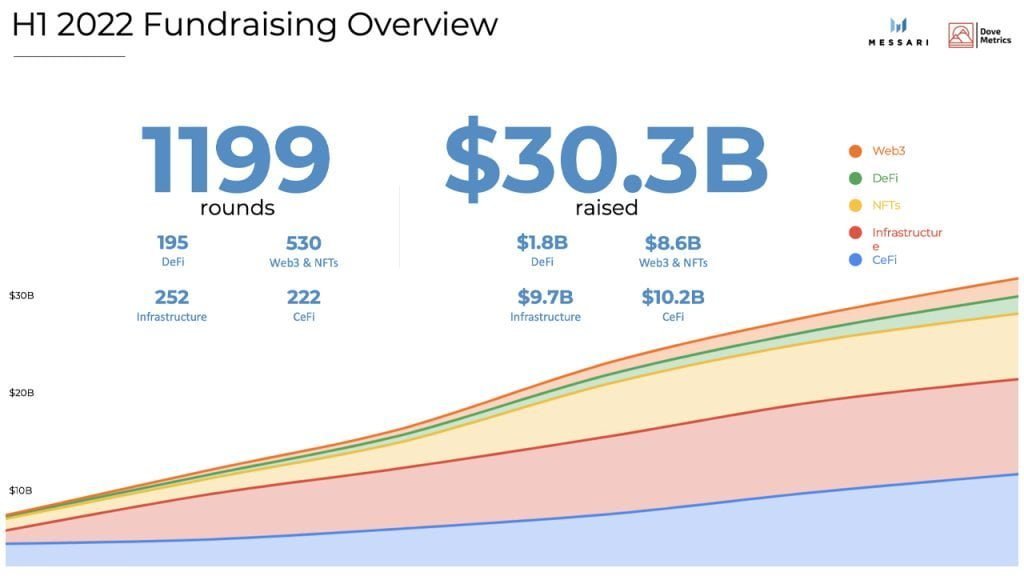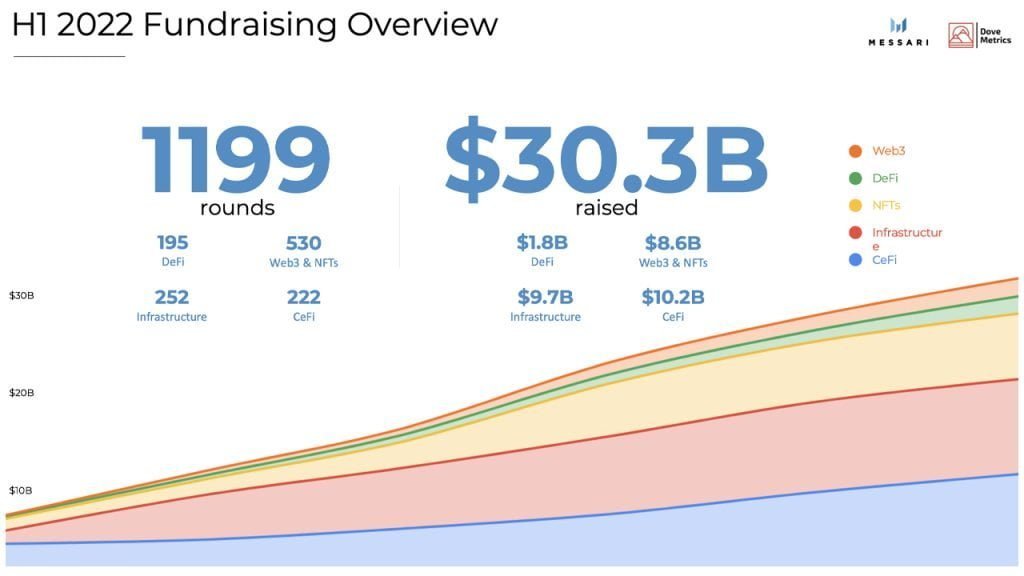 Defi managed to gather $1.8 billion, while Web3 and non-fungible token (NFT) projects and related companies raised $8.6 billion in the first six months of the year.
Another $9.7 billion was injected into the blockchain and crypto infrastructure sector and while Web3 and NFTs saw the third largest capital raised, the Web3-NFT sector saw the most fundraising rounds with 530 rounds during the first two quarters.
The biggest raise in DeFi was in the month of June, a number of defi projects and businesses raised $624 million. "Despite DeFi's maturity, seed rounds continue to dominate," Messari researchers explain in the report.
Read Also: Little Above Half Of South Africans Has Zero Awareness Of Cryptocurrency.
The most funds raised during a month for infrastructure was February, for cefi the top month was January, and the Web3-NFT sector's best month was April.
Across different blockchains, Ethereum-based defi projects and startups have received the most rounds and the highest dollar amounts, in comparison to alternative smart contract blockchains like Solana, Avalanche, and Polkadot when it comes to fundraising.
Ethereum-based defi projects saw 54 deals in Q1 and 61 deals in Q2. In Q1, Ethereum-based defi projects raised $387 million while projects from alternative blockchains raised $309 million during the first quarter of 2022.
Read Also: Viral Kenya's Driving Championship Meme Exploited As NFT Draws Copyright Board Hammer.
In Q2, ETH-based defi raised $890 million while alternative chain-based projects gathered around $193 million. Messari reports that in the Web3-NFT sector, early-stage funding rules and gamefi got most of the NFT funding.
Once again, Ethereum also dominated in the Web3-NFT industry, in comparison to alternative smart contract platform networks.
About The Author