Views: 112
This is a guide on how to start trading cryptocurrency in Nigeria. This guide will help you to on-board yourself in the cryptocurrency trading space in Nigeria and around the world.
Thank you for reading this post, don't forget to subscribe!
Meanwhile, Cryptocurrency space in Nigeria is growing daily and the interest is tremendously breaking records. 
Cryptocurrency in Nigeria is growing at a fast steady pace across Africa. Nigeria accounts for most of the Bitcoin trading activities across the continent. Investors are dumping Naira to buy Bitcoin in Nigeria utilizing different channels.
Few days back, do you know that Nigeria recorded the highest influx in the number of Bitcoin Wallets created on Blockchain.com. I know you don't know.
One of the reasons is this…
We published a guide to starting your own Bitcoin Business in Nigeria, listing the the resources and facts to consider before onboarding.
Aside this, the Altseason which came with the DeFi boom causing a bull market, thereby drawing the attention of investors and the Nigerian Youths in general.
Ngerians trade more on informal Cryptocurrency exchange platforms created mostly on social media platforms like WhatsApp and Telegram groups.
On one of the surveys conducted by Binance Campus Ambassadors around Nigeria. The report shows that the interest of Nigerian Youths span around OTC trading via Naira to Bitcoin trade.
One of the reasons for the interest in OTC trading is simple, the trading fees.
New users are also faced with the lack of proper knowledge of mobile applications, resources and platforms to join and learn with others.
I know this is stressing and inconveniencing because when you are on a journey with no direction or persons to put on you. It usually gets tough. This and more is why you are here to learn and follow up.
Read Also: Top List of Freelance Websites to Get You a Pay in Bitcoin in 2020
Now we have curated four needed steps to onboard Nigerians in the Cryptocurrency Space:
Joining Good WhatsApp Groups:
There is a lot of WhatsApp groups out there you can join that talks cryptocurrency but then there are very few of them which is good and can help you as a newbie.
Check these WhatsApp groups:
Crypto Space Hub: Created by Stephen Voski, the popular fast rising Bitcoin tutor and Adedokun Samuel, the trading signal guru for trading with profits.
DiutoCoinNews: The one-stop network for everything cryptocurrency and Bitcoin in Nigeria, with latest news updates and How-To Guides for newbies like you.
We have other various groups for universities around Nigeria which you can easily get to join by joining the first two above.
Get The Needed Resources:
We published an article for newbies looking to enter the Bitcoin Business and scale in Nigeria. A full list of these resources and knowledge can be found here on DiutoCoinNews.
Aside that, we published a list of mobile apps and other resources needed for newbies.
Get the Needed Bitcoin and DeFi Wallets:
You will need the best mobile wallets for storing Bitcoin to onboard. Blockchain.com wallet is not the only best Bitcoin wallet for Nigerians to store cryptocurrency.
A Quick Tip: Bitcoin Wallet is used in keeping your Bitcoin, for sending and receiving Bitcoin across borders.
Self Development:
The last and most important step is you. You need to keep up the zeal, read about guides including  how to read trading charts, consistently keeping yourself up to date with news and avoid losing track.
QUICK FACTS: A BTC trader is simply an individual who trades Bitcoin against other cryptocurrencies or fiat money from differential changes in the market price of BTC for profit. A Bitcoin trader is someone who steadily trades cryptocurrency and grows his trading skills.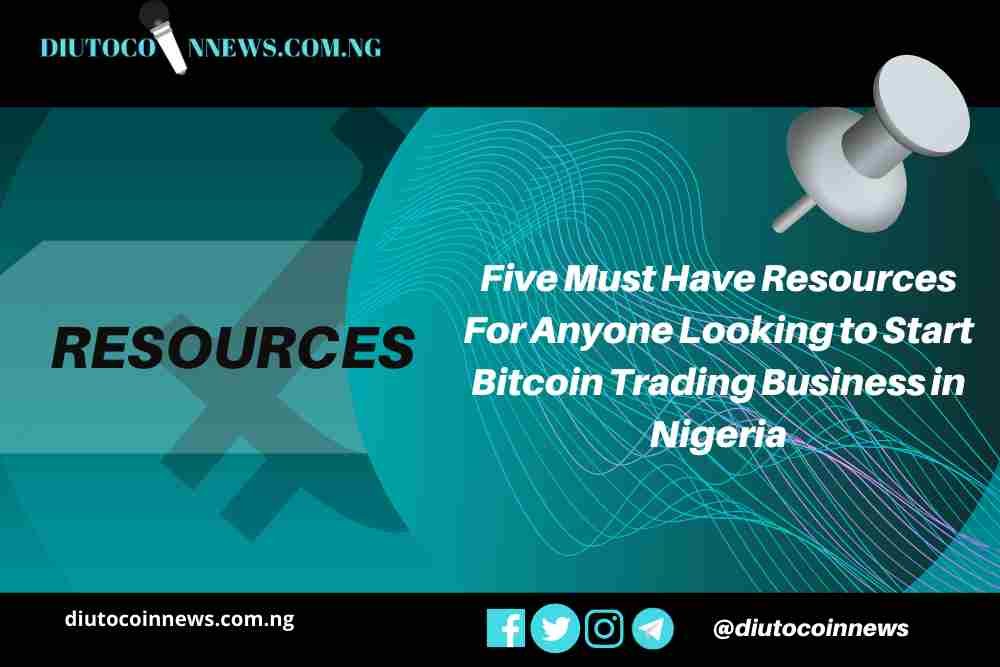 There is this saying that goes like this;
"He Who Fails to Plan, Plans to Fail".
When you are less busy, you can get the "Bitcoin Billionaire Movie" or the "Making Money Off the Net" book by Gaius Chibueze to keep your mind fresh and entertained.
Okay now, it's assumed that you have 
You will now hang on around the group and interact with many other users. Learn new things daily. Read the common crypto terms to avoid missing crypto discussions.
Remember learning is a gradual process, so relax and enjoy the journey.
Don't forget to follow us on all social handles and join our groups. Share to your friends and family. Most especially, ask questions on any new updates or confusions. 
Use our LEARN CRYPTO tab over on the menu Tab : to Learn new terms, acquire more knowledge and other things.
Keep repeating the process and you will turn into an advanced biggie in this sector.
Tagged:
Cryptocurrency
Nigeria