Dash Partners With AnkerPay, South African Cryptocurrency ATM and PoS Provider, to Grow the Ecosystem in Sub Saharan Africa.
Views: 93
Dash Partners With AnkerPay, South African Cryptocurrency ATM and PoS Provider, to Grow Ecosystem in Sub Saharan Africa.
Thank you for reading this post, don't forget to subscribe!
AnkerPay in South Africa has rolled out ATMs in the country as well as payment processing services and machines to offer merchants and users a state of the art user experience.
Dash, the top digital currency for payments and e-commerce, announced it has partnered with AnkerPay, a South African based cryptocurrency payments and ATM company.
AnkerPay has a growing network of ATMs, PoS systems, online payments processing, and a user-friendly wallet that connects with their entire ecosystem.
With the partnership, AnkerPay will integrate InstantSend, one of Dash's key features, which completes all transactions on the network within two seconds, including settlementThis will enhance the user experience when purchasing goods or services.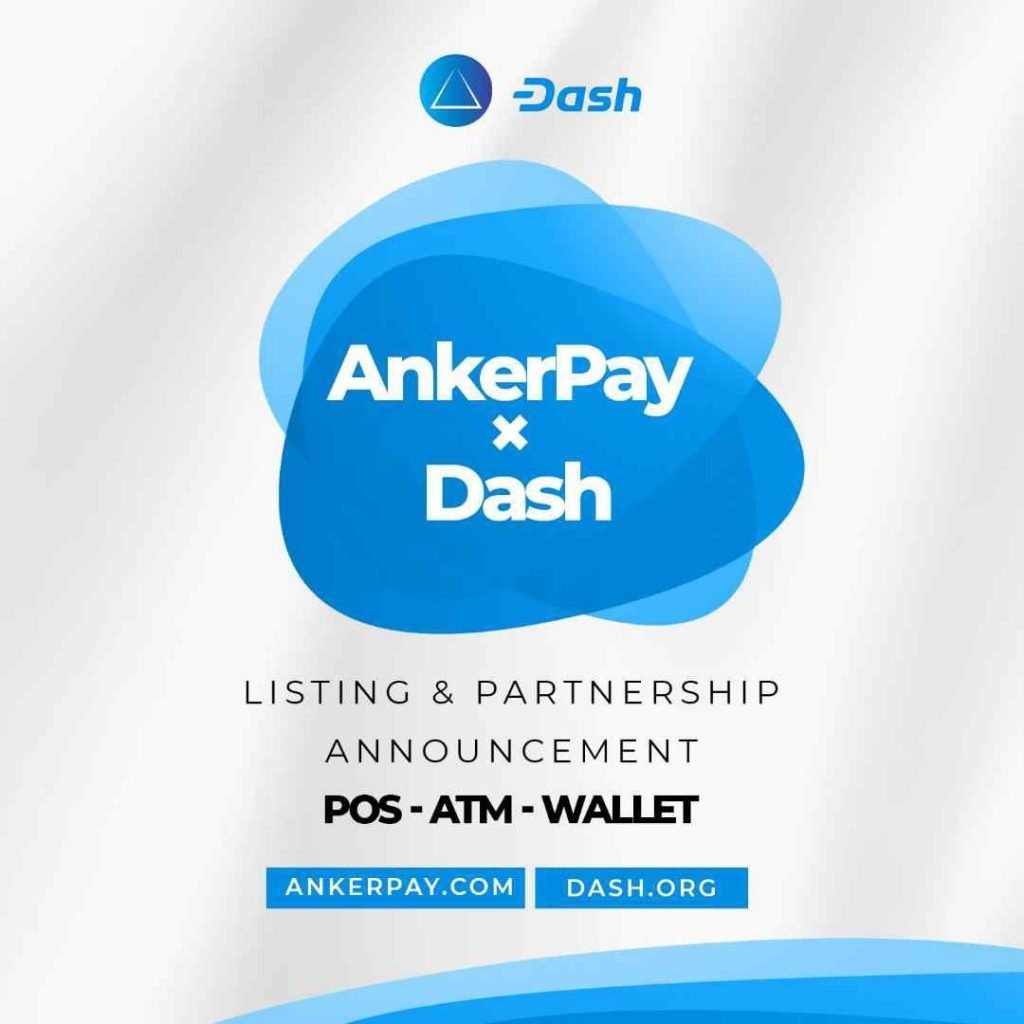 Transactions are converted into local national currency giving the merchant the ability to continue to accept Dash payments without the risk of volatility.
Users in South Africa can now purchase or sell Dash through their ATMs or wallets and spend it at participating merchants in the country. Users can also purchase goods and services online with Dash.
The partnership will also develop the remittance ecosystem in South Africa and other markets. Remittances in Africa currently face high-fees and can take several days depending on the method of transfer.
Also Read: Dash Partners with Bitfxt Cryptocurrency Exchange to Offer Remittance Service to Nigerians at One Percent Fee Charge
With Dash's InstantSend and a number of different ways to cash-out, a user can receive their Dash and convert it into their preferred local currency.
Dash will be used to pioneer the advantages for cryptocurrency to solve inefficiencies and lower costs around remittances and payments in Sub-Saharan Africa.
Dash's DAO model enables local teams to support the network, which enables a global-localapproach in market entry and growth.
Today, Dash has earned a reputation for the success it has seen in Venezuela as it is the most used cryptocurrency for payments.
Similarly, Dash Core Group and AnkerPay will be working with Dash Nigeria, the largest community run organization in Sub Saharan Africa to help grow merchant and user adoption of AnkerPay and Dash across South Africa and beyond.
"This is a big step for Dash," said Ryan Taylor, CEO of Dash Core Group. "The partnership with AnkerPay provides Dash a ready-to-go scaleable ecosystem to expand our presence in South Africa and soon after, the rest of Sub-Saharan Africa.
Ankerpay is providing its users with the best possible Dash experience, using InstantSend to quickly complete purchases. Their solution makes it easy for merchants to accept Dash while reserving the option to receive fiat.
Dash has thrived in complex markets where our technology and strategies help address payments and remittance issues."
"This is an important leap for Dash users in South Africa and an even more substantial step for regular people," Les Vorster said.
"Not only will people be able to pay for goods and services but they'll have access to purchasing Dash directly, circumventing the need for traditional banking infrastructure, a game-changer for the millions of marginalized unbanked. Something unimaginable not too long ago," Les added.
About Dash
Dash is digital cash designed to offer financial freedom to everyone. Dash allows millions of individuals across the globe to carry out instantly re-spendable and secure transactions, with near-zero fees.
Built to support real-life use cases, Dash is the leading decentralized payment solution: it is accepted at over 4,900 merchants globally, accessible via 1,600+ ATMs and 100+ exchanges worldwide.
Dash has pioneered groundbreaking features including:two-tier network with incentivized nodes and decentralized project governance (Masternodes), instantly settled payments (InstantSend), instantly immutable blockchain (ChainLocks) and more.
The Dash Network's development is supported by Dash Core Group, the largest organization funded by the Dash Treasury, which supports and nurtures the continued worldwide development and integration of Dash.
For more information, visit https://www.dash.org/ or follow the organization
on Twitter @DashPay.
About AnkerPay
AnkerPay has a number of adoption based software and hardware solutions that enable crypto-based utilization for merchants, users and corporations.
AnkerPay's unique approach brings functionality and interoperability to the marketplace with its main focus being Sub-Saharan Africa and other developing countries giving the unbanked access to the infrastructure needed to access cryptocurrencies.
The AnkerPay ecosystem provides a range of products and services that are a perfect fit for individuals, small or large businesses looking to accept or integrate cryptocurrencies.
Tagged:
Ankerpay
Bitcoin
Blockchain
Cryptocurrency
Nigeria
Partnerships
South Africa