Views: 134
Screenshots of the supposed online test wallet for the China's Central Bank Digital Currency has surfaced the internet following an announcement that its use will be tested in four major cities of China.
Thank you for reading this post, don't forget to subscribe!
According a Chinese local news media outlet Chainnews, the supposed DCEP test wallet will support functions such as digital asset exchange, digital wallet management, digital currency transaction record check, and wallet attachment.
The digital currency / electronic payment—DCEP test wallet will also support some basic functions such as code scanning payment, remittance payment, and mobile chip payment.
Caijing magazine also reports that the first batch of DCEP pilot program will include four major state-owned commercial banks of China. Also, it will involve three major operators of mobile and telecommunications.
Also Read: Nigeria is Not Ready to Issue Any Cryptocurrency Regulations in the Country Anytime Soon; Says Nigeria Deposit Insurance Corporation.
According to reports, the app is only available for testing to customers on a whitelist in four regions, Shenzhen, Xiong'an, Chengdu and Suzhou. The major areas covered include; transportation, education, medical treatment, consumption, etc.,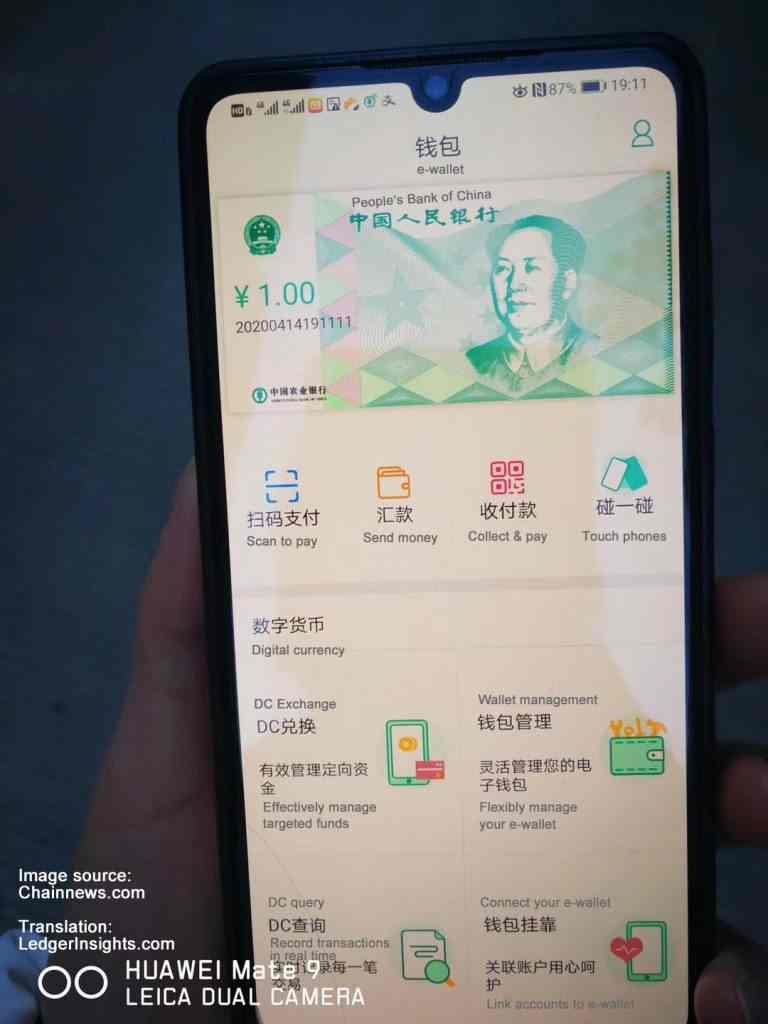 The app's payment functionality includes the ability to make retail payments by scanning a barcode, to send money, request a payment and for peer-to-peer payments. While in the wallet management function of the app, users can manage funds, link the wallet to other accounts and track all transactions.
Additionally, from the analysis of Guosheng Blockchain Research Institute, the DCEP may support programmable smart contracts, which can fundamentally change the model of the financial and payment industries.
It's expected that Tencent's WeChat Pay would be participating as one of the popularly known incumbent wallet providers. Meanwhile, there is still some uncertainties as to whether AliPay, the current largest digital payments firm in China will be participating for the DCEP wallet testing.
Yao Qian, a Director at the China Securities Regulatory Commission (CSRC), released an article last week, which described the importance of competition in the distribution of digital currency at the retail level and how blockchain can serve.
Follow us on all social media handles for more updates.
Tagged:
alibaba
Bitcoin
Blockchain
cbdc
China
Cryptocurrency
digitalmoney
wechat