Most ethereum investors are currently on profit already. A big percent of ethereum addresses are in profit (1d MA) just reached an increase of 82.247%.
Thank you for reading this post, don't forget to subscribe!
According to the data seen via glassnode alerts by DiutoCoinNews. Ethereum addresses reached a 2-year high of 82.247%, while a Previous 2-year high of 82.220% was last observed on 02 September 2020.
Data from Glassnode shows that the total daily revenue for Ethereum miners in dollar terms have not exceeded the last level of rise since 02 September.
📈 #Ethereum $ETH Percent Addresses in Profit (1d MA) just reached a 2-year high of 82.247%

Previous 2-year high of 82.220% was observed on 02 September 2020

View metric:https://t.co/caVzUVoOt2 pic.twitter.com/WvGw6WhYrV

— glassnode alerts (@glassnodealerts) November 14, 2020
With Ethereum transaction fees soaring, the daily profit that can be achieved by miners on the network is now high again.
This high means that 82% of the circulating Ethereum supply is now in a state of profit. Though in contrast to the 88% surge witnessed in march.
The increasing profitability is as a result of the recent price rise of the ether (ETH) cryptocurrency and a surge in transaction fees brought on by increasing levels of decentralized finance (DeFi) activities on Ethereum.
Read Also: Differences and Similarities Between Binance Chain, Binance Smart Chain and Ethereum Network.
Since 2019 was a disappointing year for ETH holders where it peaked at $351 in June, the coin further dropped from $136.55 on January 1 to $132.610 on December 31.
In 2020,the second-most-popular digital currency after bitcoin (BTC), ETH started trading at $130 per coin but continued rallying in between fluctuations.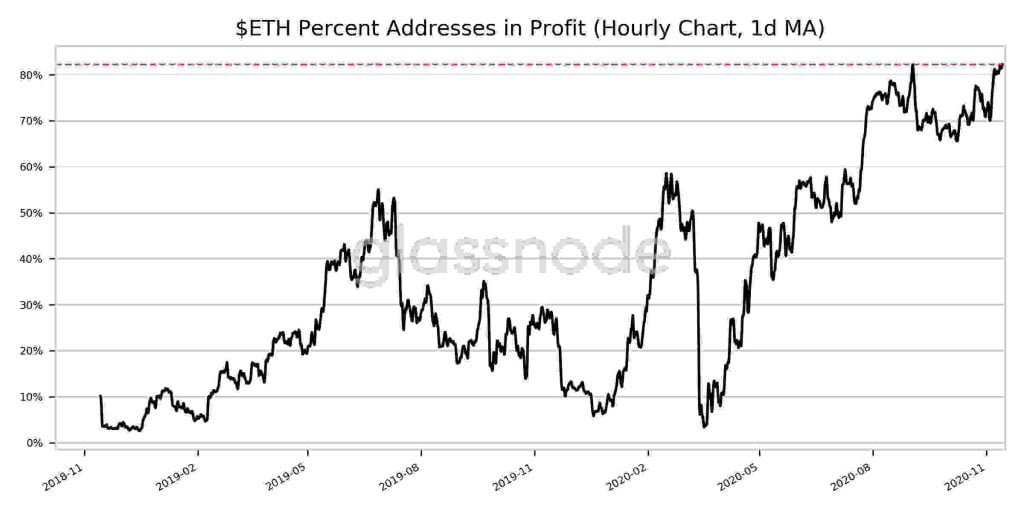 Ethereum at the time of writing, trades at $469.39 with a daily trading volume of $13,058,728,902 USD. Ethereum is up 1.46% in the last 24 hours Ethereum has a market capitalization of $53,236,818,706 USD. It has a circulating supply of 113,416,548 ETH coins and the max. supply is not available.
Launched in 2015, it is the largest and most well-established open-ended decentralised software platform, that allows the deployment of smart contracts and dApps to be built and run with no fraud, downtime, control or interference from a third party.
The Ethereum 2.0 version projected to be before the end of 2020, is lurking thus a further boost to this crypto making it switch from the current proof-of-work, to proof-of-stake model.
However, with the much-awaited Proof-of-Stake transition lurking around the corner, Ethereum price speculation may continue to be a quite lucrative activity to savvy crypto traders.
About The Author