Following the Increase in Ethereum Powered Ponzi Schemes, Nigeria Leads the Google Search Trends Data for the Word Ethereum in Africa.
Views: 92
According to the global most recent data from Google Trends Search for the word 'Ethereum', in 2020. Nigeria ranks third in the global ranking and first in Africa.
Thank you for reading this post, don't forget to subscribe!
The recent increase in search for the word, ethereum comes as a result of the increased quest for the knowledge of cryptocurrency 'ethereum' which is popularly used in Nigeria by most money doubling scheme operators.
Nigeria appears as the only African country on the list and ranks third among other countries. See the list below;
North Macedonia
Kosovo
Nigeria
Solvenia
China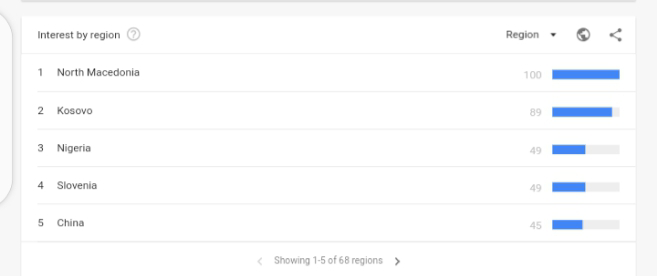 Diutocoinnews have received too many reports on 'What is Ethereum', due to the increase in the use of ethereum smart contract by ponzi scheme operators to run money doubling schemes.
See Also: Ponzi Schemes: Cryptocurrency Wallet Users Increase in Nigeria Following the Increase in Pyramid Schemes Like Million Money Investment.
Reports shows that those who got to know about Bitcoin, got this knowledge due to the popular ponzi scheme called MMM.
In response to our previous publication on the increased number of cryptocurrency wallet coming from Nigeria due to increased activities of ponzi scheme, one of our suscribers said:
"Nigerians, including me learnt about cryptocurrency via pyramid schemes like mmm. When these new matriculated intakes graduate from ponzi by getting scammed, the wise ones will seek deeper knowledge about cryptocurrencies."
Currently in Nigeria, there are too much on-going popular money doubling schemes such as giftaworld, ethereum million money investment etc.
Many Nigerians want to earn during this lockdown, many of these Nigerian students does not have work to do. There is too many online crypto jobs available to Nigerian students to work and earn.

Tagged:
Bitcoin
Blockchain
Cryptocurrency
Ethereum
google
Nigeria
ponzi