How to Apply and Be Approved for N75 Billion Nigeria Youth Investment Fund for Businesses and Individuals.
Views: 215
Application for the NYIF is open for all eligible youths within the ages of 18 and 35 years old. Federal Government's N75 billion Nigeria Youth Investment Fund (NYIF) is a project funded by the Central Bank of Nigeria (CBN).
Thank you for reading this post, don't forget to subscribe!
The NYIF scheme was launched by the Federal Ministry of Youth and Sports Development (FMYSD) to provide access to investment loans for youths and youth-owned businesses in the country.
Eligible applicants, without any registered business can access up to N250,000 in funding while youth-owned registered businesses can apply for up to N3 million. Granted loans will run for a maximum of 5 years and attract a 5% interest per annum.
Read Also: How to Access the N75 billion Nigerian Youth Investment Fund
Eligibility
Youths applying as individuals or sole proprietors must be within 18 to 35 years of age. They must have an operational business open in Nigeria.
Applicants must also have a clean record void of financial crimes conviction in the last 10 years. They must also have a local government of origin certificate available.
For youth-owned enterprises, they must be duly registered with the Corporate Affairs Commission and provide a working business plan. Applicant must have a Tax Identification Number (TIN). He will need to submit a training certificate from approved FMYSD Entrepreneurship Development Institutes (EDIs).
NB: All applicants must have a valid Bank Verification Number to be eligible.
How to Apply
Here are five (5) easy steps to apply for the Nigeria Youth Investment Fund (NYIF):
1. Apply through the NYIF Portal. Log on to nyif.nmfb.com.ng on your mobile phone or computer. Click "Apply Now" from https://www.nmfb.com.ng/nigeria-youth-investment-fund/ to proceed.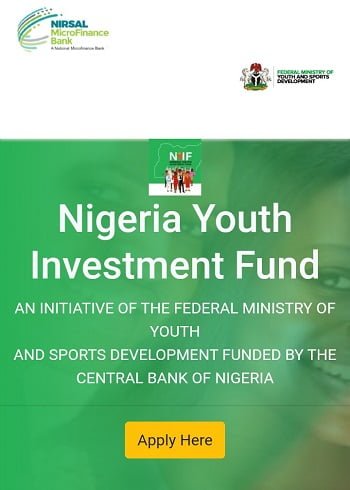 2. Once your BVN has been successfully verified, your date of birth attached with the BVN will auto-fill the spaces. Proceed to enter your phone number, email address and select your gender.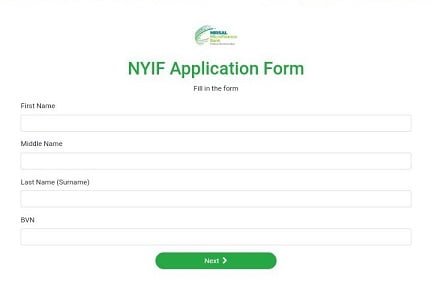 3. Fill in your residential address, state and local government area. These are the house address, state and local government area where you are residing. These details should be current to help with posting you to the nearest office in your area. So check again to ensure there are no errors. Click "Next" to continue.
4. At this stage, fill in your geo-political zone – North West, North East, North Central, South West, South East or South South.
Select your state of origin and local government area of origin. These are different from your state and local government area of residence except you live in your state of origin.
Choose your highest educational level then click "Next" to proceed to final stage.
5. Here is the last stage of your application. Simply choose the training centre convenient for you, proceed to explain how you heard about the NYIF.
Note that the 5-day training is free and will be an online-only training. Tick the declaration box and click "Submit" to finish.
Tagged:
funding
Nigeria