Views: 247
What is Gitcoin Grant ?
Thank you for reading this post, don't forget to subscribe!
Gitcoin is the community of builders, creators, and protocols at the center of open web ecosystems. People come to Gitcoin to develop their future, and the future of the open internet.
Gitcoin is a platform where coders and developers can get paid to work on open-source software in a wide variety of programming languages. Users can also submit their own project ideas to the Gitcoin platform in order to crowdsource funding from contributing donors.
As a Regenerative Finance,Gitcoin Grant sets to build an internet that is open source, collaborative, and economically empowering by creating community and infrastructure for Web 3.
Gitcoin was founded by Keving Owocki and Scott moore. Owocki is CEO, Moore is technical growth lead and is director of research.
Since its launch in November 2017, Gitcoin has raised over $54 million in funding for open source projects, with $36 million going to Gitcoin grants, Gitcoin's Web3 alternative to Patreon.
Co-founder Scott Moore says, "our focus has always been: What are the public goods that are either not being funded or are not being sufficiently coordinated for in the global sphere?"
On Charity, Moore announced that Gitcoin has contributed in raising $1 Million funding For Ukraine through GR13 pool for Charity. Crypto space has matured to the point where crypto "can have a global impact" and aid in serious real-world situations—like funding NGOs and DAOs to support Ukraine.
Gitcoin Is Built On Ethereum.
Gitcoin Grants is the first platform built on Ethereum's blockchain which allows for recurring, on-chain payments to be made. The primary three use cases we see are as follows.
Developers will be paid in ERC-20 tokens. Public grant applications will be shared with the Ethereum Foundation, the Ethereum Community Fund, and other funding bodies as a tool for them to learn about projects and their traction.
Paying developers to play a maintainer role on your repositories, after you've done a few bounties with them
Providing open source projects (and their maintainers) an avenue for crowdfunding their project
A public 'grant application', where you can crowdfund an initial portion of your grant… as a showcase for grants programs.
A Charity Round To enable Contributions for humanitarian efforts for public good.
The Technical Details
Grants utilizes the EIP-1337 standard for subscriptions on Ethereum. The standard makes use of meta-transactions, which allows for a transaction to be made on behalf of a paying subscriber on a recurring basis. This makes it easy to support projects in open source on a recurring basis, only confirming one initial subscription transaction. For more on EIP 1337, see below.
Gitcoin is supported by ConsenSys, the largest blockchain venture studio in the world. Consenys announced via Devcon IV seed funding for the Gitcoin Grants product using the $500K ConsenSys Grants program.
How Do Gitcoin Grants Work?
Now that we know what public goods are, and why OSS is important, let's walk through the different ways (in web3) that these resources are often funded.
One common way is through direct grant programs. A grants program often enlists a committee (ideally a credibly neutral committee) who reviews applications for funding to fund a project/idea that someone has. If the project seems strong enough, and like it will advance the cause of those funding grants, it may be directly funded.
For those projects that don't quite make the cut, they are often asked to come back when they have more traction or have thought through specific concerns (much like VC funding). This style of funding is a fantastic first step for most projects/ecosystems to seed capital into their community development.
For those communities large enough to support more democratically fair funding (like the ethereum community at large), Quadratic Funding (QF) models have emerged. QF often occurs in a "round" during a set period of time — in Gitcoin's case, we run 2 week rounds once a quarter. During a QF round, the community contributes to the projects they feel should be funded and supported; a matching partner offers funds to match the community's contributions, but not in a 1:1 match.
Instead, the match is more aligned to the sentiment of the community as opposed to the sheer dollar value amount raised by any grantee. The number of contributors matters more than the amount funded. 
Quadratic Funding has been chosen to complement traditional grants programs in multiple blockchain communities because:
It is more democratic, allowing everyday community members to designate where the funding goes by funding themselves.
It scales, a QF instance can review hundreds of grants per quarter as opposed to just a small handful with a centralized grants team.
It allows communities to co-fund projects along with those holding the matching funds.
It allows influencers to market and talk about the projects they care about, without being able to sway a single point of authority to fund. The community still decides if the grant is worth funding.
It allows projects to separate signal from noise, and see what the surrounding community really cares about.
The Success Of Gitcoin Grant So far.
Gitcoin launched on the Ethereum blockchain in 2017 as a bounty platform, making it easy to get paid for completing Github issues. A year later, we've seen $500K of bounties completed, representing 2,000 issues solved across 225 open source projects.
Along the way, we've seen some amazing developers who do so well on bounties that they end up being hired to work full time for great projects like MetaMask, uPort, MARKET Protocol, and the Ethereum Foundation.
Grants For Individual Developers ; Earning As a Coder.
Many open source developers simply… enjoyed working on on bounties. One such example is Gitcoiner iamonuwa, who has had an unbelievable year.
This year, iamonuwa did 26 bounties worth over $5,000. This included work on Livepeer, MARKET Protocol, Bounties Network, and Gitcoin itself.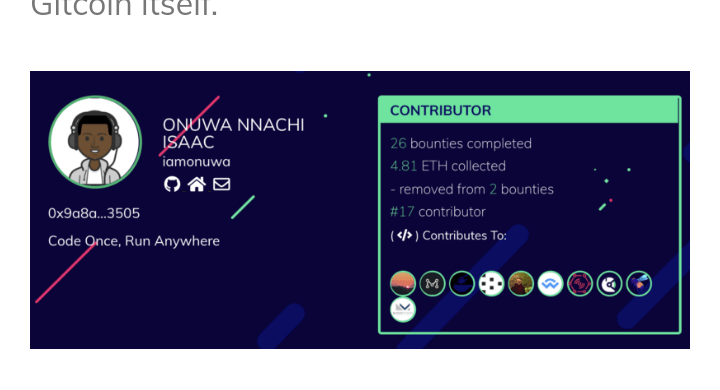 How to Get Started On Gitcoin
Step 1: Connect your Github Account
The first step in getting you set up is linking your Github profile to your Gitcoin account. Simply click the button that says 'Login with Github', enter your Github credentials, and you're good to go! GitHub is an online software development platform used for storing, tracking, and collaborating on software projects. It enables developers to upload their own code files and to collaborate with fellow developers on open-source projects.
Step 2: Connect to MetaMask
Next you need to get your MetaMask wallet unlocked so you can get paid!
In the right-hand corner of your Chrome browser, click on the fox icon. Log in with your MetaMask password and the Gitcoin interface should pick it up automatically.
If you don't have MetaMask installed yet, you can download it from the Chrome App store.
Step 3: Build Your Avatar!
Gitcoin avatars are your way of personalizing your account to fit your style. Choose from a multitude of customization options to stylize your profile.
Step 4: What Is Your Skills Set.
The final step in the process is for you to tell the Gitcoin community a little more about yourself. This info helps us get to know you a bit better so we can send you on your way to completing your first bounty.
Start by choosing from a list of coding languages and other skills. If there is a skill you possess but it's not listed, feel free to manually type it in the box right below.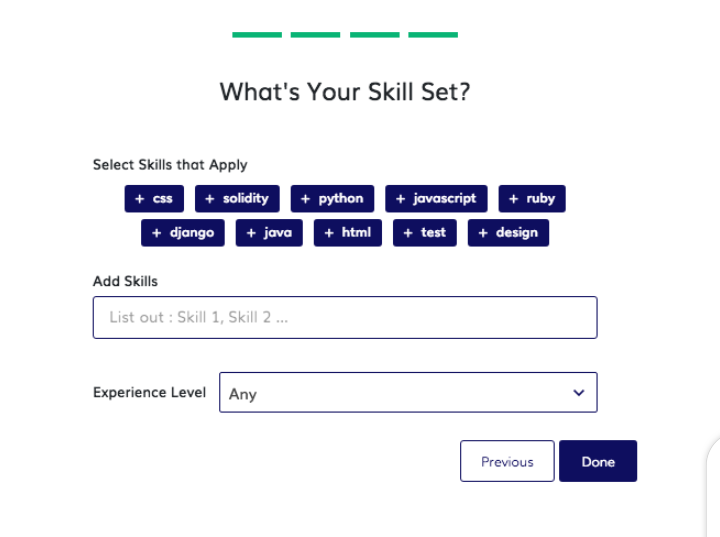 Additionally, please select an experience level from the drop down list so Gitcoin can better gauge which projects would fit you best.
Step 5: BUIDL
Congratulations! You're well on your way to contributing to the future of open source and Web 3.
To get started, visit the Gitcoin Issue Explorer and look for the issues marked 'Open' status. From there, toss some comments on the issue's Github and start chatting with major Web 3 contributors.
How To Start A Grant For Your Project On Gitcoin.
Gitcoin Grants allows developers like you to get recurring cashflow for working on projects you're most excited about.
Here are some tips for starting your own grant!
Have a clear project title and description
Some questions to ponder over: How does the project work?
How does it deliver value to the ecosystem?
Supports any ERC-20 token
You can request for a grant with a specific ERC-20 token or leave the choice to your grant supporters!
Introduce yourself or your team
Not every potential funder will know who you are. Let them know who you are, who's on your team, and why you're the right person for the project, then login and click the start a grant button.
What Is Gitcoin (GTC)?
GTC is the native crypto token for Gitcoin. Gitcoin describes itself as a community of builders, creators and protocols that have come together in order to develop the future of the open internet. Gitcoin creates a community that supports new infrastructure for Web3 — including tools, technologies and networks — to foster development in the open-source sphere.
GTC is Gitcoin's governance token, launched in late May 2021. The token is needed for the creation and funding of the DAO that will govern Gitcoin.
GTC Price Live Data
The live Gitcoin GTC price today is $6.52 USD with a 24-hour trading volume of $13,914,541 USD. GTC is up 0.57% in the last 24 hours. The current CoinMarketCap ranking is #413, with a live market cap of $92,506,084 USD. It has a circulating supply of 14,198,202 GTC coins and the max. supply is not available.
If you would like to know where to buy Gitcoin, the top cryptocurrency exchanges for trading in Gitcoin stock are currently Binance, Crypto.com, Coinbase Exchange, DigiFinex, ZBG, Gate.io, KuCoin and Phemex.
How Many Gitcoin (GTC) Coins Are There in Circulation?
The total supply of GTC is 100,000,000 tokens. 15% is set aside for a retroactive airdrop, 50% is in the Gitcoin DAO and 35% is for existing stakeholders. The retroactive airdrop is for past users of Gitcoin GTC, the DAO allocation is for governance purposes and the existing stakeholders include anyone who has contributed to building Gitcoin GTC in the past or the future (with a vesting schedule of at least two years for Gitcoin team members).
Conclusion
Gitcoin is unique in that it is a platform that supports community building, specifically for open source projects. Web3 projects Polygon, Algorand, ENS, Uniswap, OlympusDAO, NounsDAO, OpenSea, Radicle, ZK Tech, and Open Gaming have all joined Gitcoin's GR13 initiative by offering matching funds of their own, in varying amounts.
NounsDAO, ENS Domains, and Filecoin are among the projects that have donated to the Ukraine pool. This aside raising funds for tech projects and creating avenues for coders to work and earn are some of the benefits of Gitcoin as a Regenerative Finance for funding for good.