Join the Futures trading Campaign on OKEx
Views: 88
Join the OKEx Futures Trading campaign starting April 28th to May 12th, 2021
Thank you for reading this post, don't forget to subscribe!
Follow this link to participate
Prize pool includes an iPhone 12 and $20,000, lucky draw is also available. This campaign is exclusive for users in Nigeria, Egypt, Iraq, Saudi Arabia, UAE, Turkey and South Africa who complete KYC 1. Terms and conditions apply, please read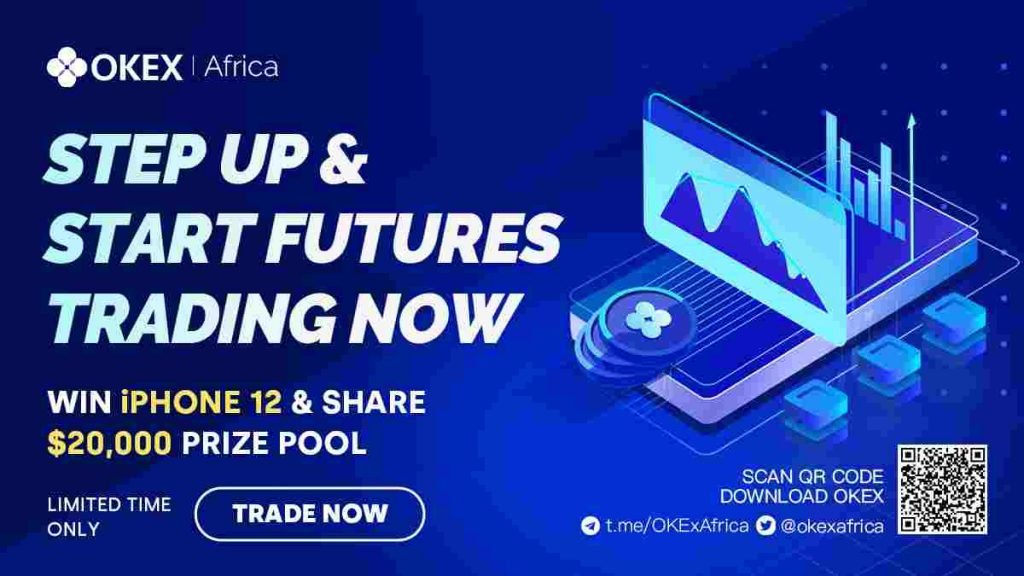 What is futures trading?
Futures are derivative financial contracts with the obligation to transact/trade a digital asset at a predetermined future date and price. When trading futures, you are actually trading contracts that represent the value of such cryptocurrency.
You do not own the cryptocurrency when dealing with the Futures market, you simply buy the futures contract. Traders involved in the futures market are aware of the fact that owning a future contract does not come with benefits like staking, but has other benefits that come with it.
OKEx, a top cryptocurrency exchange, offers its users to purchase futures contract with ease. This is to enable spot traders to earn more profits by trading in the futures market, and also to listen to the request of its users. OKEx places customers first, more traders prefer to trade futures.
There are major benefits why traders prefers to trade futures as to spot, here are few of them:
1. Traders enjoy Leverage on futures market, this makes trading futures very capital-efficient. This simply means traders spend less on a position with a high Leverage, there is no Leverage on spot trading.
2. Traders get to make profit when the prices go up or come down as there are options to Long or Short, this flexibility is only found on Futures market. Money is only made when prices go up in spot trading.
3. There is more liquidity in the futures market, far more than what spot trading offers.
OKEx futures contracts has three unique features:
a) settled by BTC – It does not involve fiat currency so as to stay above regulations and allows investors of any country or region to participate in trading.
b) contract value calculated in USD equivalent – It helps investors to hedge and arbitrage to manage their funds.
c) manipulation proof system – this is to prevent the common manipulation strategies circulating in the market
There is an opportunity to earn from $20,000 to New and existing users who open First Futures Order of over $500 in futures between April 28 and May 12, 2021.
Perpetual swap can enjoy10 USDT bonus, exclusive for the first 2,000 valid participants!
(e.g. open $50 position with 10x leverage in futures trading, the trading volume will be counted as $500)
Here's an article on how to trade futures on OKEx:
About OKEx
A world-leading cryptocurrency spot and derivatives exchange, OKEx offers the most diverse marketplace where global crypto traders, miners and institutional investors come to manage crypto assets, enhance investment opportunities and hedge risks. We provide spot and derivatives trading — including futures, perpetual swap and options — of major cryptocurrencies, offering investors flexibility in formulating their strategies to maximize gains and mitigate risks.
Follow us:
Twitter: https://twitter.com/OkexAfrica
Facebook: www.facebook.com/OKExAfrica
LinkedIn: https://www.linkedin.com/company/okex/
Medium: okexafrica.medium.com
Telegram group: https://t.me/OKExAfrica
YouTube: https://youtube.com/channel/UCgmKy1Aa0vJGoD-5eTSf9gA
Tagged:
OKEx