LinkedIn and OKX Blockchain Talent Growth Report: Nigeria Ranks 4th on the World Global Blockchain Talent Growth Rate.
Views: 234
LinkedIn and OKX jointly released a blockchain talent report in which Nigeria ranked fourth among other countries for global blockchain talent growth rate.
Thank you for reading this post, don't forget to subscribe!
The U.S., India and China are the top three countries in the world for blockchain talent, while China's talent growth rate is relatively low, at 12%.
Nigeria is the only Africa country on the talent growth rate of top 10 countries for global blockchain talent. Nigeria has the fourth best growth rate at 81% with India on the first at 122% growth rate, followed by Canada at 106%, Singapore at 92% and Nigeria at 81%.
LinkedIn Talent Insights shows that the total number of people working in the blockchain industry among LinkedIn's worldwide members grew by 76% year-on-year as of June 2022.
In terms of global distribution, the U.S., India and China are the top three countries in the world for blockchain talent, with the number of talents ranking in the top three globally.
Among the top 10 blockchain talent gathering countries, Asia occupies four positions and Europe three positions. Nigeria has a growth rate of 81%.
Read Also: Learn Mobile App Development (Android) and Earn $112K Yearly on Remote as a Student
From the analysis of the number of talents, the total number of talents in the United States, which ranks first, far exceeds that of India and China.
In terms of talent growth rate, among the top 10 blockchain talent countries, India and Canada have a relatively high growth rate of over 100%, 122% and 106%, respectively, followed by Singapore at 92%, while China has a relatively low growth rate of 12%.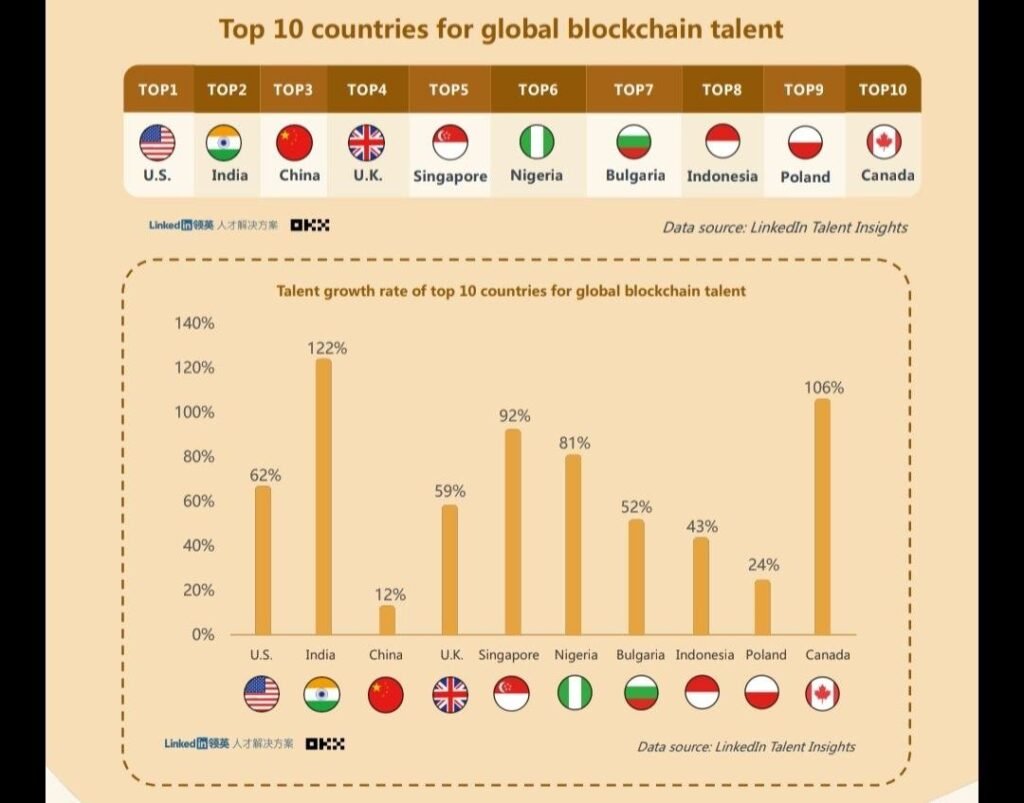 Top Five Fastest Growing Talent Types
In terms of talent growth, the top five fastest growing global blockchain talent roles are quality assurance analyst, cryptologic technician, compliance specialist, artist, and support analyst.
Quality assurance analyst showed the highest growth rate from June 2021 to June 2022, at 713%, with cryptologic technician and compliance specialist in second and third place, respectively, both growing at over 250%.
The fastest-growing roles reflect that, with the progress of blockchain technology research and its penetration, integration and development in various industries and fields, the blockchain industry is transitioning from being highly financial to being highly technical.
It will fully utilize the combination of technical and financial attributes of blockchain to gradually develop into an important part of the digital economy.
Tagged:
jobs
okx