Making money online in Nigeria is not easy. Apart from crypto trading, there are various ways you can make money online in Nigeria from the comfort of your home during this period of crisis.
Thank you for reading this post, don't forget to subscribe!
During this period, many companies are normalizing working from home for their workers making life easier. Nigerian youths have today resorted to different ways to earn online which includes; organising tutorials, online sales, crypto trading etc.
To make money online in Nigeria, youths have resorted to adventures like Forex, Crypto Trading, Social Media Influencers among others.
Earlier before now, the business of buying and selling dollars was limited to mostly licensed exchangers from Bureau De Change, including banking institutions in Nigeria. These people make a lot of profit buying and selling dollars and other foreign currencies to business men.
But recently, the advent of cryptocurrency has made it possible and easy for people even students to buy and sell dollars to different people once they have the capital
With the issuance of stablecoins like USDT, BUSD among others, anybody can easily trade foreign currency and make money or make a lot of profit once he or she is KYC verified.
Read Also: Market Insight Wednesday: Naira Reaches New All Time High Against Dollar Across Bitcoin to Naira Market
Now Let's Take A Look At How To Make Money Online In Nigeria:
OKX and Binance have made it possible for KYC verified users to buy and sell foreign currencies across the world with ease. Users pay near zero fees for moving funds across the world, shutting the banks.
On Binance.com, you can buy dollars using Naira. This dollar is same as the usual US Dollar. It is pegged 1:1 to tokens known as stablecoins under blockchain technology. This means that stablecoins like USDT is same as the normal USD. The letter 'T' after the USD is to identify the issuing company auditing it.
We have other stablecoins like GBP, Euro etc which are pegged 1:1 to the stablecoins representing it under the blockchain network used to issue it.
Quick Facts: Stablecoin is a cryptocurrency backed or pegged 1:1 to a fiat currency. It is not affected by volatility of the cryptocurrency market. It was created to aid ease of cryptocurrency transfer to fiat pairs.
Read Also: Understanding What is Stablecoin Like ABCD stablecoin Pegged to Naira and How It Works.
How To Make Money Trading USDT/NGN:
According to DiutoCoinNews Market Insights (DMI), the average buying and selling price of Naira against BTC today is 465.9 and 465 respectively.
In the previous week, we saw the buying price trading at NGN455 and the selling price at NGN454.4 to a dollar.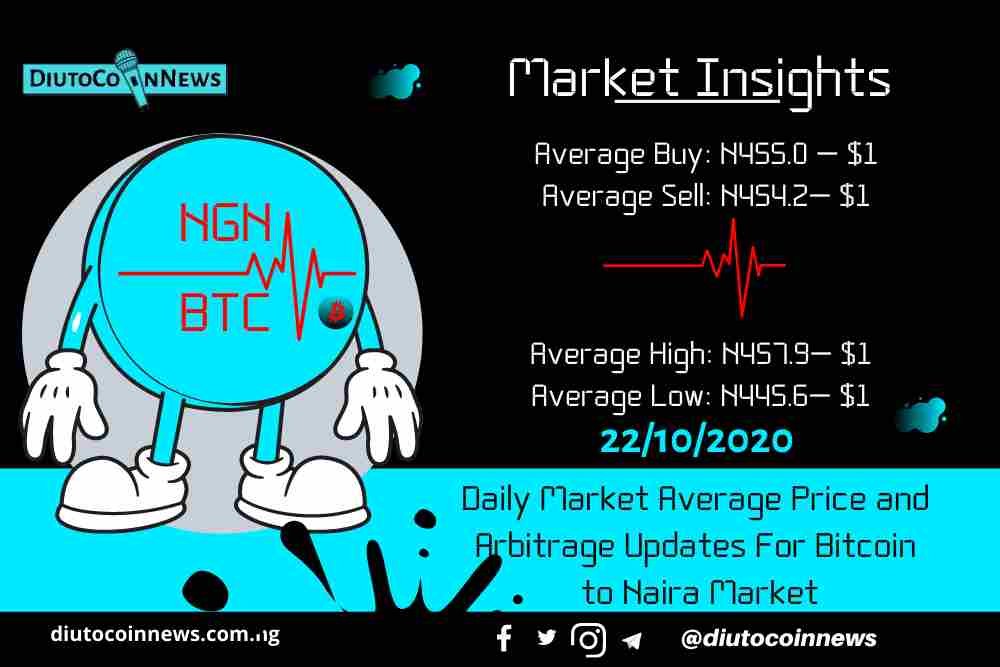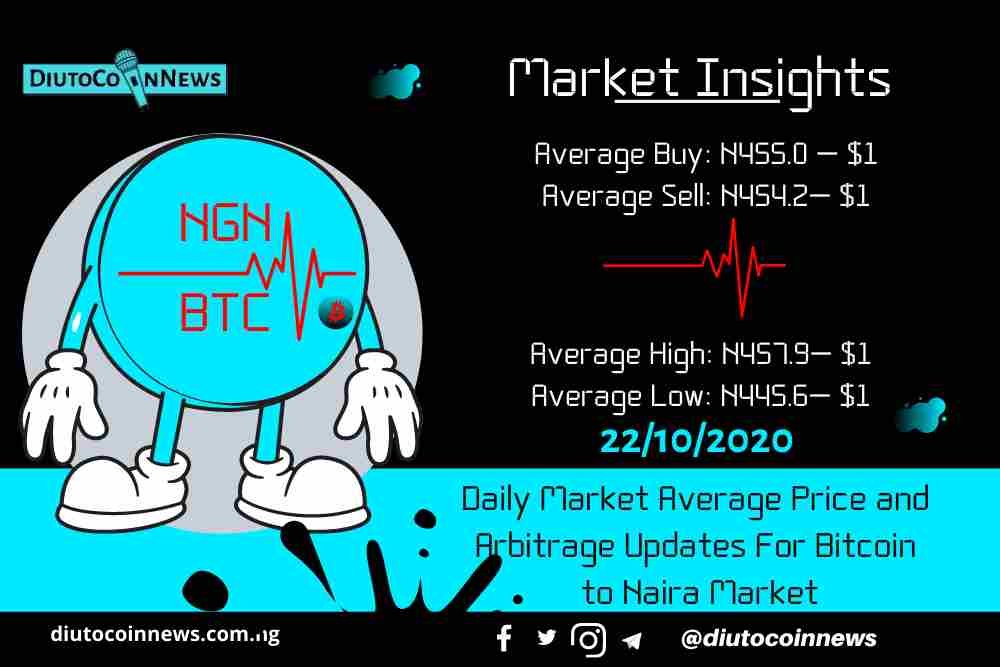 Counting down from the previous week until now, there is a profit of 10 Naira here for someone who bought five days back and sold now this week particularly today.
For example, Victor bought $1000 worth of USDT five days back at 455 naira per dollars, that's a total of 455,000 naira spent. So now Victor spent 455,000 naira to buy dollars worth $1000.
After five days, Victor then sold his $1000 dollars back to naira. Now he is spending dollars (USDT or BUSD) to buy back Naira. So now Victor will sell $1000 at 465 per dollar. The total spent is $1000 but the equivalent now in naira is 465,000 naira instead of 455,000 naira. So now Victor made a total of 10,000 naira in profit.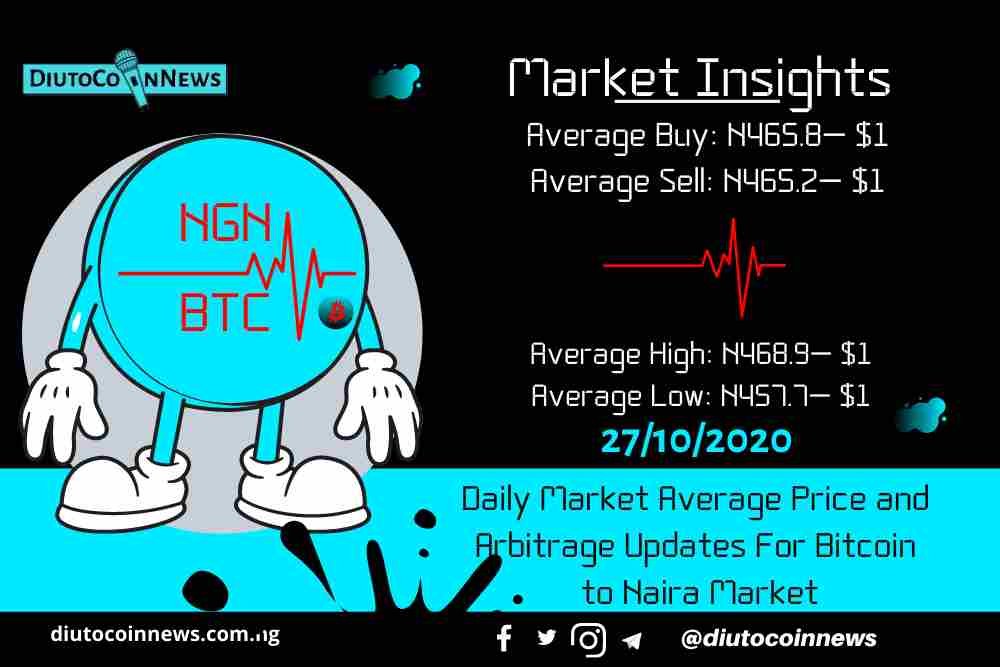 So when Victor continues this everyday for the next 30 days, Victor can be doubling his earnings and can gather up to 60,000 naira every month by just repeating the above illustration every five days.
If Victor increases his capital it will now grow up to more profit. For example, if Victor increases it to $5000, now he will be making 50,000 naira profit per five days. In a month, it will be 300,000 naira profit.
Note: Remember that we are making reference to 10 naira profit here. Sometimes the market might fluctuate and the profit will be lesser than 10 naira or more than 10 naira per dollar.
Moreover, you can extend into buying and selling Chinese Yuan. WeChat Pay allows easier access to chinese trading. For those doing mini importation businesses, you can utilize this opportunity to pay your clients directly in Chinese Yuan for goods.
Aside trading dollars, you can also trade Euro among other stablecoins.
Disadvantage: The disadvantage here is lesser because what you will loose may or not be much considering that you are trading stable assets unlike volatile assets.
Earlier before now, we listed tools that you need to start the business of buying and selling bitcoins or dollars in Nigeria.
About The Author