Scam Alert: Uphold Bitcoin Black Friday 15% Off Bitcoin Price.
Views: 190
In view of the Black Friday coming tomorrow. Many scammers have started rolling put from their den. Different phishing message alerts promoting crypto users to do one or two tasks to get discounts on bitcoin price have been on increase. Many Platforms has started sending out messages to her users to avoid these SCAMMERS' strategies.
Thank you for reading this post, don't forget to subscribe!
Latest of it all was the Uphold Scam Bitcoin Black Friday Alert to Uphold Account Users. The email headline reads;
"The surprise is out! For the upcoming days until Black Friday, we are launching our Bitcoin Bucket Discount ! Get 15% back on your Bitcoin holdings withUphold"
Few hours after the scam mail was sent, the uphold team sent another message prompting users to disregard such message identifying it as a scam. The bitcoin address involved is 18h7EiyL5fJ1mY7qxnTsmxWiCYpZm8ib7x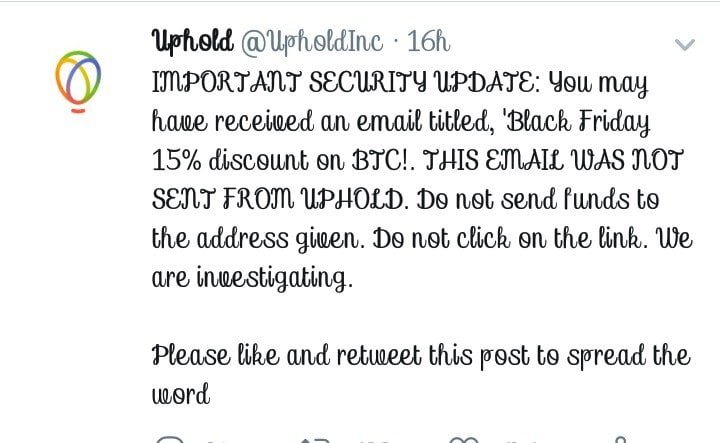 ABOUT UPHOLD
Uphold serves 184+ countries, across 30+ currencies (traditional and crypto) and commodities with frictionless foreign exchange and cross-border remittance for members around the world. Since our launch in 2015, Uphold has powered more than US$3+ billion in transactions. Uphold combines a platform app model with payment connectivity to offer financial services to a global market. Uphold empowers innovation in financial services through a platform approach where app developers and fintech partners can leverage Uphold's reach through licensed relationships with banks and financial services partners around the world.
Tagged:
Bitcoin
bitcoin black Friday
scam alert
Trading
uphold