SEC Nigeria sets up a 10 member committee to draft a framework for blockchain and cryptocurrency.
Views: 337
At the just concluded second Annual Capital Market Meeting, Nigeria's Security And Exchange Commission SEC Nigeria has set up a 10 member committee to help draft recommendations for blockchain and virtual assets framework for the Nigeria Capital Market.
Thank you for reading this post, don't forget to subscribe!
The Fintech Roadmap Working Group Committee will help develop a supportive framework for blockchain and virtual assets regulations aimed at effective investor protection, financial market integrity, and financial stability.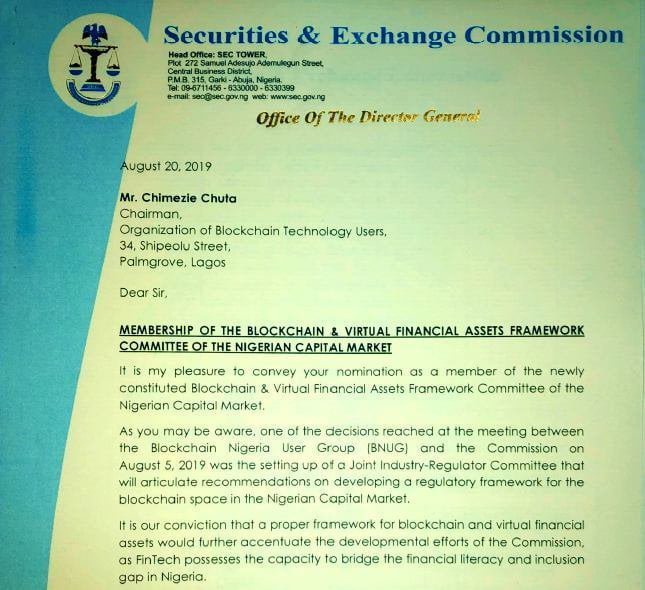 ---
The 10 member committee presented the Fintech Roadmap Report to the Nigeria Capital Market in August, 2019. The report had these recommendations:

Classify cryptocurrency as securities and commodities but not as currency.
Regulate and develop a framework around virtual financial assets exchanges

Issue guidelines and standards for white papers and ICOs.

Develop a stringent framework for KYC and due diligence for ICOs and tokens.

Follow global best practices in payment, asset, and utility token taxonomy.

The Group is expected to draft a framework which will aid the Securities Exchange Commission in treating cryptocurrency as a commodity or security not as a currency.
---
The currently instituted group will have the following mandate:

Develop a framework to support innovation and regulation within the blockchain and virtual financial assets.

Compare global practices on regulatory taxonomization and classification of crypto.

Recommend a suitable model.

Analyze the functional characteristics of digital assets to inform regulation.

Advise the SEC on approaches and guidelines to regulate financial virtual assets in relation to the capital market.

Articulate industry expectations regarding regulation of ICOs and STOs.

Review current AML/CFT and KYC regulations and suggest improvements to cater to the blockchain and virtual financial assets space.

Propose a cyber-security framework in line with recognized international standards.

The group is expected to put together a viable framework which will be compliant with the international standards before end of November, 2019.
NITDA National Information Technology Development Agency previously updated guidelines for the IT sector, blockchain and cloud storage operations in Nigeria.
Tagged:
Blockchain
Cryptocurrency
Nigeria
Sec