Zenith Tech Fair is a conference organized and hosted by Zenith Bank Plc.
Thank you for reading this post, don't forget to subscribe!
The conference is themed Zenith Future Forward Conference. Zenith Tech Fair, is a showcase of leading technology innovation across every aspect of life including blockchain technology.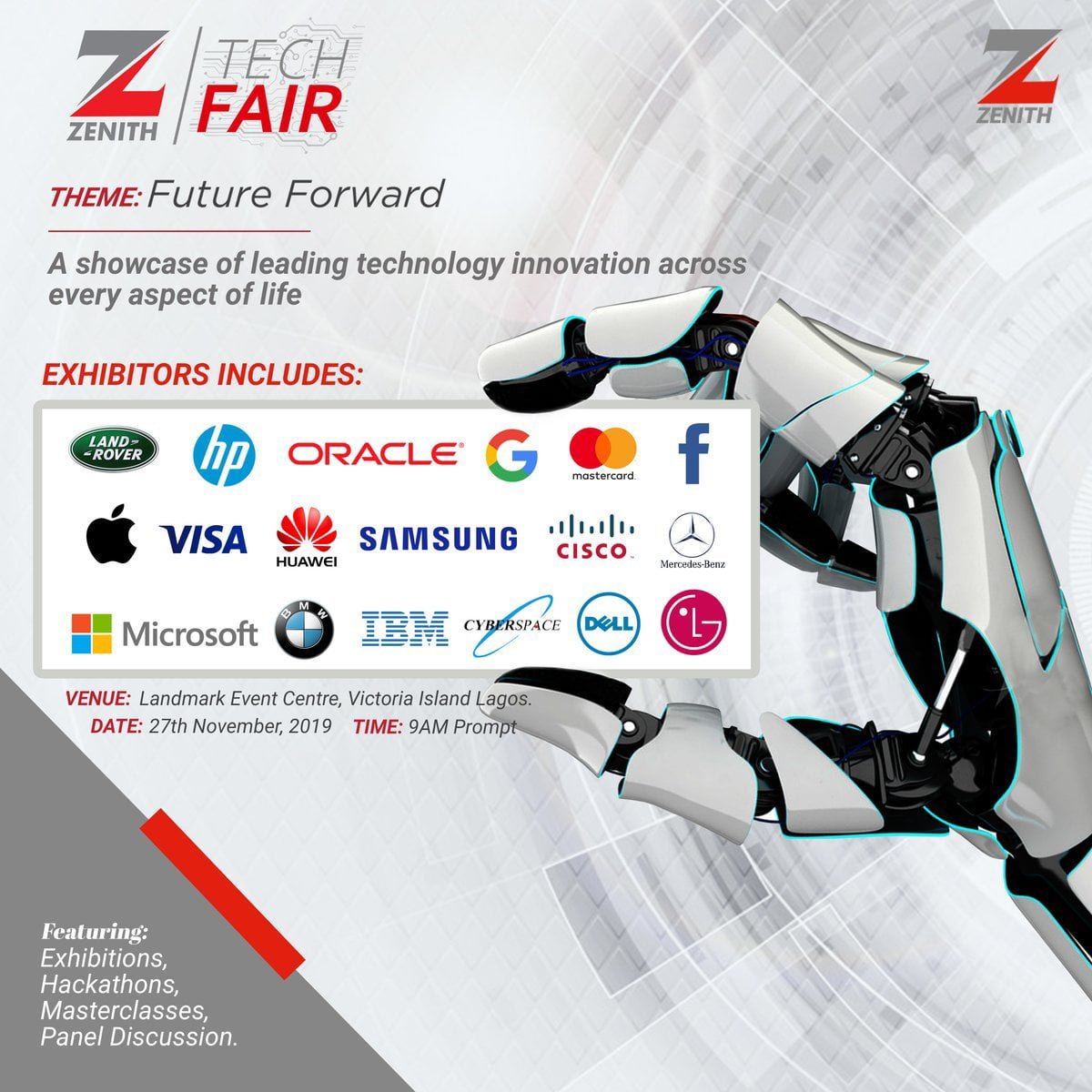 The conference will be held in three different categories. They include:
CONFERENCE & SUPERSESSIONS
Talks will be delivered by industry leaders in topics ranging from AI and machine learning, blockchain. Also on Internet of Things, 5G and communication technologies, robotics and drone technology.

Also topics will be delivered in AR/VR, immersive technologies, to cybersecurity and more. There will be supersessions period to drill down on these conversations too.

HACKATHON
The Hackathon is targeted at identifying and supporting viable businesses that are impacting the four key areas. The key areas are Future of Banking, Future of Retail, Future of Customer Relationship, Future of Security.

EXHIBITORS
Exhibitors get a booth (with table, chairs, free internet connectivity, etc) to showcase their technology. Every attendee gets a brochure with all the exhibitor's information and all the exhibiting company logos.

Some noteable speakers from various technological sectors will be available for the event. Go to ZenithTechFair to know more.

The event is schedule to hold on 27th of November 2019 at the Landmark Event Center Lagos. With over 50 exhibitors including Apple, Samsung, Microsoft, Facebook, Huawei, Hp, Google, Dell, Interswitch,Visa Card, Mastercard, Flutterwave etc.

Click Here to register for the event.

About The Author