Tatcoin Presale Update: You Can Now Buy Tatcoin on Abitnetwork With Only 9,125 Naira.
Views: 162
Following the end of the Tatcoin presale on April 30, 2020. The presale target was $720,000 and so far it has hit 59 percent of that target at the time of writing. The presale has official ended but now is extended.
Thank you for reading this post, don't forget to subscribe!
The AbitNetwork platform have decided to extend the PRESALE DATE due to requests from many interested persons on the brand of AbitNetwork to buy tatcoin; the token for the platform ecosystem.
The tatcoin presale have now extended to extra 60 days and the new presale end date is on 1st July 2020.
"After listening to many TATAS complain of their close friends and Family members who are low income earners not been able to buy the $50 minimum purchase amount we have decided to reduce the minimum purchase amount to $25(9,125 Naira) tell your friends about this."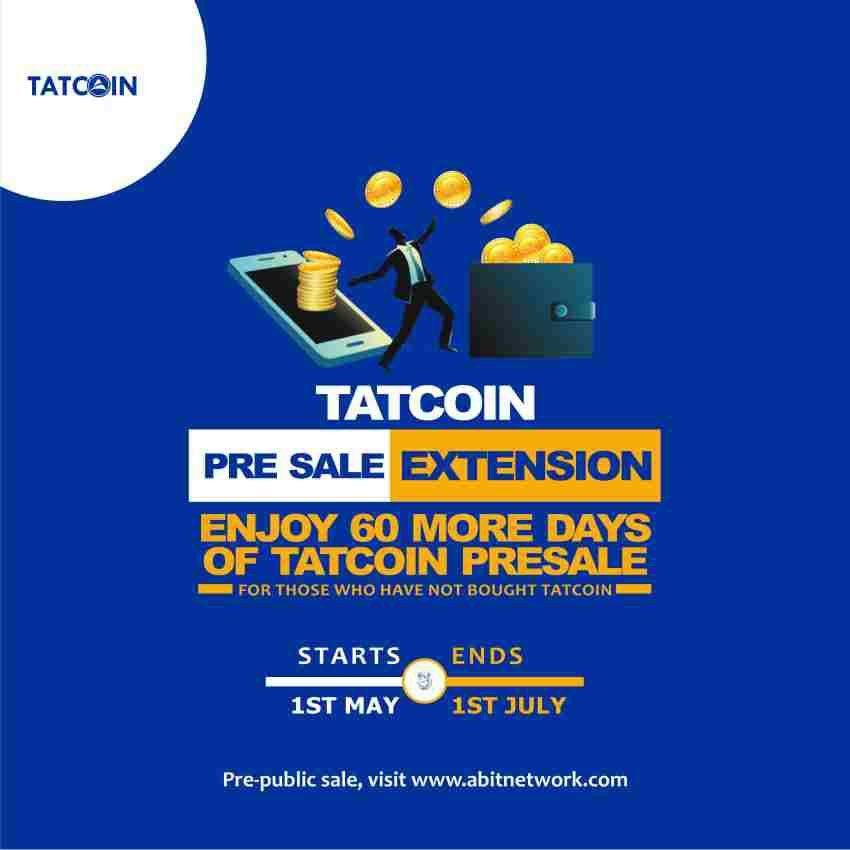 See Also: You Don't Know How to Buy Tatcoin? Follow These Steps To Buy Tatcoin and Become a Tatcoin Millionaire (Tatas).
Going Further, the email sent to those who participated for the tatcoin presale also notes that;
"All things been equal we will be on exchanges few days before that date and on that date we will go live both on ABiTrader platform which is our Internal peer2peer Exchange."
Following the email update sent to many persons who bought tatcoin, the CEO reassured them of their interest on the brand affirming that the platform will work at their best rate to release and put into market all the products on the roadmap.
"We will go ahead and launch all our platforms and hit the 100,000 users target on the ABiT Network Ecosystem."
Additionally, there is over 20,000 users on the platform. The AbitTrader; a platform for trading Bitcoin and other cryptocurrency is 100 percent complete while the AbitCrowd is already functional.
According to the email, Abitnetwork will henceforth do weekly webinar and YouTube, Instagram Live Videos to talk about the progress of the Project.
Token Symbol – TAT
Total Supply – 200,000,000 TAT
Minimum Purchase – $25 Tokens.
Tatcoin Presale has now extended! Live Now On Abitnetwork!.
Follow These Steps to Buy Tatcoin:
Go to Abitnetwork and click register.
After registering, then proceed and click buy tatcoin tab.
You can buy using Bitcoin, Naira Credit Card or Using an Agent.
You get 3% bonus using agent to buy.
You also get 3% bonus using Bitcoin.
Tagged:
abitcrowd
abitrep
tatcoin