Views: 115
Binance Smart Chain DeFi Ride is coming to disrupt the ecosystem soon with inter-chain DeFi interoperability and low fee transactions.
Thank you for reading this post, don't forget to subscribe!
Few weeks after the Binance Smart Chain (BSC) launch, developers are already building on top the Chain following the recent $100 Million Development Funds campaign for developers.
#Binance Sets Up a $100 Million Fund to Connect #DeFi and #CeFi. Support for Yield Farming with Major Crypto Assets Coming Soon to Binance Smart Chain.

— Binance (@binance) September 11, 2020
Binance Smart Chain Innovation Funds:
Binance announced a $100 million development funds to incentivize developers to build DApps on the new Binance Smart Chain to help grow the ecosystem for DeFi adoption
DeFi Projects on Binance Smart Chain:
Already, there are projects coming up strong on the Binance Smart Chain. One of the strongest of them all is the BurgerSwap, a DEX Swap built on top Binance Smart Chain for BEP20 tokens followed by BscSwap.
Top Two Swaps on Binance Smart Chain:
BurgerSwap:
BurgerSwap is the most liquid SWAP on Binance Smart Chain with over a million BNB in liquidity provided.
Though the SWAP isn't user-friendly, it is widely used at the moment and the most liquid SWAP currently on BSChain. BurgerSwap has its own token called Burger Token which is it's governance token.
It's essentially a clone of SushiSwap, with some variations and one significant difference from SushiSwap style. It was the first Swap to launch on the EVM compatible chain from Binance.
Read Also: Differences and Similarities Between Binance Smart Chain and Ethereum Network.
Who Created BurgerSwap?
There is currently no particular name or individual to whom is tagged the Creator or Founder of BurgerSwap.
In a blog post published on Sept 10 2020. It states very little, including that BurgerSwap is not an anonymous project, and "we just have been busy buidling."
BscSwap:
In a medium blog post tagged "Introducing BSCswap, an Automated Market Making Uniswap protocol for Binance Smart Chain". BscSwap explained that it's swap aims to solve the issue of no Yield Farming LP tokens for Yield Farming projects launching on BSChain of which it is here to solve.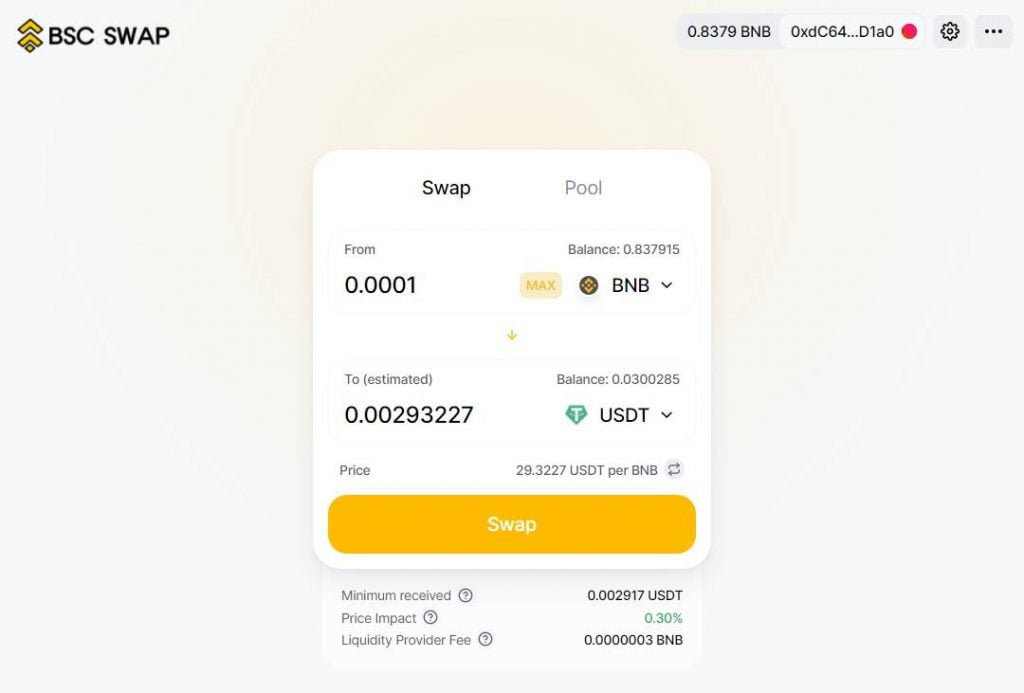 The most interesting and fastest growing Swap on the network now is BscSwap. Another user-friendly DeFi Swap on the BSChain which has gained a lot of traction few days after it's launch.
BscSwap is similar to Uniswap with an intuitive interface familiar to DEX Swap users. The swap has gained traction over few days with over $220,000 liquidity.
Already, BEP20 projects like BFI.finance which has similar design and ecosystem like the yearn.finance on Ethereum is gaining traction on the BscSwap as the second most traded BEP20 tokens aside Binance Coin (BNB).
BscSwap also have a ranking site BscSwap.info for ranking top trading DeFi coins on its DEX Swap.
Bfi.finance is the second most liquid market on BSCswap.com after BNB and the first 10 top performing BEP20 tokens on Binance Smart Chain out of the 25 tokens currently trading on BSChain according to Bscscan Data.
Tagged:
binance
defi