In the last four days, the Naira to Bitcoin market opened trading at an average high of N471.5 with an average low of N462.5 per dollar and at an average buy price of N469.9 Naira per dollar. 
Thank you for reading this post, don't forget to subscribe!
While naira might have reached what may look like a new high for the crypto market traders, the value of depreciation of Naira to Dollar is becoming unbearable.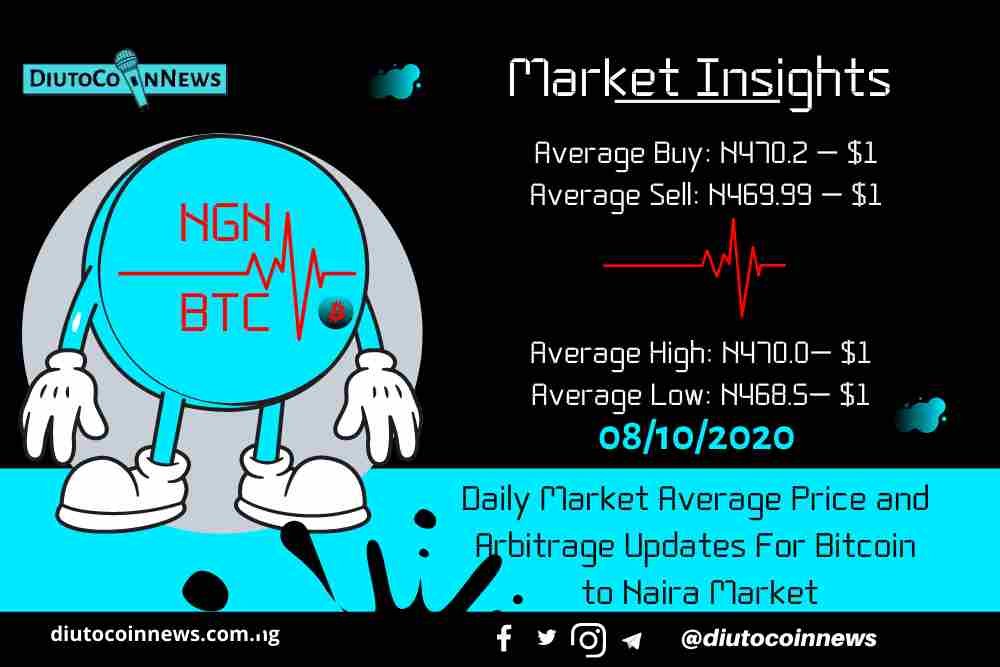 During this time, the official naira to dollar rate for the forex market as released by CBN was pegged at N383 per dollar.
Get Average Price Arbitrage Opportunities Daily: Follow DiutoCoinNews Twitter for Daily Average Market Price Update.
While most Nigerian Banks sold dollar at around N395 to N450 per dollar, it was an opportunity for Nigerians buying Bitcoin with Naira Mastercard or Visa Card to leverage on an make profit.
Moreover, most of the other cryptocurrencies trading directly to Naira correlate it's prices from the dollar value of naira on the crypto market, some cryptos like TRX, ETH and LTC most times appear to have some arbitrage opportunities.
Read Also: 10 Crypto Mobile Apps For Newbies (The Full List).
Quick Facts: Market Insights Average Price Update is based on an average market sells and buys, highs and lows of Bitcoin to Naira across top crypto exchanges offering BTC/NGN market.
Today, the market is trading at an average buy of 470.5 and an average sell price of N469.3. We recorded the highest average buy price between Thursday last week 8/10/2020 and today. The lowest buying price was recorded on 9/10/2020 bought at N465.0 per dollar.
About The Author