Beginners Guide to Cryptocurrency Trading
Views: 128
Cryptocurrency Trading 101.
Thank you for reading this post, don't forget to subscribe!
Cryptocurrency Trading simply means the buying and selling of different digital assets for profit usually done on any cryptocurrency exchange.
Someone who trades cryptocurrency is known as a cryptocurrency trader.
Cryptocurrency Traders buy and sell digital assets including Bitcoin, Ethereum, Binance Coin, Litecoin and many other digital assets categorised as cryptocurrencies.
We will be looking at these Five Topics here;
HOW TO SECURE YOUR ACCOUNT.
HOW TO DEPOSIT AND WITHDRAW.
HOW TO BUY AND SELL.
HOW TO PLACE BUY AND SELL ORDER.
THE ORDER BOOK AND THE MEANING OF BID AND ASK.
HOW TO SECURE YOUR ACCOUNT:
This is the most crucial requisite for a Cryptocurrency Trader. The safety of your funds is the back bone of your trading activity.
If you can't secure your funds properly. You will be at risk of loosing all your assets. So to secure your account. You need Google 2FA which can always be enabled from your exchange account.
This Google Authenticator will always give you a randomly generate six digits which will be required of you to access your exchange account whenever to try logging in.
This is an extra layer of security to keep your account safe from hackers. It's also advised to always synchronized the Google 2FA App on to your Google Account should in case you lose your phone.
This will help you to access the app again and get your data once you download the app on a new device. That's all?… Yes!
HOW TO DEPOSIT AND WITHDRAW :
To deposit: on exchanges like Binance. Using the mobile app. You login to your account. After logging in to your account, go to the funds section of the app.
Then click deposit tab. It will show a new page, then you select the coin you want to deposit. After that copy the coin address and use it to deposit from your crypto wallet. The deposit arrives anytime soon.
To Withdraw : Go to the funds section of your account also. Click on the withdraw tab. Then it will equally take you to a new page. Select the coin which you want to withdraw.
Then input the amount you want to withdraw and also the target address. Then click withdraw, go to your email account to continue withdrawal once it prompts you to do so. That's all ??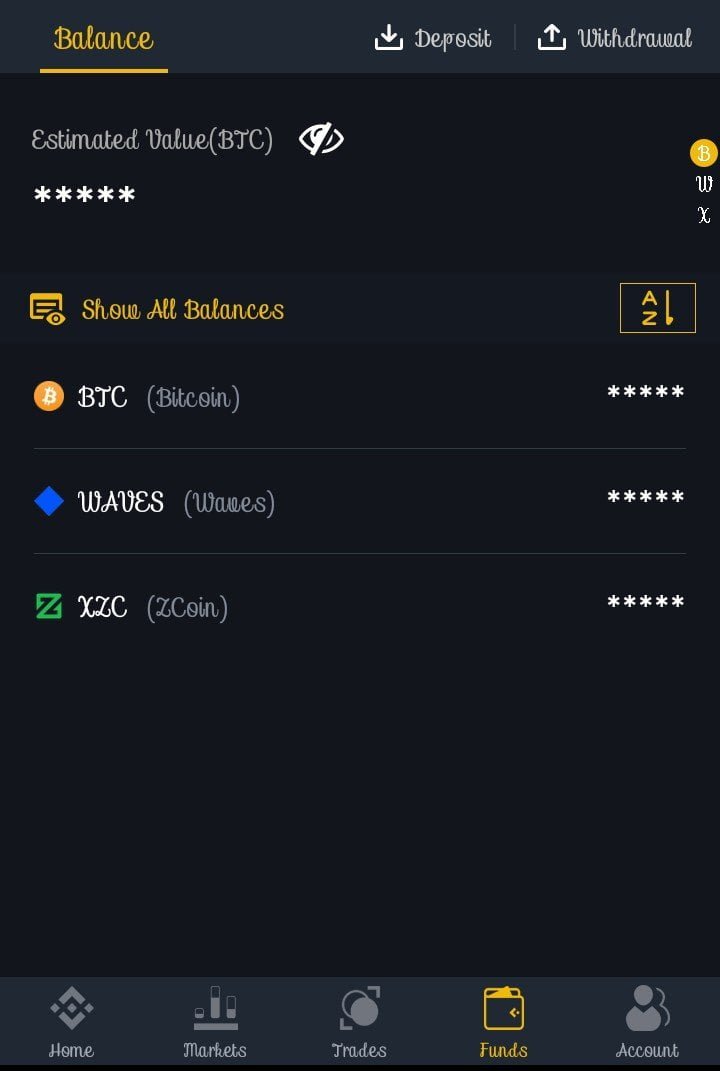 HOW TO BUY AND SELL:
To buy or sell any coin you have go to the Market section of the app. It will show up the list of all available markets.
There is always the BNB, BTC, ETH and USDT markets with their trading pairs respectively. When you get to the market tap click the market you wanna access.
Then click withdraw buy or sell. Look out from the BID area if you are buying or ASK area if you are selling. Pick from the market for faster execution of your order. That's all?
HOW TO PLACE A BUY OR SELL ORDER:
This is the same thing as buying or selling. But the difference here is that you have to put the price of your choice. And your order doesn't execute immediately. Rather stays until your order is filled (limit order).
If you place a sell order it will show on open order tab with the buy limit. For example. If I want to buy $10 NEO but the current price is $12. I will place a buy order at $10 hoping to buy at $10 when it goes bearish down to my price.
Such act is called BUY ORDER. The same goes for sell order. The current price of NEO is $12 and I maybe from my analysis it will go up to $20. Now I will place a SELL ORDER at $20. Once it goes up . My SELL ORDER will be filled.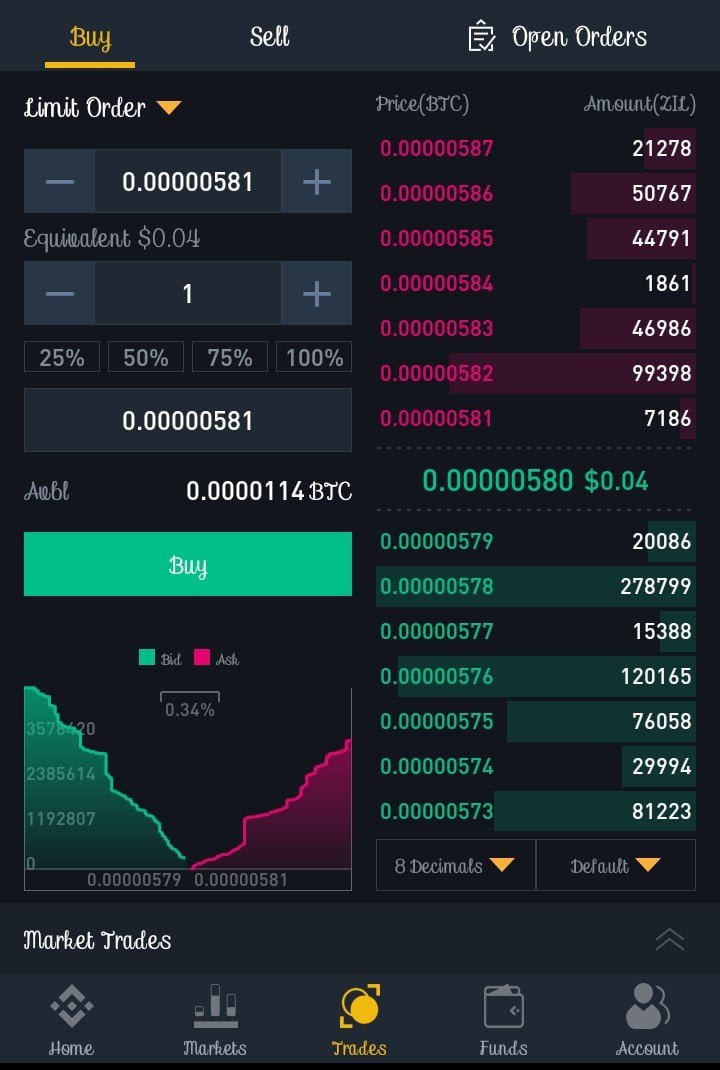 ORDER BOOK AND THE MEANING OF BID AND ASK:
So here you must have imagined something or have a clue of this from the above section. Alright…lets get to this. So Order Book simply means the Book where both the recent buy and sell records of the market are shown for the traders.
It also shows the current orders available for execution. In the Binance App you will find it on the Trade Tab. If you scroll down the Trade Section of the App you will see the executed orders, both buy and sell. That's all ? Then when we talk of BID and ASK, a lot of people gets confused.
BID means Buy while ASK means Sell.
The price at which am willing to buy your pizza at the market is the BID Price after some price bid (negotiations) that's the Buy Prize that a buyer can buy it at.
While the ASK Price is the price that you are willing to sell your pizza at the market which is the Selling Price and is usually lower to the Buying Price (Bid Price). That's all ??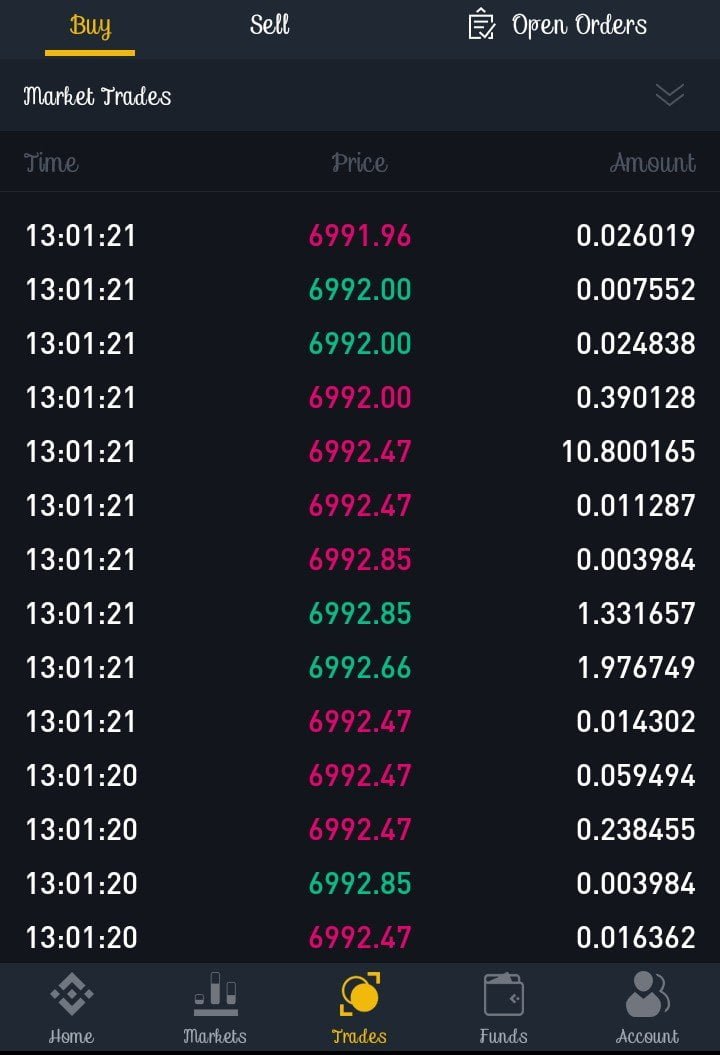 CONCLUSION :
A good understanding of this step by step guide will help set up your new binance trading account.
Written By Stephen Voski — Binance Campus Ambassador.
Tagged:
binance
Bitcoin
Blockchain
Nigeria
tutorials
university