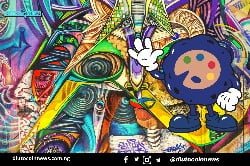 Your Tiktok Video May be a New NFT Goldmine, As Tiktok Goes Into NFT Space.
Tiktok, the short video sharing social media platform has announced it's first ever NFT collection titled, "TikTok Top Moments", designed by some of the platforms creators who made viral videos that defined social media moments.
Thank you for reading this post, don't forget to subscribe!
In a communication released on the app, Tiktok seeks to , " explore the world of NFTs as a new creator empowerment tool." This it stressed is to build on the apps commitment to help creators achieve their goals in the growing creators economy by providing a way for creators to be recognized and rewarded for their content.
For fans, it is an opportunity, " to own a cultural significant moment on TikTok."
On sale on the drop site on October 6, will be six clips, including singer Bella Poarch's internet-breaking music video "M to the B – Millie B", which has 61 million likes on TikTok. There will also be a stop-motion video of singer Lil Nas X, created by influencer Rudy Willingham that had 3.4 million likes.
The NFTs the social media platform noted will be made available on Ethereum and will be powered by Immutable X, which uses StockWare's innovative technology to create the first carbon neutral Layer-2 scaling solution for Ethereum.