This is the next big thing in Africa. Wondering how to buy tatcoin? Join the Presale Now!

Thank you for reading this post, don't forget to subscribe!
During the early days of Bitcoin, those who invested in Bitcoin cryptocurrency and were patient enough to store their Bitcoin are now Bitcoin millionaires.
Register on Binance to Start Bitcoin Mining and Make Money
Some people missed the opportunity earlier, and many people are now looking to catch up on the next big coin to become financially free. So if you missed Bitcoin at $0.03 US Dollars in 2009, this is your opportunity again to become a millionaire.

Register on Bidesk to Buy Tatcoin
Moreover, you might be wondering how to make money online, how to become rich trading Bitcoin or how to make money from the internet. This is a new opportunity for you to make money from cryptocurrency.
ABiT Network is a mobile application company in Nigeria creating tech solutions and offering various financial services. ABiT Network recently launched tatcoin a cryptocurrency that will be powering the ABiT Network ecosystem and services.
The CEO of Tatcoin is Gaius Chibueze. He is an internet mogul, real estate investor and the best selling author of Get Rich Off The Net. He is the popularly Bitcoin Chief from Nigeria you know.
Register on Binance to Start Bitcoin Mining and Make Money
It is a utility token which will be used to process payment of goods and services. Services such as real estate, trading, shopping, gaming and entertainment can be purchased using Tatcoin.

You can buy the token on cryptocurrency exchanges where it is listed including:
Bidesk
IDEX
Naijacrypto
Bitfxt
ABiT Network
It is created as an ERC20 Token contract which will be minted on the ethereum blockchain. There will be a total fixed supply of 200 million tokens. Check below to see details:
Ended: Tatcoin Presale Details.
Register on Binance to Start Bitcoin Mining and Make Money
Accepted Cryptourrencies : Bitcoin (BTC), Binance Coin (BNB), Ethereum (ETH), Naira.

Token Symbol – TAT
Total Supply – 200,000,000 TAT
IEO Supply – 90,000,000 TAT
Pre-Sale – 20,000,000 TAT
Token Price – $0.07 (Public Sale)
Soft Cap – 1,400, 000 USD
Hard Cap – 6,300, 000 USD
Minimum Purchase during Presale – 50 Tokens.
Tatcoin Presale has ended On Abitnetwork!.
Read Also: Top 10 Crypto Mobile Apps For Newbies (Full List)
Follow These Steps to Buy Tatcoin on ABiT Network:
Go to Abitnetwork and click register.
After registering, then proceed and click buy tatcoin tab via Quick Swap.
You can buy using Bitcoin, Naira, or Ethereum.
You will have to click on Quick Swap to start the transaction
You will be paying through bank transfer and once payment is confirmed, your Tatcoin will be credited.
Register on Binance to Start Bitcoin Mining and Make Money
Follow These Steps to Buy Tatcoin on Bidesk:
Register on Bidesk.com

Login to Bidesk Account
Move to the Markets Tab
Choose BTC Market (The default market tab is USDT).
Scroll down and search to see TAT/BTC Market pair.
Click on the TAT/BTC Market pair.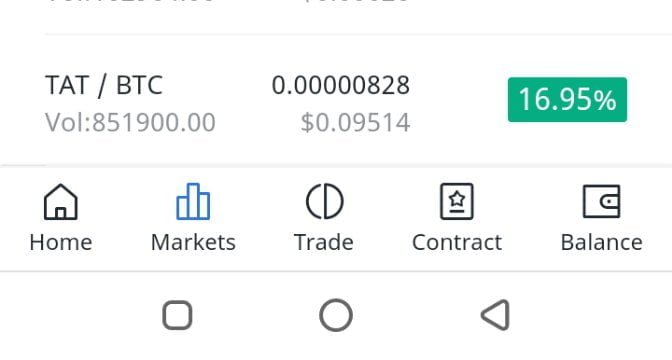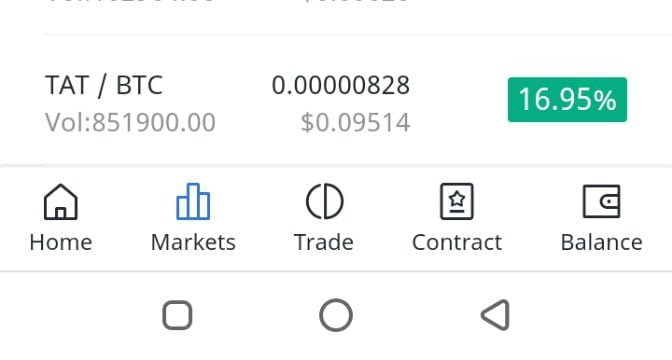 A new interface will open which is now sitting on the Trades Tab.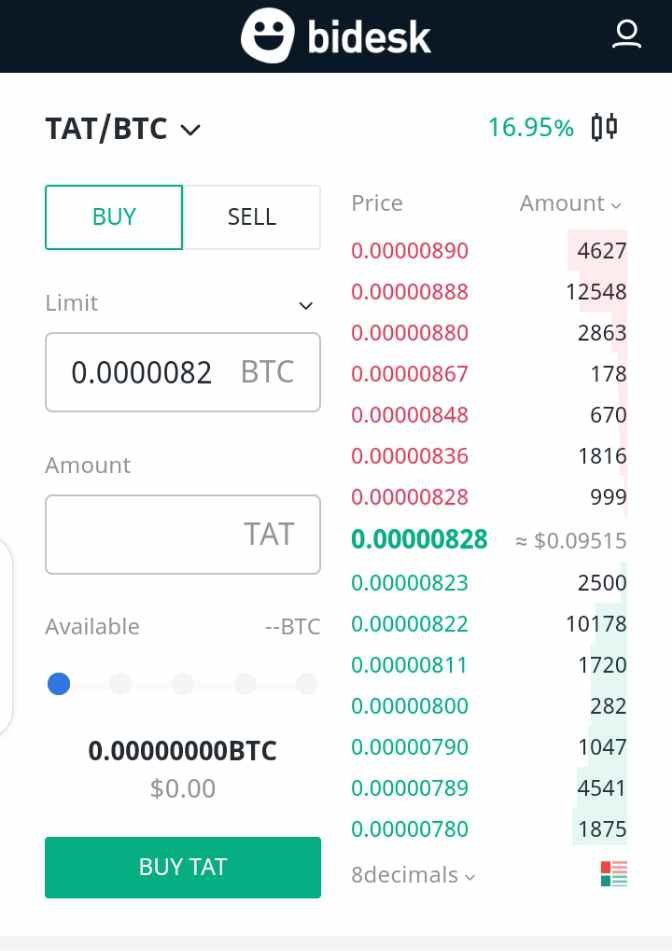 Input the Amount You Want to Buy . Or Use the drawable scroll line to choose between 25%, 50%, 75% and 100% Buy or Sell.
You can also check and buy Tatcoin on Naijacrypto, IDEX Market and Bitfxt.
About The Author