Atiku Abubakar Reveals His Intentions To Legalize Cryptocurrencies In Nigeria.
Views: 98
The cryptocurrency community in Nigeria is so excited to receive the recent Policy Document of Atiku, the formal Vice President Of Nigeria and a Presidential Candidate of PDP for the 2019 Presidential Election. The community of cryptopreneurs are excited on the new development and wishes it to get better and be implemented.
Thank you for reading this post, don't forget to subscribe!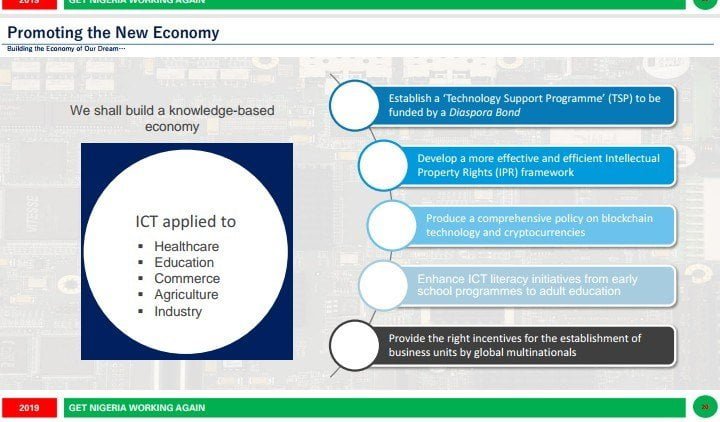 Atiku's campaign policy document tagged 'Get Nigeria Working Again' was released by his Presidential Campaign Organization. He identifies the need for the creation of "a Legal Policy On Blockchain Technology And Cryptocurrencies." Nigeria is one of the top users of cryptocurrencies in Africa, with the west African country ranking 7th out of 178 countries likely to adopt Bitcoin by the Bitcoin Market Potential Index (BMPI) by the London School of Economics. But the country lawmakers are yet to decide what to do with the adoption of this technology.
Atiku, revealed through his policy document that he aims to speed up the economy positively through the blockchain. He revealed that to build the economy, he would build a knowledge-based economy powered By ICT. He stated, "My mission is to ensure that Nigeria's economy is responsive to
the challenges of the 21st century
knowledge economy by keeping with
the amazingly dynamic technological pace." Atiku, stressed the importance of implementing this technology in Schools at early stage till the level of adult education in other to enhance proper assimilation by the students.
You can share your thoughts on this by using the comments box. Let's Make Nigeria Working Again.
Tagged:
Africa
Atiku
Blockchain
Cryptocurrency
Nigeria