Bitcoin Bull Run: Bitcoin Rises Above $7460 And Still Rising
Views: 50
Bitcoin reaches an all time high of $7470 since 2019 at press release.
Thank you for reading this post, don't forget to subscribe!
The cryptocurrency market turned a big green after a long bear market since 2019. Bitcoin Price went up with a 43 percent increase since April 2019.
The bitcoin price dominates the market with 56.8 percent dominance. The total market capitalization of bitcoin rose above $100 billion for the first time since 2019.
Other notable cryptocurrencies that had a significant increase includes; ETH at 11.14 percent, BCH at 24.56 percent and LTC at 15.56 percent increase at press release.
Following the binance hack last week that saw the loss of 7000 bitcoin worth over $40 million. The cryptocurrency market was expected to be negatively affected. But the reverse was the case. The bitcoin price took an upward movement nearing a new break since 2019.
Possibly the efforts and supports from different Blockchain platforms towards the hack of the world's largest cryptocurrency exchange had positively affected the market.
Meanwhile, the 'Consensus Effect' might have contributed to the positive price movement also. It's a normal effect that the coming of Consensus Event usually affects the cryptocurrency market positively. This year's own was no difference as the market went up also.
Moreso, the $2 Trillion worth platform, Fidelity Investment has also announced the opening of Bitcoin Trading on its platform in the coming weeks. This might have also affected the positive price movement.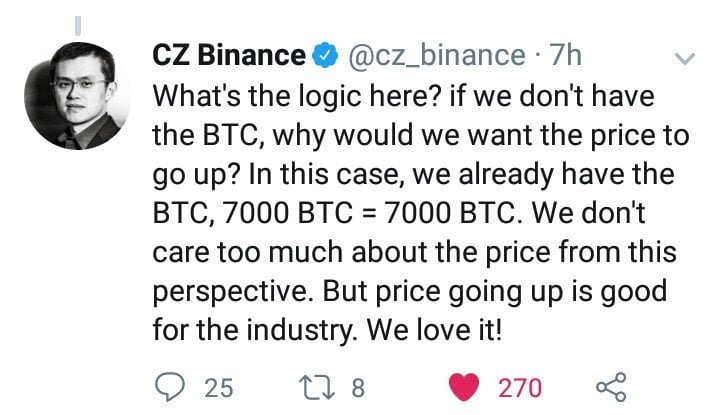 Some cryptocurrency traders has tagged the price movement a manipulation from top cryptocurrency exchanges like Binance and Bitfinex. The binance CEO replied to one of the tweets stating that it's all good for the cryptocurrency market.
Some experts and analysts predicts the process to continue with a positive uptrend movement in the coming weeks with a possible 30 percent increase in bitcoin price. Altcoins will probably follow up with a steady bitcoin price increase.