Nigeria Stock Exchange Sheds N265bn While Bitcoin to Naira Market Clutches a New All-time High at N9m
Views: 86
Nigeria Stock Exchange has dropped N265bn while Bitcoin to Naira Market clutches a new all-time high at N9million Naira.
Thank you for reading this post, don't forget to subscribe!
The Nigerian Stock Exchange market indicators on Friday dropped further by 1.46 per cent due to unimpressive third quarter results released by some banks.
The All-Share Index lost 506.83 points or 1.46 per cent to close at 34,136.82 compared with 34,643.65 recorded on Thursday. The market capitalization of the NSE at the time dropped by 1.46%.
The market capitalisation dipped N265 billion or 1.46 per cent to close at N17.837 trillion against N18.102 trillion achieved on Thursday, 19 Nov, 2020.
At this same time today, Bitcoin to Naira market also touched a new all-time high per the data from DiutoCoinNews Market. The price reached a new high of N9m naira per Bitcoin (BTC).
Read Also: Naira Drops Closer to N480 Per Dollar at the Crypto Market
Meanwhile naira trades at an average of N480.1 per the data from DiutoCoinNews Markets as at today. Naira first touched N9 million naira on Binance.com.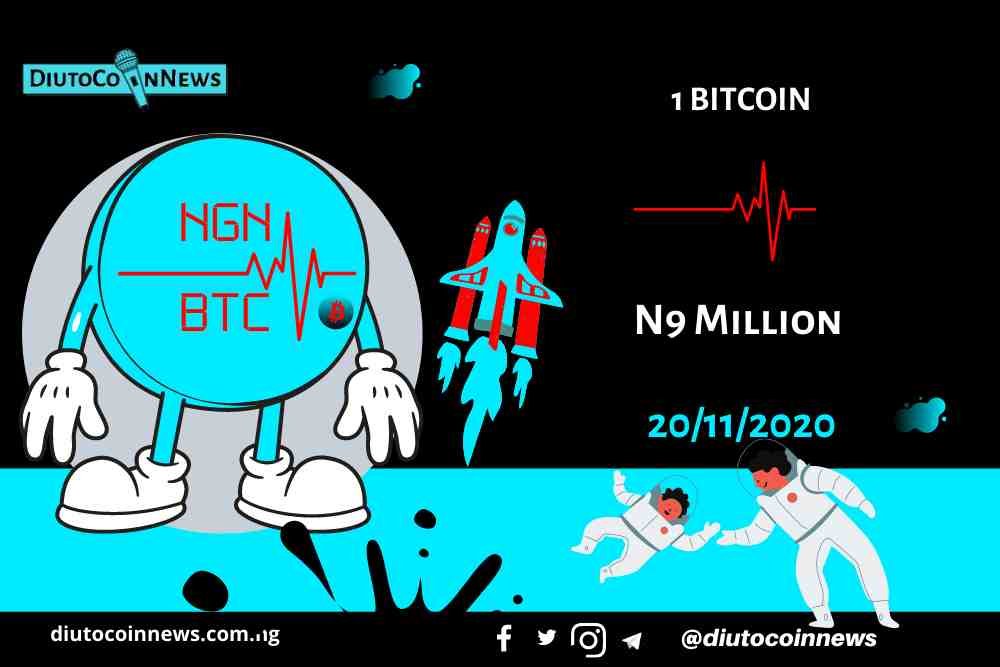 Moreso, Ethereum neared a new all-time high of N246,094 naira. This is the newest high of the Ethereum to Naira market since the last all-time high of reaching close to N240k in 2017.
Investments on Bitcoin in the previous years and recent months paid off compared to the current situation of the stock market in Nigeria.
Read Also: Top 3 Most Popular Crypto Exchanges for Direct Naira to Crypto Markets Trading.
Earlier reports suggests that yeilds on investment done via Treasury Bills have dropped to -0.09% due to the continued drop in the value of Naira in the country.
Meanwhile yields from DeFi products offered through cryptocurrency proves to be a better avenue, channel for investors to earn better ROI on their investments
Tagged:
Market
naira
Nigeria
Trading