BREAKING: CBN Devalues Naira to N380/$1 Setting Up a Uniform Exchange Rate.
Views: 78
Just in, the Central Bank of Nigeria (CBN) technically devalued the Nigerian Naira exchange rate on the Investors and Exporters' (I&E) window from the N366.7 to N380.20 to a dollar.
Thank you for reading this post, don't forget to subscribe!
The CBN also devalued the Nigerian Naira by 15 percent setting its exchange rate from N307/$1 to N360/$1.
Diutocoinnews also got hold of a letter from the CBN to banks specifying the new exchange rate for dollars starting from the International Money Transfer Operators (IMTOs).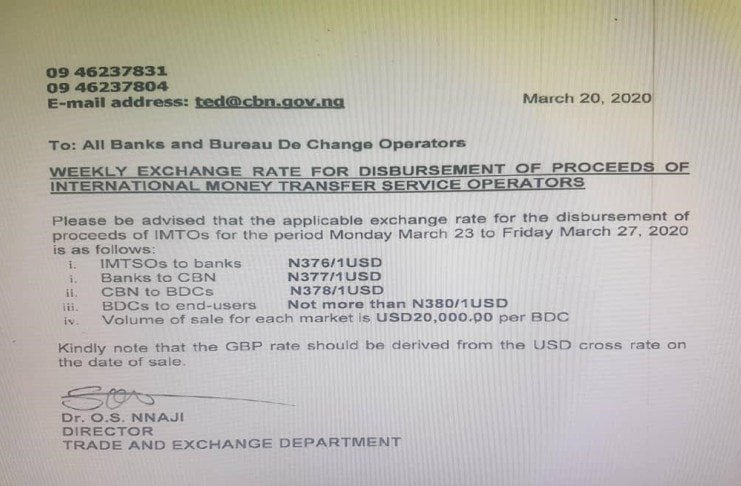 According to the CBN, IMTOs will sell to banks at N376/$1 while banks will sell to the CBN at N377/$1. Then the CBN will sell to BDC's at N378/$1 while the BDC's will be selling to the end-users at nothing above N380/$1.
The devaluation has become eminent as a result of the drastic fall in the price of crude oil, selling below $30 per barrel. The Central Bank of Nigeria has confirmed this on its website.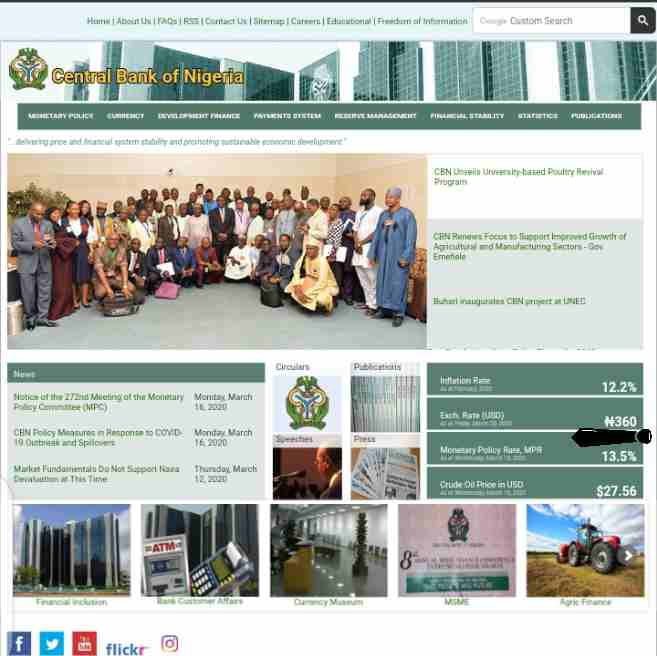 Meanwhile, trading data from Bloomberg shows that the CBN open market operations (OMO) instruments offered today was trading very low. This suggests that the foreign portfolio investors have adopted a wait-and-see approach to the effects of the coronavirus, COVID-19, pandemic.
This year's devaluation of Naira is the highest official exchange rate between the dollar and Naira in over two years.
See Also: The New Policy Set by the Central Bank of Nigeria to Support the Economy Amidst the Coronavirus Outbreak Does Not Support Digital Money
The central bank, in a press release last week, said that its market fundamentals, do not support Naira devaluation during this period stating the reasons why it did not need to devalue Naira.
But then, having sold Naira at N380 or $1 at the I&E window, the CBN has officially devalued the Nigeria Naira accepting the exchange rate officially in line with a drop in oil price.
Additionally, the cryptocurrency market recovered a bit following the news about the possible production of the vaccine that will be used in the cure of the coronavirus pandemic.
Moreso, the Bitcoin market to Nigerian Naira on binance is currently trading at 2,490,168 NGN Naira to one bitcoin while the peer-to-peer market on remitano trades at 2,376,525.03 NGN.
The group managing director of Afrinvest West Africa Limited, Mr. Ike Chioke, predicted the Naira devaluation in the second half of the year in January at Lagso during the launch of Afrinvest Economic and Financial Markets 2020 Outlook.
Tagged:
Bitcoin
CBN
Cryptocurrency
exchange
Market
naira
Nigeria