Beginners Guide to P2P on Binance: How to Trade on Binance P2P and Make Profit
Views: 1687
Binance P2P guide: This is a beginners guide to trading on Binance P2P. You will learn how to navigate the Binance P2P platform and make profit like a pro.
Thank you for reading this post, don't forget to subscribe!
Binance launched its P2P trading platform in other to offer its users more options to easier buying and selling of bitcoin and other cryptocurrency on binance. 
Binance P2P offers trading for the Nigeria Naira allowing Nigerians to trade Bitcoin using its peer-to-peer (P2P) platform.
After reading this p2p guide, you will learn how to post buy or sell ads on binance p2p, how to navigate around the p2p web page and execute your order directly with traders.
Register a Binance Account to Start Trading Bitcoin.
You can also use this Ref ID: 25301813. In case you will like to support us when you sign up after reading this p2p guide.
We will be looking into the following terms:
What is P2P
What is Binance P2P
How does Binance P2P work
How to Post Ads
Requirements
How to Know a Verified Trader
Binance P2P Merchants Program.
Pros and Cons
What is Peer-to-Peer (P2P):
Peer-to-Peer (p2p) is a directed to direct buying and selling of Bitcoin and other cryptocurrency.
This is a type of trading whereby a trader posts advert of the amount of Bitcoin he wants to sell together with the price of his Bitcoin. Any interested buyer who sees the advert can request to buy.
Then the exchange or platform offering the p2p service will serve as escrow and help in processing the trade between the two parties involved to avoid fraud.
What is Binance P2P:
Binance p2p is the peer-to-peer trading platform on binance exchange where users can easily buy and sell Bitcoin directly with the best price they want.
Assuming you have a mate in a group that you want to sell or buy bitcoin from, and you need the service of escrow. You can ask him or her to register on binance and post the sell or buy add on binance p2p.
So when he registers and posts the ad on binance p2p, you can then buy directly from him or sell directly to him and avoid any fraudulent transactions.
After opening your own trading account on binance, you will need to be verify your identity to be able to use binance p2p.
How Does Binance P2P Work:
When you want to use the binance p2p, you can visit the platform from your mobile app or desktop app. Or you can visit the web version via p2p.binance.com
There are various sections of this web page and they include:
Amount: This section will help you to search the naira amount you are looking to buy or sell, assuming you are buying with naira. Same goes for other fiat.
Fiat: This section allows you to choose the fiat option you want to trade with. This includes different fiat payments available. For example: the Chinese Yuan (¥), Nigeria Naira (NGN), South Africa Rand (ZAR) etc
Payments: The payments tab includes all the payment options available for using the Nigeria Naira that the seller or buyer accepts. This can be card payments, bank transfers and WeChat Pay.
How to Post Ads:
In other to post either the buy or sell ads on binance p2p, you must verify (KYC) your identity using your identity cards.
Additionally, you must choose your preferred payments methods available before posting a sell ads. You can do this from the settings tab on the p2p market.
Step by Step Guide to Posting Ads on Binance p2p:
Click on the 'I want to buy' section if you are buying.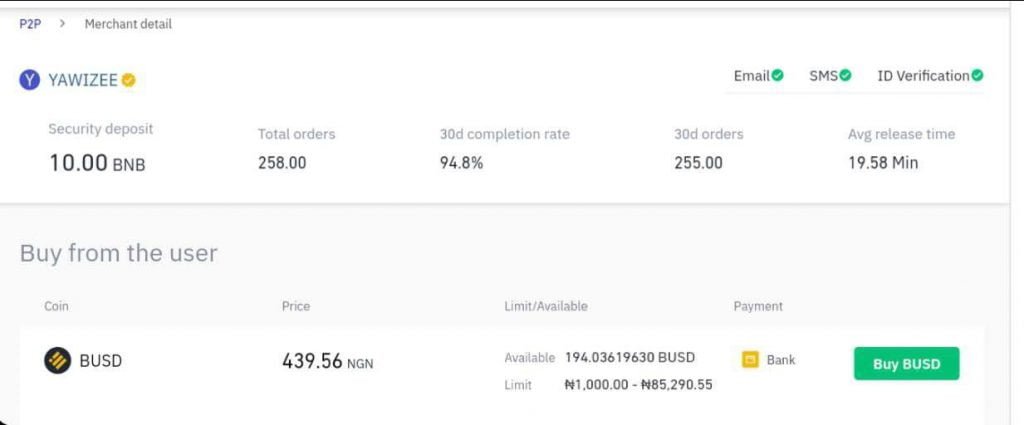 Then click on the preferred seller that you want to buy from.
Input the order details of your transaction and click buy.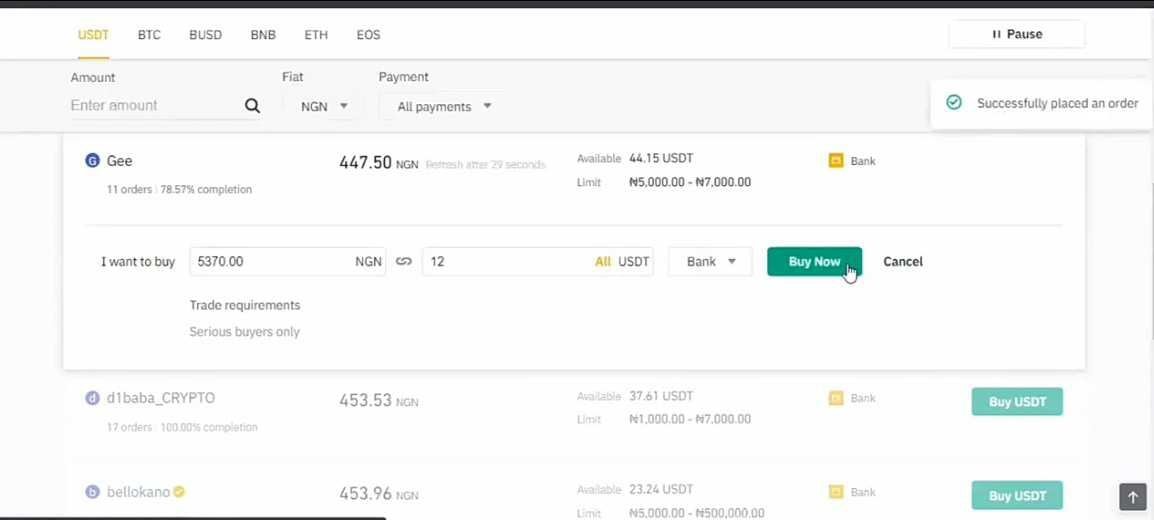 A new page will load, showing you the details of the payment method available from the seller.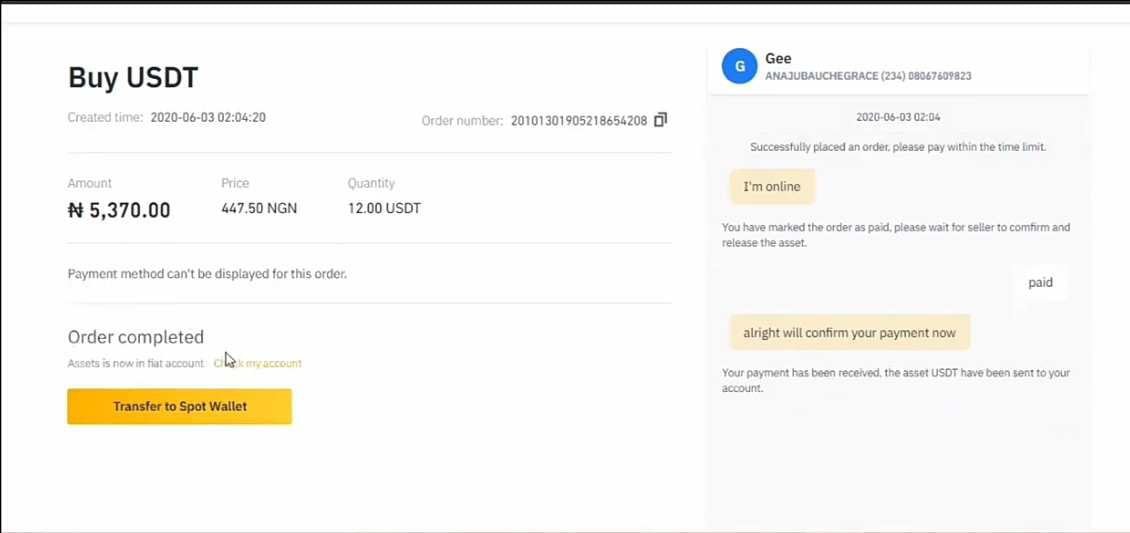 Proceed and make payments, and once you make payments.
You must confirm that you have paid before the seller will be notified to confirm receive and funds will be released.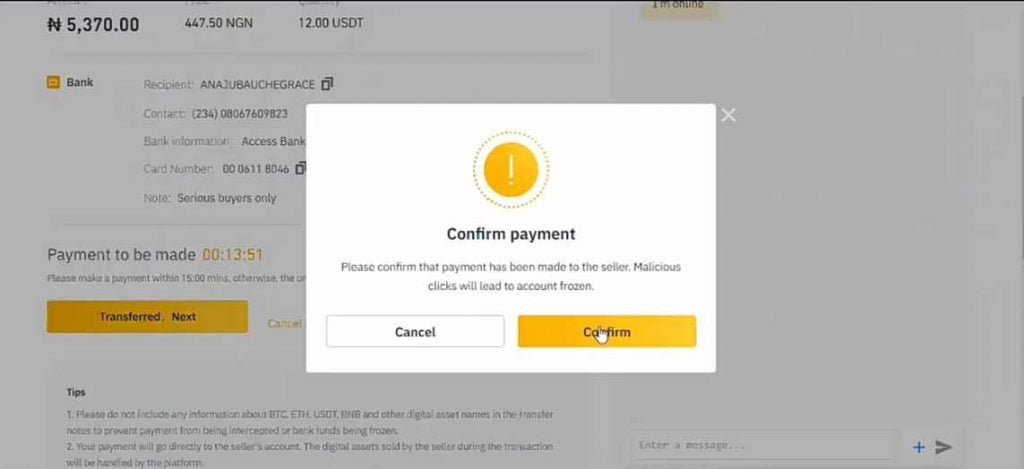 Wait for the seller to confirm payment and funds will be released to you.
You can chat the seller from the payment session chat box once he is online. He will be notified of your transaction. So that he can confirm your payments and release funds to you faster.
There is usually a 15 mins window to process transactions.
This same process goes for when you want to place a sell ads to sell your coin:
Click on the 'I want to sell' section if you are selling.
Input the order details of your transaction and click sell. If any buyer wants to buy from your sell ad option. He will request by placing a buyer order to you and you can sell to him at your price.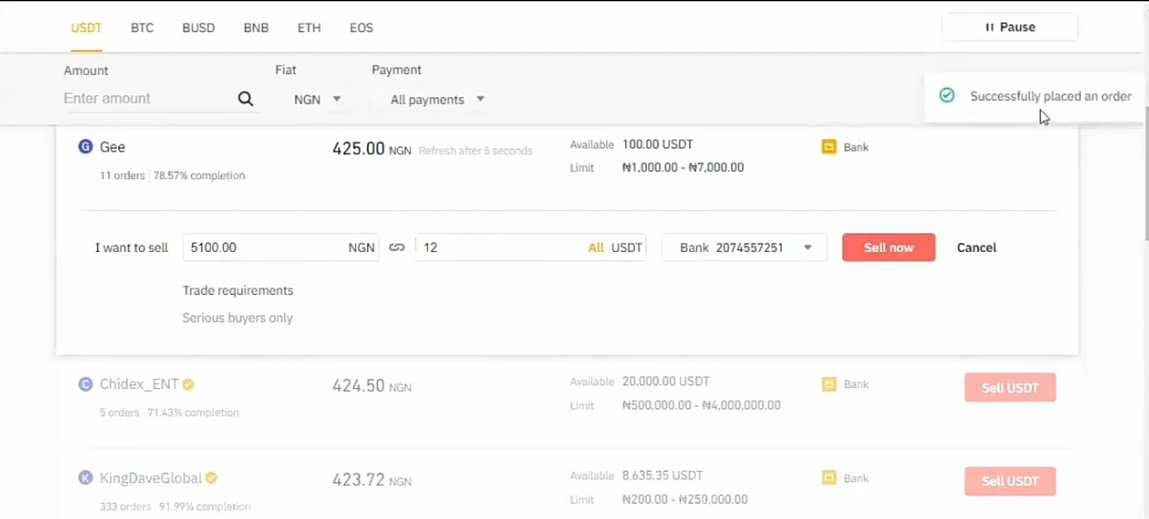 A new page will load, showing you the details of the payment method available from the buyer.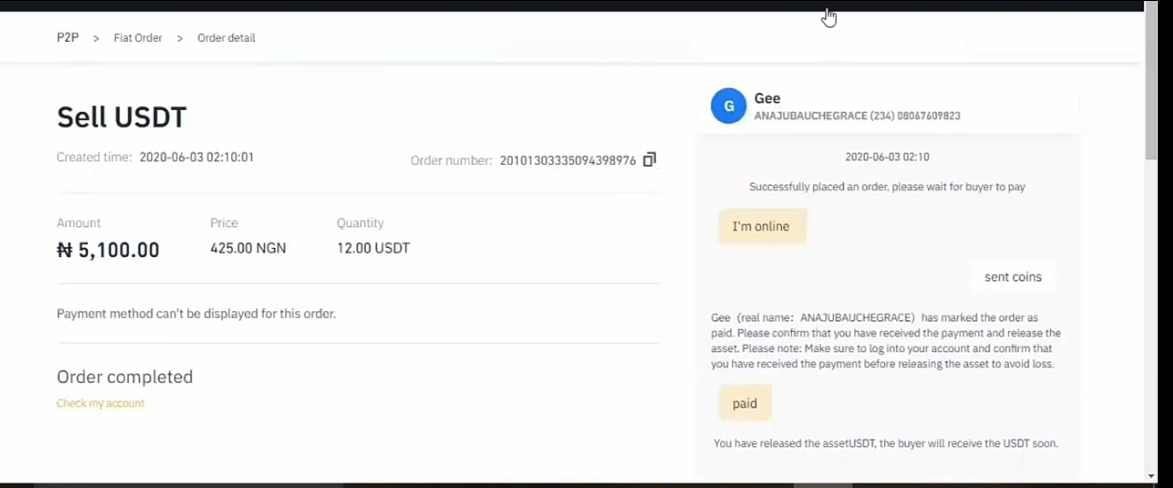 Once the buyer pays. The system will notify you to confirm payments and funds will be released when you confirm receipt.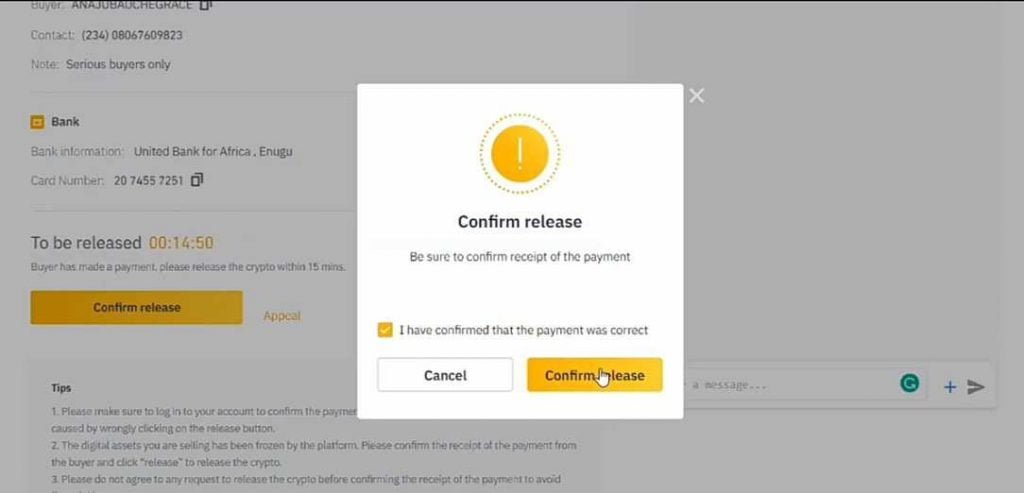 You can chat the buyer from the payment section chat box once he is online. He will be notified once you confirm payments and the escrow releases funds to him.
NB: You can make profit by buying low from another market and selling at a better market price on the platform and making profit. Or you can buy low from the platform and sell for profit to another person.
Requirements
Make sure you have fufilled these requirements before onboarding on binance p2p.
Successfully Done Your KYC Verification
Set Up Your Payment Method
Set Up Your 2FA Authentication
Register a Binance Account to Start Trading Bitcoin.
How to Know a Verified Trader:
Once you meet a verified trader on binance, he must have a yellow badge showing that he is a verified trader who has successfully completed a number of transactions on the platform.
If the trader has no yellow badge, he is not yet verified. It's safe to trade with verified traders or else you know the individual. Though binance will always ensure the security of users funds on binance p2p.
Binance p2p Merchants
Merchants earn profits by posting fiat currency trading advertisements. Binance provides professional customer support and zero transaction fee for P2P merchants.
What benefits do Binance P2P merchants have?
Transactions will be added to the total spot trading volume for user's VIP level calculation
0 post-ads fee
0 transaction fees
Exclusive customer support for merchants.
How do I apply?
If you are interested in the binance p2p merchant program, you can apply from here. You can also reach out on p2p@binance.com if you have questions.
Pros and Cons
Pros:
Safe and Secure
Easy to use
Minimal fees
Zero fees for verified merchants
Cons:
Most be KYC verified
Highly regulated when you trade high volumes.
From the pros and cons above. The pros is far better than the cons because the issue of doing KYC is to keep the exchange safe and away from fraudsters and illegal movement of funds.
We have come to the end of this guide. Feel free to share the article to your groups and friends so that they can learn how to use binance p2p to buy and sell Bitcoin for profit.
Read Also: Beginners Guide to Binance Spot Trading: What is Spot Trading and How to Use it on Binance.
Tagged:
binance
Bitcoin
Cryptocurrency
Nigeria
p2p
Trading