McAfee Advocates Users To Withhold Patronage On HitBTC Exchange. HitBTC writes an Open Letter.
Views: 118
John McAfee is one of the most influential voices within the online crypto community. A confrontational programmer and Crypto Millionaire. Earlier today, McAfee used that voice to tell his Twitter followers to boycott HitBTC, the world's sixth largest cryptocurrency exchange by trading volume.
Thank you for reading this post, don't forget to subscribe!
"The crypto exchanges have become the thing that we have originally fought against," said McAfee in a tweet. "Their power is immense."
McAfee claims the exchange "has increased suffering for millions of poor people" because these poor people "cannot afford the minimum buy-in since it is greater than their monthly income." Coupled with the fee charged with listing on the exchange and withdrawal fees.
McAfee advocated the community to "Boycott them."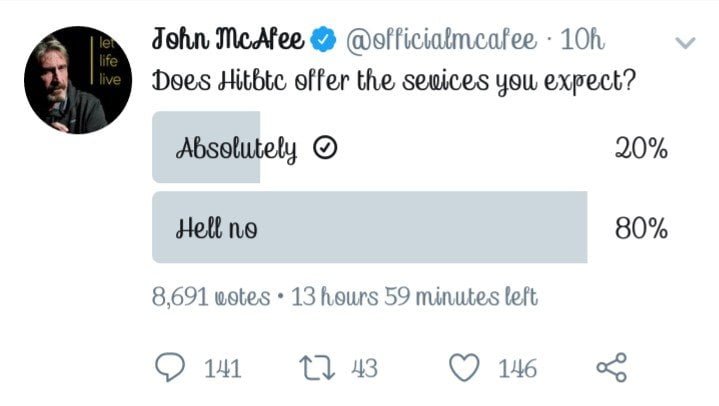 He went to to start a voting poll on his tweet handle from which it became obvious that the community is not happy with what the popular exchange is offering.
HitBTC went on to reply John McAfee after his claims that the exchange had refused to reply his mail to them for several times.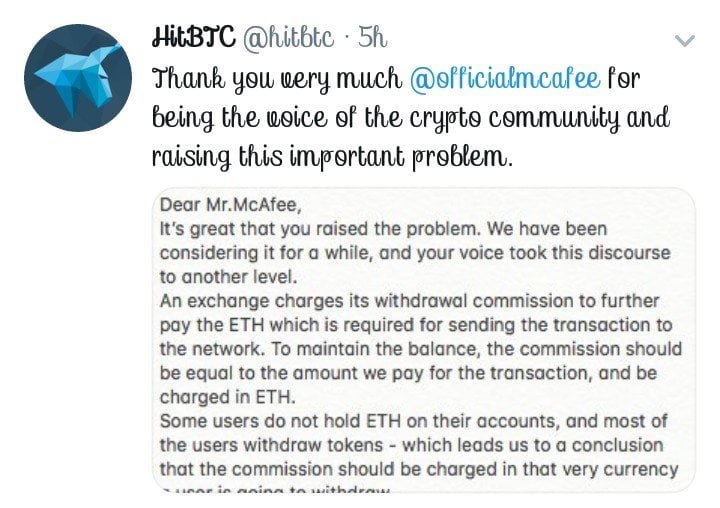 HitBTC has been active exchange since 2014. However, the exchange is been operated from an unknown location. The exchange has various entities registered in Hong Kong. However, it's unclear if the exchange is run from Hong Kong or from another location.
From what John McAfee is talking about from his tweet handle. HitBTC is one of the world's largest cryptocurrency exchange, but it seems they've singled herself out in contributing to increase the suffering "for millions of poor people."
The Full Open Letter written back from hitBTC. The letter pleaded with McAfee to suggest ways of helping the exchange to solve the issue they are facing. The issue regarding the way they charge high withdrawal fee from users. HitBTC thus wrote:
What algorithms solution would you propose to resolve this issue that we believe most of exchanges face.?
Tagged:
Bitcoin
exchange
hitbtc