Join the NairaX Trading Competition On Naijacrypto. You can deposit and trade to win NairaX
Thank you for reading this post, don't forget to subscribe!
It is another opportunity to show-off those trading skills! Following the listing of NIRX on Naijacrypto.com, we are announcing the first NIRX trading competition which will offer traders the chance to win 40,000NIRX.
The competition is open to all traders on Naijacrypto with registration commencing on the 9th of May. 
To compete, traders must register on naijacrypto.com and fund their account with a minimum of 100 NIRX(?). Trading will be done over a 10-day period, at the conclusion of which, traders will be ranked with respect to their accrued profit over the time-period. The ranking prizes are outlined below:
Reward
1st Place
20,000 NIRX
2nd Place
13,000 NIRX
3rd Place
7,000 NIRX
NairaX
The NairaX project represents an innovative solution to two perplexing problems in the global e-commerce space: transaction costs and volatility.
Global e-commerce platforms have essentially created a "re-sale niche" which privileges extensive supply networks that deliver goods through various mediums to the final consumer.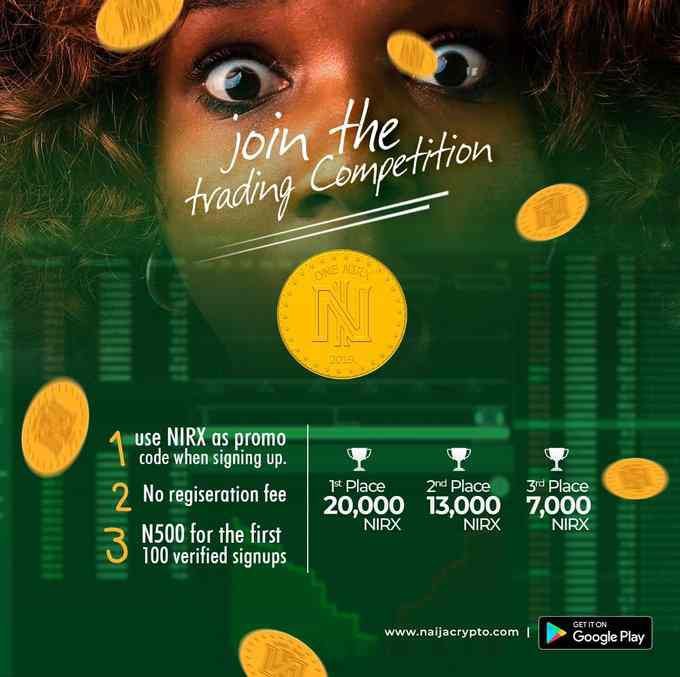 This highly inefficient and expensive model has led to narrowing profit-margins and increased cost for both SMEs and consumers.
The NairaX project offers a unique solution to this problem with an e-commerce model which leverages blockchain technology to significantly reduce arbitrage across various markets.
The volatility problem is a particularly sensitive one for SMEs which rely on stable forex markets for exchange of goods and services up and downstream the supply-chain.
The scale of the problem is graphically captured by the NGN-USD price chart. Inflationary policies, market forces and slump in oil-prices have all contributed to a relatively volatile naira which in turn has led to market-price inflations and now poses an existential threat to Nigerian SMEs.
NairaX proposes a solution to this problem with the NAIRX which is usable for e-commerce transactions (unlike traditional stable-coins) whilst maintain its fixed-ratio peg to the naira backed by NairaX's in-house fiat reserves.
NGN/USD 5yr Price Chart.
As evidenced by its performance from 2016 through 2020, the naira has endured an annual slump for the 5th consecutive year, thus underlining the necessity for businesses to adopt smart fiscal solutions to hedge against incessant depreciations. A fiat-pegged stable-coin, NIRX offers merchants and SMEs a medium of transaction protected from both fiat and crypto market volatilities.
The Naijacrypto Factor
In keeping with our long-held vision, Naijacrypto continues to support smart innovative projects across the African Fintech space and beyond.
Fostering strategic partnerships and relationships domestically and internationally remain key objectives on our agenda as we continue to promote ideals consistent with our core philosophy.
As Nigeria's premier cryptocurrency exchange, the development of a transparent and competitive market which meets emerging challenges is both an organizational goal as well as a prerequisite for achieving sustainable development. 
As we continue to strive to meet the needs of our community, we lay emphasis on unique partnerships which offer our users opportunities to exploit new solutions to lingering market problems. The NairaX project fills an important void in the global e-commerce space.
About The Author