Come And Learn What is Halving at 'The Halving' Webinar Conference 2020
Views: 51
Join us on May 14 – 16 to learn what is Halving at 'The Halving' Webinar Conference 2020.
Thank you for reading this post, don't forget to subscribe!
Come and learn about Bitcoin Halving from experts around the cryptocurrency space. This upcoming webinar will be live streamed on top social media platforms from different media houses.
The theme of the conference is:
"The Halving"
The conference will help bring many professionals, experts and enthusiasts in the field together. There will be discussions on the bitcoin halving coming soon in 4 days time. 
The conference will be discussing the Bitcoin Halving in few days. What do you really know about bitcoin? The idea, the philosophy, the movement. How relevant is crypto in the world of growing governmental powers?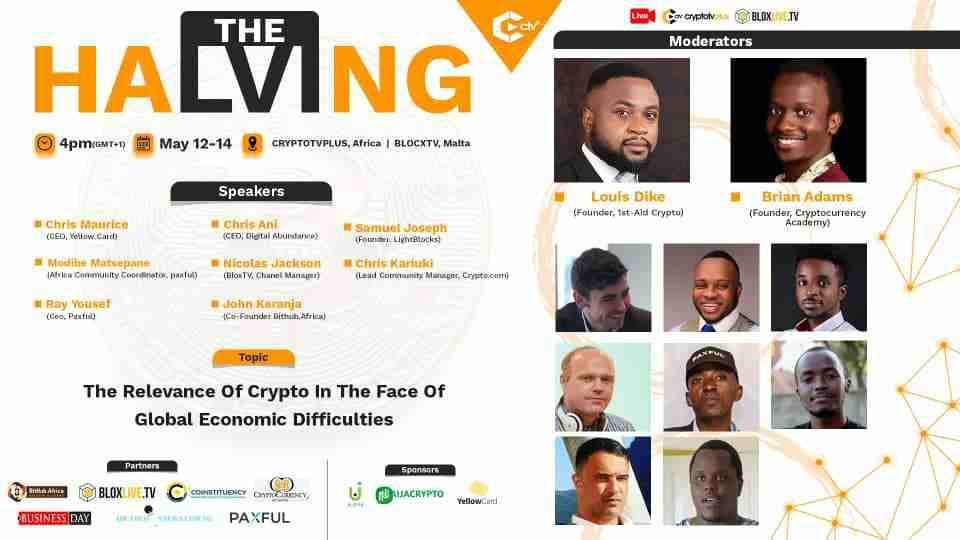 Bitcoin halving is a significance event in history, and will have a great impact on the entire industry and the world. Join us as we dig deep into the world of crypto.
Read Also: Sub-Saharan Africa P2P Bitcoin Weekly Trades Hits a New Record of $10M USD Trading Volume.
The conference will be holding in three days with the following speakers and topics;
Moderators:
Brian Adams —Founder, Cryptocurrency Academy
Louis Dike —Founder, First-Aid Crypto 
May 12; The liberation idea behind Bitcoin (Crypto). Featuring:
Chris Ani —CEO of Daba
Nicholas Jackson — BloxTv Channel Manager
Chris Kariuki —Lead Community Manager Crypto.com
May 13; The relevance of crypto in the face of global economic difficulties. Featuring:
Ray Youssef —CEO of Paxful.
Chris Maurice —CEO of Yellow Card.
John Karanja —Co-Founder Bithub.Africa
May 14; The impact of halving on miners & crypto industry. Featuring:
Modibe Matsepane —African Community Manger of Paxful.
Samuel Joseph —Founder LightBlocks
The event is sponsored by Yellow Card, Naijacrypto, Kubitx and organized by crypto media channels including Cryptocurrency Academy, Ctvplus, Diutocoinnews, BusinessDay Nigeria, Crypto for Africa, Bloxlive.Tv, Constituency, Bithub Africa.
Tagged:
Africa
Bitcoin
Blockchain
Cryptocurrency
diutocoinnews
Ethereum
Kenya
kubitx
naijacrypto
Nigeria