Stablecoin Tether USDT Shades $2 Billion Dropping Behind XRP as the Fourth Largest Cryptocurrency.
Views: 93
Tether's Stablecoin USDT has lost $2 billion dropping from its third place as the third-largest cryptocurrency and is now the third-largest altcoin behind Ripple's XRP.
Thank you for reading this post, don't forget to subscribe!
Tether USDT now has a market capitalization of $6.36 after it recorded $8.79 Billion market cap surpassing XRP which now has a market cap of $8.73 billion at press time according to Coinmarketcap.
Few weeks back, USDT had a market cap of $8.79 billion surpassing XRP with a market cap of about $8.69 billion. USDT is currently third-largest altcoin following behind Ripple's XRP.
The initial market cap rise comes as a result of the increase in the supply of USDT following the bitcoin block reward halving event. There was a huge inflows of USDT mostly from Ethereum blockchain to exchanges in the run-up to the Bitcoin halving.
The USDT market cap lost over $2 billion following the conclusion of the Bitcoin block reward halving event which happened yesterday. It can be considered a new deal that many traders have sold out to buy Bitcoin and other altcoin.
Comparing Tether USDT with other Stablecoins:
Tether USDT has taken over the stablecoins market by market capitalization, trading volume, users and every other metric. According to a report from cryptocompare, USDT is the largest USD stablecoin at the crypto market.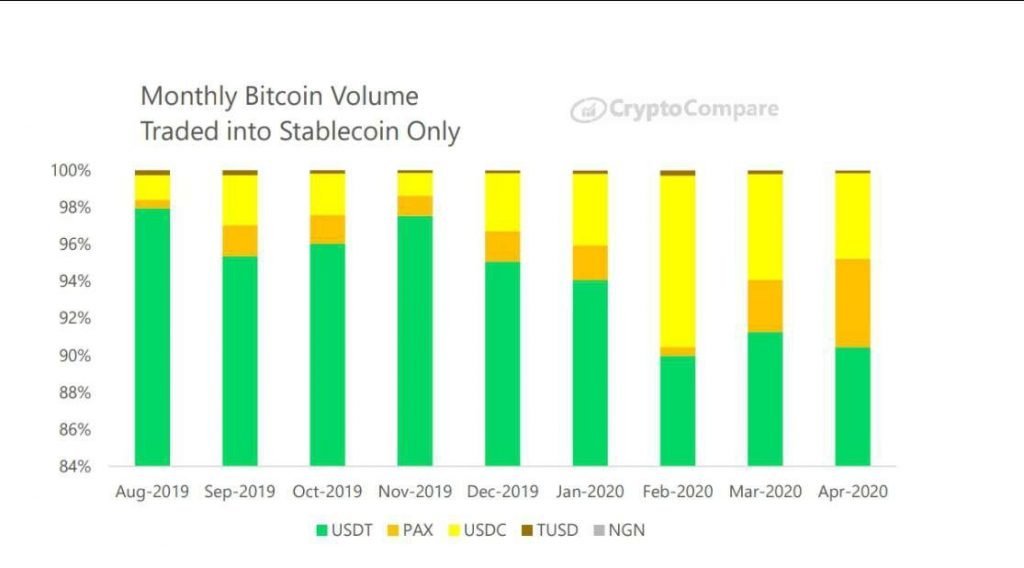 The issuer of the USDTether stablecoin, Tether has has launched stablecoins pegged to the Chinese yuan, the CNHT, the euro as well as gold taking over the stablecoin market.
Comparing other stablecoins like USDC, PAX and TUSD. USDC stablecoin from Circle has the second market capitalization within the stablecoin market with a $707.64 million capitalization.
USDT is also the most popular BTC pair with the BTC/USDT pair still representing 90% share over other stablecoins. USDT covers majority of the 74% total Bitcoin traded into fiat or stablecoin in April.
In as much as USDT is growing above other stablecoins, other ones like USDC and PAX are also steadily growing in popularity capturing a small bits of the stablecoin market share with both covering 4% of BTC-to-stablecoin volume.
Tagged:
Bitcoin
Cryptocurrency
Ethereum
exchange
ripple
stablecoin
Trading